American hikers topple 200-million-year-old rock formation... and then celebrate
The pushing over of the formations,  which date back to the Jurassic period, was described as 'upsetting'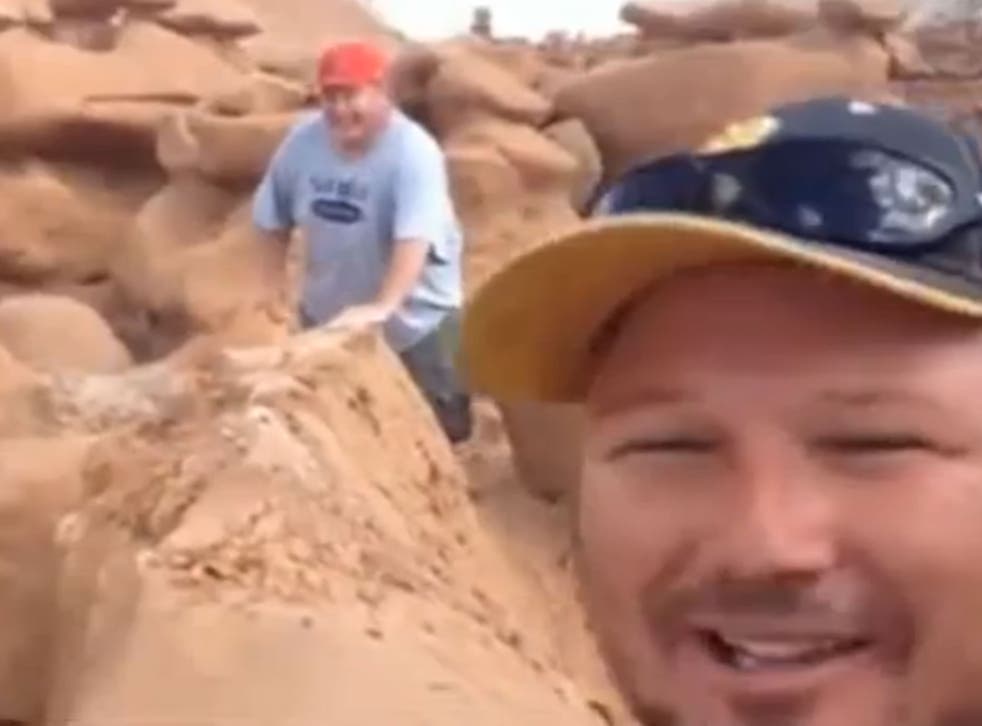 A group of hikers, who high-fived each other and celebrated after toppling a 200-million-year-old rock formation in a Utah park, are facing possible felony charges after a video of them pushing the rocks over was posted on YouTube.
The men, named on the The Salt Lake Tribune YouTube page as Dave Hall, Glenn Taylor and Dylan Taylor, are shown pushing over large rock boulders in the Goblin Valley, Utah.
The valley, in south-central Utah, Emery County, is at the edge of the San Rafael Desert and is host to goblin-shaped sandstone hoodoos and pedestals, which are thought to be between 180 to 200 million years old.
In the video David Hall can be heard saying "wiggle it just a little bit" before his friend Glenn Taylor pushes over the boulder, known as a "Goblin", as his son watches.
The three then celebrate giving each other high fives and laughing.
"We have modified Goblin Valley," says Mr Hall.
The pushing over of the Goblins, which date back to the Jurassic period, was described as 'concerning' and 'upsetting' by state park officials.
Jeff Rasmussen, deputy director of Utah State Parks and Recreation, told Fox13 News: "It's a valley full of these rocks that are perched up on these earth platforms, and obviously we're very concerned and upset that someone would come and destroy this natural wonder that took millions of years to be formed," he said.
The oddly shaped formations in the valley, which are known as hoodoos, were formed from the weathering process of Entrada Sandstone.
The Entrada sediment was deposited during the Jurassic period of the Mesozoic Era.
The three men, who were adventuring in the Goblin Valley State Park last weekend when they encountered the formations, have defended their actions insisting they pushed over the boulders as they were unsafe.
In the video Hall can be heard saying: "That's crazy that it was held up by that little bit of dirt. Some little kid was about to walk down here and die, and Glenn saved his life by getting the boulder out of the way."
Mr Hall told Fox13 News: "We decided the best and smartest thing is, push it over so it can't fall on top of somebody."
Join our new commenting forum
Join thought-provoking conversations, follow other Independent readers and see their replies