Anger grows over Mexico's missing as drug cartels turn to human trafficking
Mass graves reveal the plight of many - but thousands are still unaccounted for as government crackdown on drug trade sees criminal enterprises diversify activities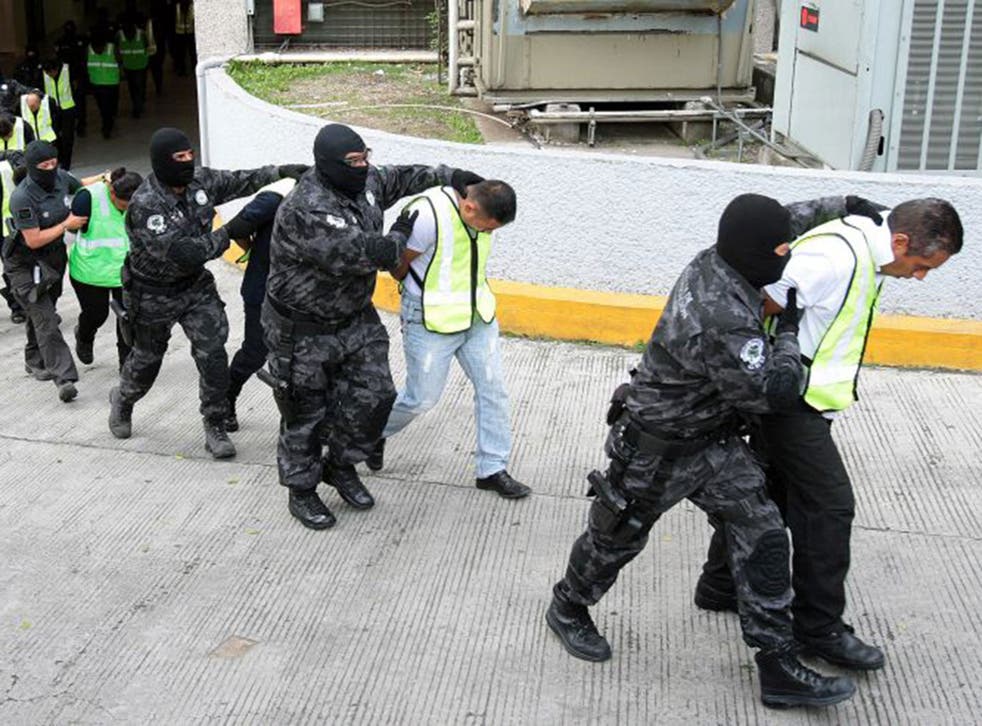 The mass graves near Iguala are not unique in Mexico. And the whereabouts of 43 male students who disappeared in the south-west state of Guerrero three weeks ago remains another mystery in a country where the missing often do not return.
It is still unclear why or under whose orders the students were abducted, but the case has heaped pressure on the government not only to solve the crime but also address the wider problem of forced disappearances that affects great swathes of Mexico.
The students were ambushed outside the town of Iguala on 26 September. The attacks left six civilians dead, at least 25 injured and 43 students missing. Many of them were last seen being driven away in a police car. The authorities have now arrested 48 suspects, including 40 police officers and several alleged members of local drug gang Guerreros Unidos (United Warriors), a splinter group of the infamous Beltran Leyva cartel. On Friday, officials said they had captured the group's leader, Sidronio Casarrubias Salgado, along with a collaborator, weapons and vehicles.
The series of mass graves was discovered near Iguala. But the attorney general, Jesus Murillo Karam, announced last week that the 28 charred bodies found in the first set of graves were not those of the missing students. "Whether these corpses are those of the students or not, the situation is grave," Mexican journalist Sanjuana Martinez told The Independent on Sunday. "If they aren't the students' bodies it's just as bad, if not worse, because before there were 43 people missing in the state and now there are another 28 cases to be resolved."
While the news brought the students' parents a fresh glimmer of hope that they might still be found alive, it also raised concerns over the number of murder victims waiting to be discovered across Guerrero. "Guerrero is a state covered in clandestine graves. Since January they have found 89 corpses in clandestine mass graves," added Ms Martinez, who visited Iguala this week. "If they don't find the 43 students, then they'll just become like the thousands of other missing people in Mexico."
Such gruesome finds are far from unique to Guerrero. At least 21 bodies, 16 of them female, were found in a canal in neighbouring Mexico state last week. Another 100 corpses have been exhumed from three mass graves in the western state of Jalisco in the past year.
There may be thousands more missing persons buried across the country. Mexican government figures released in August revealed that 22,322 people who have disappeared since 2006 remain unaccounted for.
This is partly a consequence of heightened government efforts to combat drug trafficking. In response to the disruption of their primary source of income, many criminal enterprises have diversified their activities to include kidnapping, people trafficking and forced prostitution.
"Human trafficking has become the second most lucrative business for criminal gangs after drug trafficking," private investigator Juan Manuel Estrada told The IoS.
Despite the thousands of kidnappings that occur each year, Human Rights Watch noted last week that no one had been convicted of an "enforced disappearance" committed after 2006, according to Mexican government statistics.
Impunity is a major problem in Mexico. The latest government figures show that 93.8 per cent of all crimes committed last year went unreported or were not investigated. This is partly because people are scared to report crimes for fear of violent reprisals, according to Mr Estrada, the founder of Mexico's Find Foundation, which specialises in tracking down missing people and exposing human trafficking.
"The level of violence that we're seeing is incredible. We've never seen anything like it in Mexico's modern history," he said. "I think as a society we must accept a lot of the blame because we don't denounce the crimes that occur. We see things but we don't say anything and we become indirect accomplices."
Corrupt officials also contribute to impunity, while cases like that of the missing students only deter the public from denouncing crimes for fear that local authorities are in cahoots with the perpetrators.
This vicious cycle means the vast majority of cases go unsolved, such as that of Jose Luis Arana, a lighting technician and father of two who disappeared at the age of 34 in the western city of Guadalajara on 17 January 2011. "That morning he was due to meet another of my sons for a business meeting but he never showed up," said his mother, Maria Guadalupe Aguilar. "I began to really worry when he didn't come to pick up his kids from school that afternoon."
Ms Aguilar immediately sought help at a local police station, but was told she had to wait 72 hours before her son could officially be considered a missing person. "That's complete nonsense because the first few hours after someone goes missing are crucial to finding them," she said. Mr Estrada agreed that the police protocol was flawed. "If someone hasn't appeared after 72 hours, then they're not going to appear."
Ms Aguilar said the police soon tired of searching for her son, so she quit her job as a nurse and began to search for him herself. "At first the police extorted me. I had to pay them to check certain things," she said. "I sold the few assets that I had and now I'm in debt. I have nothing now. My son's wife has had to find a job and their children had to change schools. They still ask us where their dad is."
Reflecting on the time that has passed since her son's disappearance, she added: "You become calmer over time but you still feel the same pain in your heart. As I travelled across Mexico, I realised just how many graves there are across the country and I began to lose not only the hope of finding him alive, but even the hope of finding him dead."
Ms Aguilar paused to think about the mothers of the 43 missing students. "I wish I could hug them in solidarity," she said. "Only mothers who have lost their children know what real suffering is."
Join our new commenting forum
Join thought-provoking conversations, follow other Independent readers and see their replies