This angry mum's note to her teenager has gone viral and it's easy to see why
Mum threatens to charge 13-year-old for rent, electricity and internet connection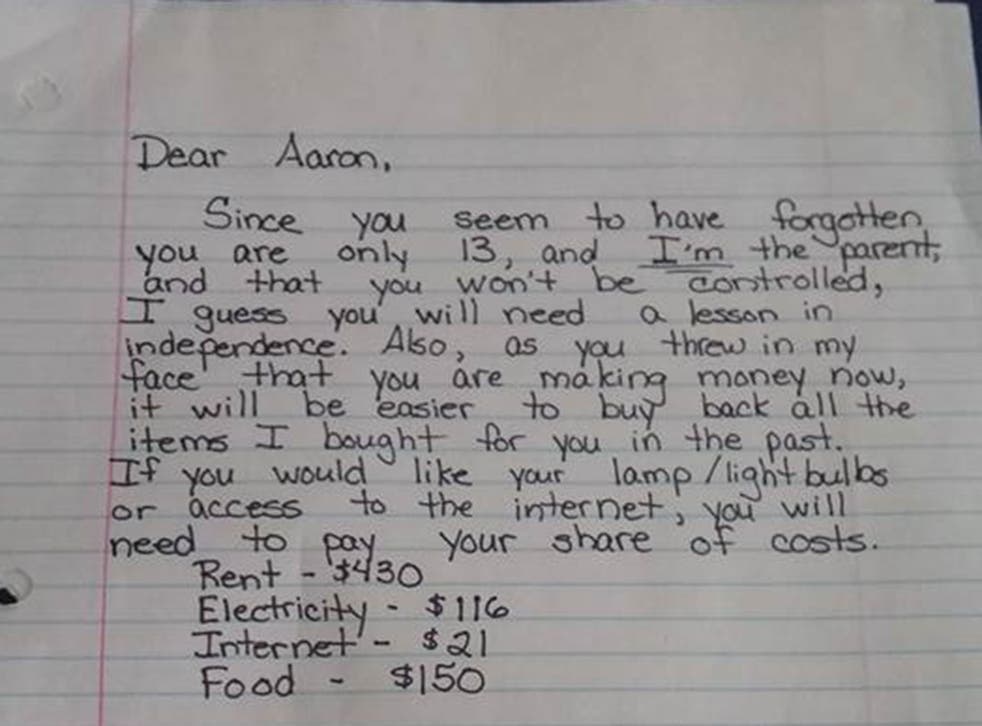 A mother's letter to her tearaway 13-year-old son, in which she teaches him "a lesson in independence" by charging him for rent, electricity, internet and food, has gone viral – and it's not hard to see why.
The note, penned by an Estella Havisham and addressed to Aaron, told the teenager that he had "forgotten you are only 13 and I'm the parent" after he treated her like "a roommate" and "a doormat".
And it has clearly struck a chord with parents everywhere, gaining more than 87,000 likes and 162,000 shares after it was posted on Facebook.
The single parent, who uses assumed names because she is a domestic abuse survivor, put pen to paper after a row with her son about his failure to obey her ground rules, in which he apparently lied about his homework and protested that he could pay his own way by making money on YouTube.
Rent would cost $430, electricity $116, internet $21 and food $150. The boy should empty the rubbish, sweep and vacuum on Mondays, Wednesdays and Fridays, lest he be charged an extra daily $30 maid fee.
The author also stripped his room of items, such as computers, lamps and light bulbs, that she had bought for him, until he was able to buy them back.
The author - who reposted the letter on Twitter - admitted later, in a subsequent post, that she had only intended the post to be seen by family and friends when she put it on Facebook.
But – following much praise, criticism and 100 friend requests – she realised she had made a public post and that the it had set the internet alight.
The letter signed off: "If you decide you would rather be MY CHILD again instead of a roommate, we can negotiate terms."
Posting the letter, 'Estella', who also poses as Heidi Johnson wrote: "Mama's done playing games and being a doormat."
Hilarious argument between dad and four-year-old daughter about boyfriends
Thought her son initially crumpled up the note, threw it on the floor and stormed out of the apartment, it eventually had the desired effect.
"It is still a work in progress. This incident just happened last week. It has made a difference though. When I ask him to do something, he does it," the woman wrote in a subsequent post.
Join our new commenting forum
Join thought-provoking conversations, follow other Independent readers and see their replies