Antonio Martin shooting: Black teenager may have tried to ambush patrolman, says police officer's lawyer
Family of black teenager say he had hopes and dreams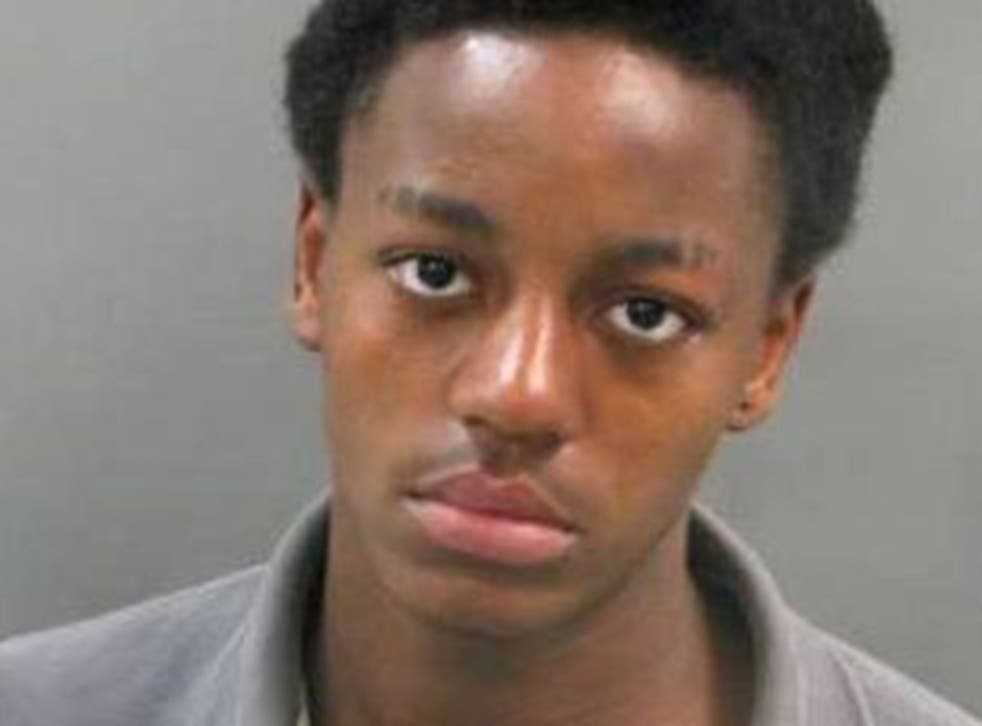 A lawyer representing the St Louis police officer who shot and killed Antonio Martin has claimed the teenager may have tried to ambush the patrolman.
As dozens of protesters demonstrated for a second night, blocking a highway and threatening journalists, Brian Millikan, the lawyer for the unnamed 34-year-old Berkeley officer, told the St Louis Post-Dispatch the officer may have been lured into a trap.
"Their behaviour is certainly bizarre, and it wouldn't surprise me at all, in the environment we are in, that's for sure," he said. "I don't know why the guy didn't get a shot off, whether his gun jammed or he couldn't get the safety off."
The family of Antonio Martin said the young man was like "any other kid who had dreams or hopes". "We loved being around him. He'd push a smile out of you," said Toni Martin-Green, the teenager's mother. "This doesn't make any sense for them to kill my son like this. I am trying to be calm."
Mrs Martin-Green was among around 100 protesters who gathered for a second night to protest the shooting of Mr Martin on Tuesday evening by a patrolmen. Police have released video footage that appears to show the teenager raising a hand gun at the officer and said the officer was acting in self-defence.
Jerome Green, the teenager's step-father, told the newspaper that Mr Martin had been taking medication for hyperactivity. He said it was hard for the teenager to focus, but added: "We loved being around him. He'd push a smile out of you."
Police have been anxious to insist that the shooting of the teenager was not like the incident in August when Michael Brown, an unarmed black teenager was shot and killed by police in the neighbouring suburb of Ferguson.
Clashes in Berkeley as Antonio Martin is shot dead by police

Show all 13
His death and the subsequent decision not to charge the officer who shot him, sparked angry violent protests. These were followed by similar demonstrations over the death of Eric Garnera, a 46-year-old unarmed black man who died after being placed in a choke-hold by police in New York.
In the aftermath of Tuesday night's shooting, Berkeley Mayor Theodore Hoskins said the surveillance footage appeared to show Mr Martin pulling a gun on the officer, who was questioning him and another man about a theft at a convenience store.
Mr Hoskins urged calm, saying: "You couldn't even compare this with Ferguson or the Garner case in New York."
Police said Antonio Martin had been known to them and that he had been arrested on a number of occasions, including for firearm-related offences. St Loius police arrested him at least twice in 2013 while Berkeley police arrested him in May for armed criminal action, unlawful use of a weapon and armed robbery. He was named in a series of other allegations, including theft.
Mr Martin's family admitted he had been arrested and had "stumbled in the past". "In the last year, he was really trying to find who he was. He was ready to take the world on," said his step-father. "He knew he had parents who loved him. He had that support."
During Wednesday evening's protests, dozens of people marched along Interstate 170, briefly shutting it down and then heading to the Mobil petrol station where Mr Martin had been shot.
A team from NewsChannel 5 said they had seen some people trying to get into a store front near the fuel station while other protesters tried to stop them. The news crew said they heard gunshots during the confrontation.
State Senator Maria Chappelle-Nadal, a Democrat who has been critical of how police handled the Michael Brown case, said the shooting of Mr Martin appeared to be different.
"That officer not only has an obligation to protect the community, but he also has a responsibility to protect himself," she said, according to Reuters. "Because of the video, it is more than apparent that his life was in jeopardy."
Join our new commenting forum
Join thought-provoking conversations, follow other Independent readers and see their replies