Apple sells 3 million iPads in debut fueling demand optimism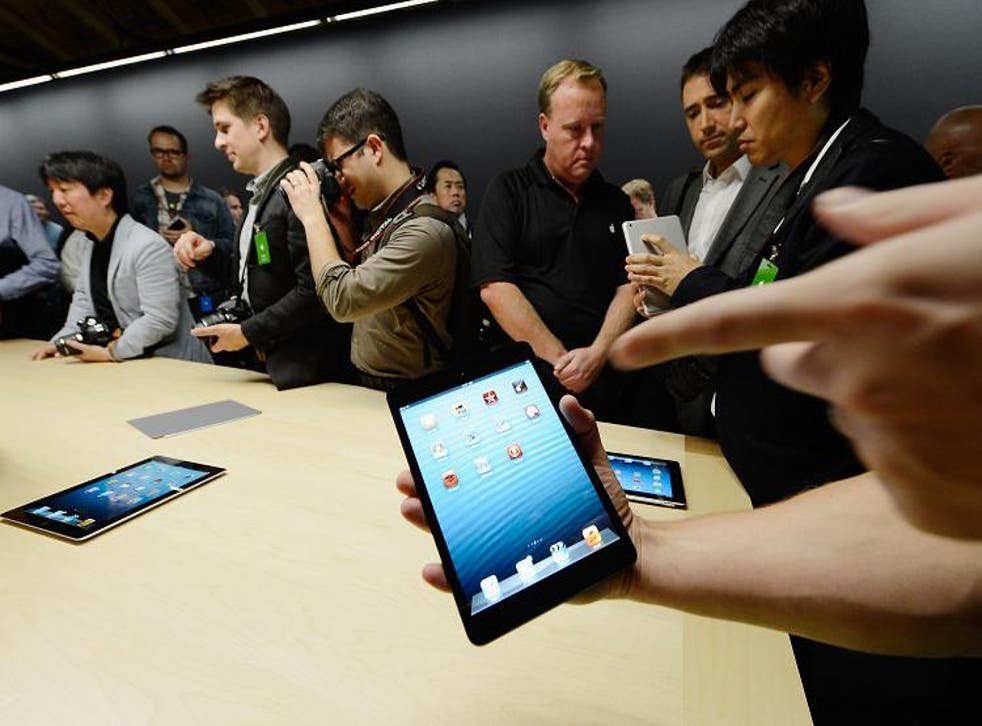 Apple said Monday it sold 3 million units of its iPad mini and fourth-generation iPad during the debut weekend, a sign that the new devices can help the company withstand accelerating competition in the tablet market.
"Demand for iPad mini exceeded the initial supply and while many of the pre-orders have been shipped to customers, some are scheduled to be shipped later this month," Cupertino, Calif.-based Apple said in a statement.
Apple began selling the 7.9-inch tablet in the United States and more than 30 other countries on Nov. 2, ramping up an effort to fend off competition in the market for tablets, which NPD DisplaySearch predicts will more than double to $162 billion by 2017. Amazon.com, Google and Samsung are vying for share with their own version of tablet computers.
"We estimate at least two-thirds of the units are iPad minis," Brian Marshall, an analyst at ISI Group, wrote in a research report Monday. "The iPad mini could blunt some of the competitive threat from low-priced Google and Amazon tablets."
Apple's shares gained 1.4 percent to $584.62 at the close in New York. The stock has advanced 44 percent this year.
Gene Munster, an analyst at Piper Jaffray Cos., said the company would sell 1 million to 1.5 million of the smaller version of the tablet. Walter Piecyk of BTIG Research said the company needed to sell 3 million units of the iPad mini to demonstrate adequate demand.
New Yorkers looking to buy the latest iPad had fewer stores to shop in after Hurricane Sandy resulted in power blackouts and hobbled transportation. Apple closed two of its five New York stores as well as some in New Jersey because of the damage. Even so, the 5th Avenue store sold out within a few hours after almost 600 customers lined up, according to Brian White, an analyst at Topeka Capital Markets.
"With all the extreme weather, I guess people still have time to buy an iPad," Shaw Wu, an analyst at Sterne Agee & Leach Inc., said in an interview. Given the storm conditions, Apple reported "a pretty good number" for debut weekend sales.
In the third quarter, Apple's share of the tablet market slipped to about 50 percent from about 66 percent in the prior three-month period as demand surged for competing products from Amazon and Samsung.
Worldwide tablet shipments totaled 27.8 million in the period, an increase of 50 percent from a year earlier, Framingham, Mass.-based researcher IDC said in a report Monday. Samsung shipped 5.1 million devices in the third quarter, more than double the number from the previous period. Amazon's market share increased to 9 percent from 4.8 percent.
People who ordered online are experiencing delays. Shipments for the iPad mini are held up about two weeks, according to Apple's website. The company doesn't report orders made from the website until they are delivered, according to regulatory filings.
The first models on sale work only with a Wi-Fi wireless connection. Versions that connect to the data networks of phone carriers will "ship in a few weeks in the U.S.," Apple said Monday. The iPad mini costs $329 to $529 for the Wi-Fi model, and as much as $659 for models that connect to data networks.
Piecyk of BTIG said Apple should have sold 3 million "at a minimum," given the price and number of markets where it's available.
Join our new commenting forum
Join thought-provoking conversations, follow other Independent readers and see their replies