Police offer $10k reward to find white woman accused of setting fire to Wendy's during protests
'This wasn't us,' protesters shout in footage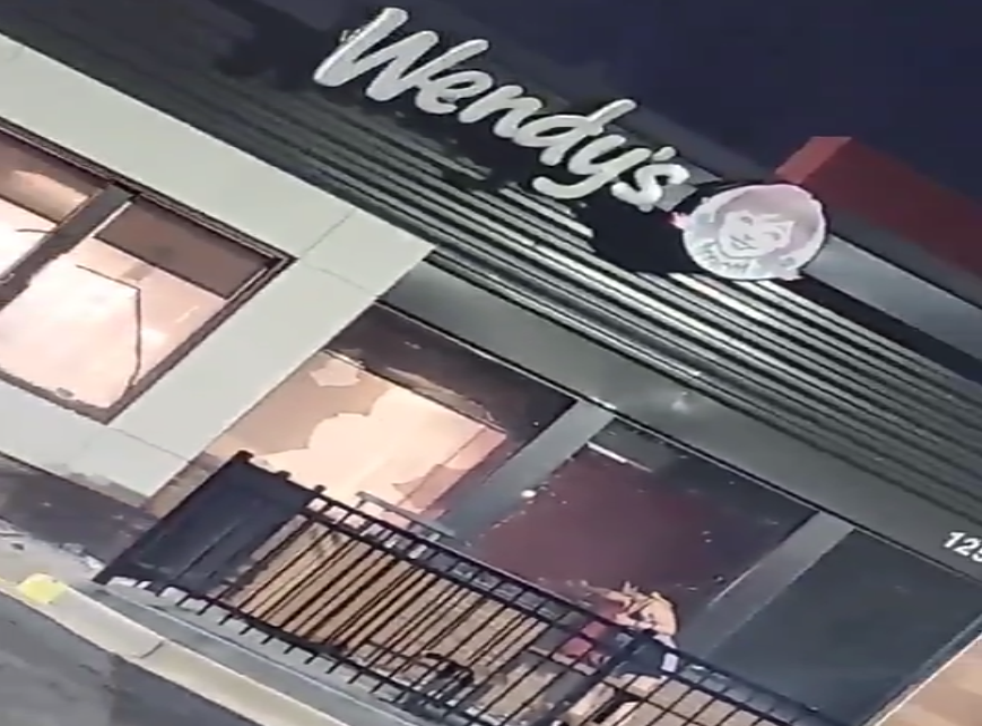 Video has emerged that appears to show a white woman setting fire to a Wendy's in Atlanta, during protests over the death of Rayshard Brooks, as police offer a $10,000 (£7980) reward to find her and other suspected arsonists.
Mr Brooks was shot dead by police on Friday, after officers found him asleep in his car in the drive-thru lane of the restaurant.
Video of the incident was released to the public by authorities, which showed a struggle between Mr Brooks and officers, Garrett Rolfe and Devin Brosnan, as they attempted to arrest him for failing a sobriety test.
During the struggle, Mr Brooks managed to get hold one of the officer's tasers, and as he attempted to run away from the scene and the police he was shot at three times by Mr Rolfe and later died from his wounds after surgery.
In the aftermath of Mr Brooks's death, protests took place in the city, and the Wendy's where he was killed was set on fire.
Footage has now emerged that appears to show a white woman setting the fire.
In the footage, that has circulated on social media, some protesters can be heard shouting that they have nothing to do with the burning down of the fast food restaurant.
"Look at the white girl trying to set s*** on fire," one of the protesters says. "Look at that white girl trying to burn down a Wendy's."
"This wasn't us," the protester adds. "This wasn't us!"
The Atlanta Police Department has offered a $10,000 reward for information that will lead the authorities to those suspected of arson.
The incident came amid protests across the US following the death of George Floyd, who died after being detained by Derek Chauvin, who at the time was a Minneapolis police officer.
Mr Floyd's death sparked protests, in opposition to police brutality against African Americans, which have spread across the world.
In the aftermath of Mr Brooks's death, Mr Rolfe was fired by the department, and Mr Brosnan was placed on administrative leave, pending an investigation into the incident.
Atlanta Police chief Erika Shields resigned from the force. City mayor Keisha Lance Bottoms supported the decision and said the use of force in the incident was not justified.
She said: "I do not believe that this was a justified use of deadly force and have called for the immediate termination of the officer."
The mayor added: "Because of her desire that Atlanta be a model of what meaningful reform should look like across this country, Chief Shields has offered to immediately step aside as police chief so that the city may move forward with urgency and rebuilding the trust that is desperately needed throughout our communities."
Join our new commenting forum
Join thought-provoking conversations, follow other Independent readers and see their replies