Attacks on her family, headless animals being sent to her home and several death threats: A sure sign Anabel Hernandez is the woman the Mexican drug barons fear
The writer has enraged cartel bosses with a book about the country's drugs and corruption. She's ready to educate the world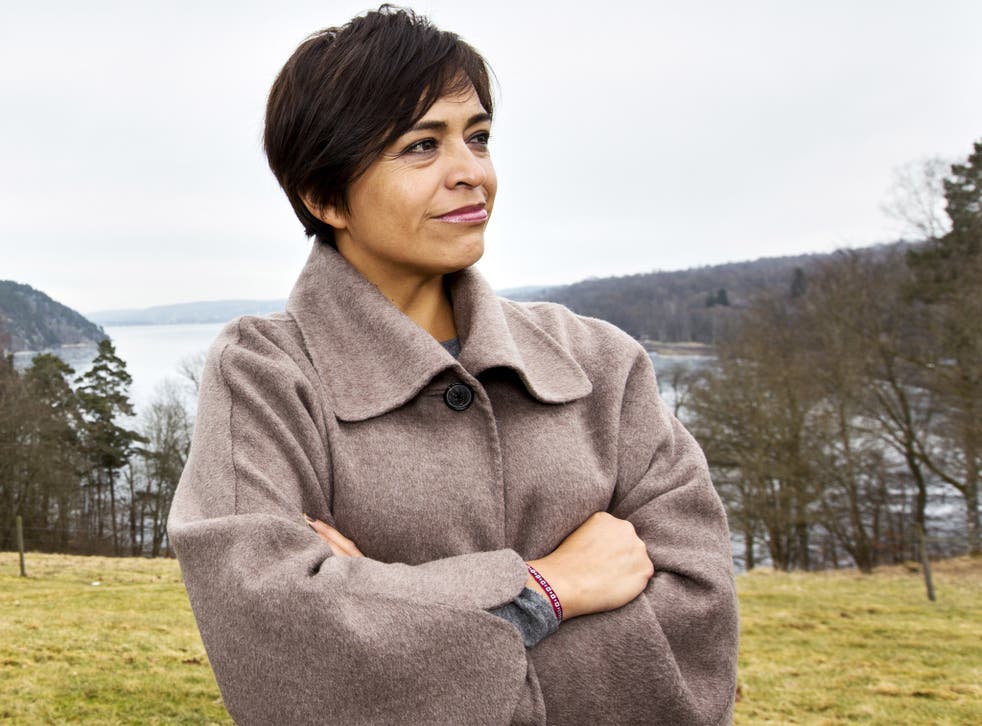 She has won global and national awards for her work, but the surest sign that Mexican journalist Anabel Hernandez is making a difference are the two security guards who protect her 24 hours a day.
They became necessary when the release of her book – Los Senores del Narco – sparked attacks on her family, headless animals being sent to her home and several death threats.
In the book, Hernandez gave a detailed account of Mexico's drug traffickers and how, through a shady nexus of police, politicians, government workers and businessmen they – to use her term – "work their way into every nook and cranny of the social edifice, like damp."
Three years later, she is bringing her book, a surprise commercial success which shifted more than 100,000 copies in Mexico, to the English-speaking world, under the title Narcoland.
Her motive, she says, is for people to "understand that this problem is not just a problem for Mexico, and when a person buys a gram of cocaine in New York or London or Paris they are making these people more powerful, who are killing people in Mexico, and they control other types of crimes across the world".
"It is a problem for all the world, because these guys are everywhere."
But as well as foreign drug users, Hernandez hopes onlookers might look a little deeper into her country's dark story. Speaking to The Independent, she says: "As a Mexican journalist, an 'expert' in this issue, in the last five years I've talked with many correspondents who came to Mexico." Breaking into an impression of a wide-eyed foreigner, she says: "We're going to the safari, where are the dead bodies? Where's the shooting in the street?"
Deliberately, her own story mostly eschews the eye-catching gore stories and focuses on the people whose ambitions and avarice lead to them. "I get really mad because they just see the war's face," she goes on.
"The disease of Mexico is not the drug cartels. The disease is the corruption. And when the international press talk about the Mexican problem, they never search for what is really happening.
"I hope that now my work maybe can make the international media see the problem is deeper."
Corruption has been a preoccupation for Hernandez since December 2000, when her father was kidnapped. She claims police wouldn't investigate the disappearance until they got a bribe. He was killed, and she still cites the memory of his brutalised body as a driving force.
Of the book's surprise commercial success in her home country, she says: "I'm sure that it's because the Mexican people want answers. The official version doesn't fit with the reality and the people are looking for answers.
"I really wrote this book because I want to give answers to society. If society really doesn't know what is happening – how involved the Mexican government is with the cartels and how they really can't destroy them because they don't want to destroy them – the people don't know how to say to the government, 'do your job'.
"I am sure that the National Action Party (PAN) lost the elections because the people understand that we don't want that – we want something different. The Mexican government told many lies, and in my book I proved those lies."
While the images of the 'War on Drugs' – tortured bodies pulled from canals and heads on sticks – might distract from closer inspection, the figures are hardly any more palatable; estimates of the number killed in the running violence, sparked by a crackdown enacted by former president Felipe Calderon in 2006, vary from 50,000 to double that. In the book, Hernandez disdains the usual narrative of government soldiers fighting various cartels in a constant war to end the war.
In its place, she paints a picture of a state bent to the will of drugs barons, and that of one baron in particular – Joaquin "El Chapo" Guzman. Guzman's path from illiterate peasant to head of the Sinaloa cartel and 55th on Forbes' list of the world's most powerful people in 2011 is one Hernandez traces with forensic detail.
Mexico has seen the influence of its drug traffickers grow massively over the past 40 years, and with it the danger for journalists who cover the trade and its accompanying destruction.
According to Reporters Without Borders, more than 80 have been killed in the past decade, with 17 more disappeared. As recently as July, El Imparcial's 28-year-old crime reporter Alberto Lopez Bello was beaten up and shot dead in Oaxaca, southern Mexico.
Living under protection has taken a heavy toll on Hernandez's personal life. As a single mother with two children, her work – she still reports on corruption for the Mexican newspaper Reforma and the magazine Proceso – has a huge impact on her family life.
"I have lost all my life, because living with bodyguards is not living," she says. "It's terrible. These people have to be with me in the car, these people have to be with me when I'm with my child.
"It's almost like being in jail. I'm not really free, but I really understand that I need it, if I want to keep living in Mexico and if I want to keep doing my job."
"My personal life is terrible because I don't have any social life any more. I never go to a bar, I never go to the theatre. I have a little kid and I can't go to the park like any other mother."
Many people, both colleagues and family, have asked why she doesn't just give in to the pressures being exerted on her and stop digging up dirt on the violent and powerful in Mexico.
"Maybe I'm a dreamer, or an idealist," she says. "But I really believe in good journalism. And I really believe that good journalists can change, a little bit, their countries.
"That's why I do it – not just me. I'm a part of a new generation of journalists in Mexico who want to change things, who want to do our job even with the risk, because if we keep quiet, who will tell the truth?"
Narcoland (Verso Books) by Anabel Hernandez is now available in Engish
Join our new commenting forum
Join thought-provoking conversations, follow other Independent readers and see their replies