Bahia: Squabble for world's largest emerald pushes value to £230m
Discovered in a Brazilian rainforest, stored in a warehouse flooded by Hurricane Katrina and then stolen. The gem is now being fought over in an LA courtroom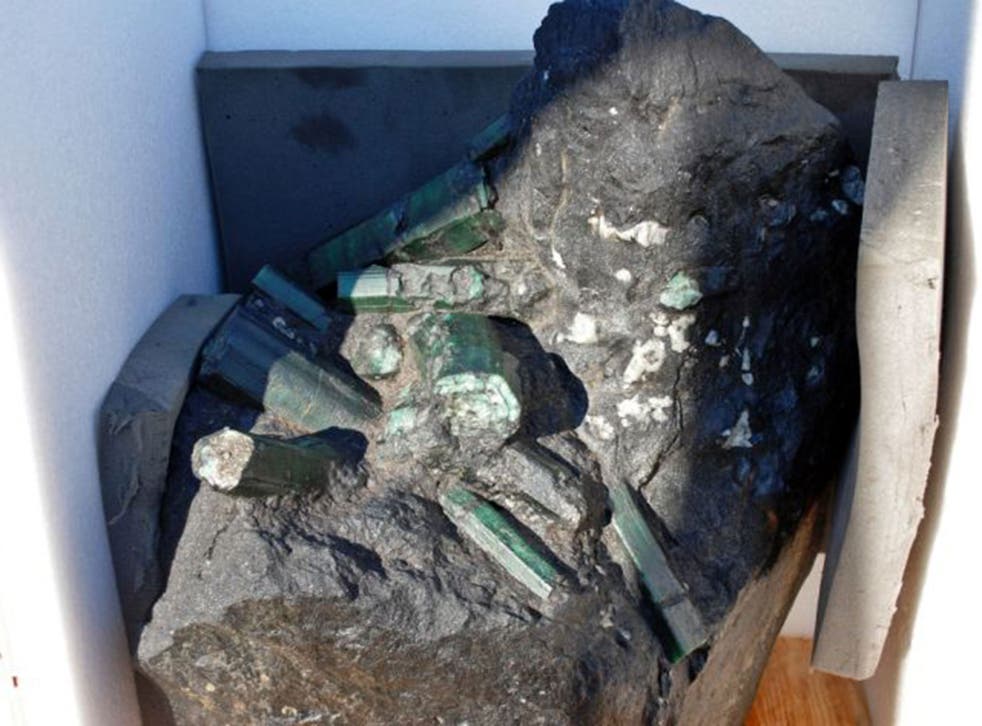 The Bahia emerald has, over time, acquired a certain lore to match its obvious lustre: the emerald, among the biggest ever discovered at 380kg (840lb), was carried out of a mine in a Brazilian rainforest more than a decade ago by a team of pack mules, one of which was killed by black panthers. It was taken to the US and stored in a warehouse in New Orleans that was flooded by Hurricane Katrina in 2005, then stolen from another warehouse, in Los Angeles.
The gem was then said to have been involved in a transaction involving a notorious Colombian family that nearly resulted in "a blood bath" in the Nevada desert. It was also reportedly involved in a $197m (£122m) banking transaction with Bernie Madoff, who was led away by federal agents two days before the transaction was to be completed in 2008.
The emerald was next sighted briefly in Idaho, before authorities seized it in Las Vegas. The Los Angeles sheriff's department currently has it under lock and key.
Last week, the protracted fight for the emerald, now valued at £230m, continued in a Los Angeles courtroom. On Tuesday, the gem trader Mark Downie was eliminated from the contest for its ownership.
Mr Downie was the second claimant whose claim to the Bahia was found not credible, by Judge Michael Johnson. In 2011, Californian businessman Tony Thomas claimed he paid Brazilian miners $60,000 (£37,000) for the Bahia, before it was stolen from him. Mr Thomas's claim was also thrown out of court. "It was a beautiful stone," he said.
Another trial awaits for a group of purported owners that includes the gem trader Kit Morrison. Last week, lawyers said that museums including the Smithsonian and the Getty have also expressed interest in obtaining the 180,000 carat emerald for their collections. And in September, the Brazilian government submitted a motion claiming that the stone is a part of the country's cultural and scientific heritage, and should be returned there.
"The Bahia emerald is now worth millions more, because it has a big story behind it," one dealer said. A hearing is scheduled for January to determine whether Brazil has a claim.
Join our new commenting forum
Join thought-provoking conversations, follow other Independent readers and see their replies