Barack Obama turns to climate change laws in bid to secure presidential legacy
Environmental Protection Agency is proposing to reduce overall carbon dioxide emissions from domestic power plants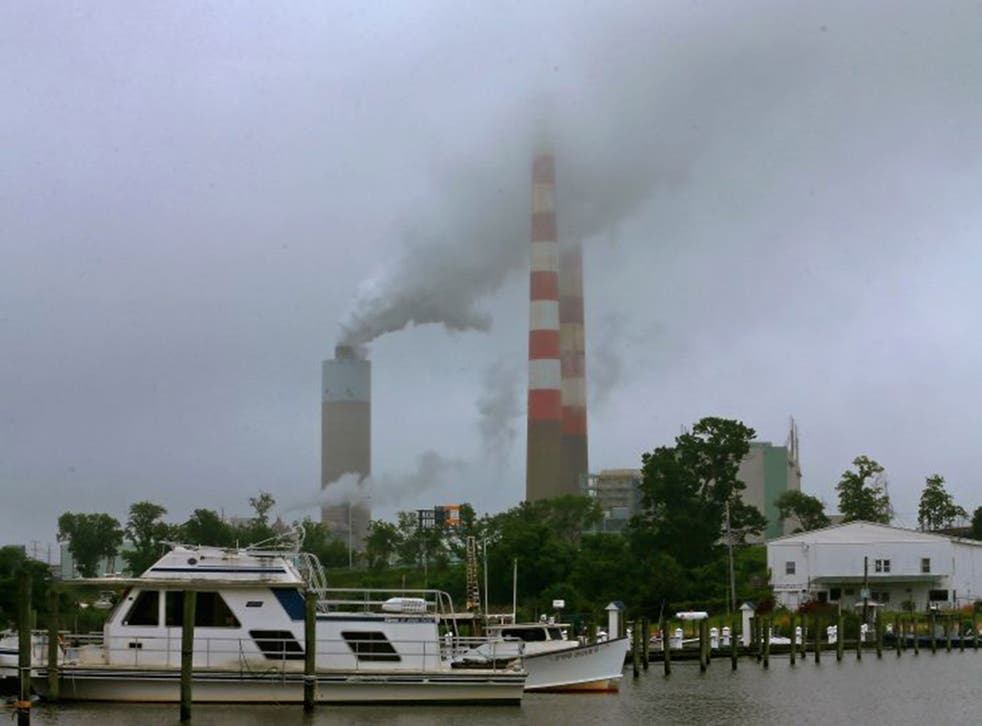 President Barack Obama is gambling that aggressive and never-before-attempted limits on carbon dioxide emission from domestic power plants unveiled in Washington on Monday will put to rest long-lingering doubts about America's commitment to tackling climate change and set a compelling example for the rest of the world.
Under the president's direction, the Environmental Protection Agency (EPA), said it was proposing a bold plan to reduce overall carbon dioxide emissions from all of America's generating plants by 30 per cent within 15 years, compared to 2005 levels. It was hailed by green groups and instantly condemned by many in the business lobby.
The second largest source of greenhouse gases on the planet, the United States has been a giant among laggards in the global effort to tackling warming starting with President George W Bush's refusal to adhere to the 1997 Kyoto accord. And while President Obama came into office pledging a new course, his resolve seemed quickly to wither.
Most significant was the collapse of Mr Obama's emissions law in Congress in 2010, partly because of his focus at the time on healthcare. However, he is able to impose these new rules on his own. If they survive legal challenges and efforts by opponents to subvert them, they should be finalised next year and implemented in phases thereafter.
The timing carries risks and benefits. While many in Mr Obama's own party will complain that the regulations will kill jobs, particularly in coal-producing states like Kentucky and West Virginia, and hurt them in mid-term elections this November, they come in the nick of time from an international perspective, with world leaders due to discuss climate change in New York in September with the goal of agreeing a new global treaty at the end of next year.
That push, being spearheaded by Christiana Figueres, executive secretary of the UN Framework Convention on Climate Change, faces daunting odds. She must persuade 194 nations to sign up to a whole new global warming treaty at a final meeting in Paris in December 2015, to be attended by an estimated 40,000 delegates. A first draft is meant to be ready by next May. These new steps by the US could provide an important fillip.
"Today, the president made good on his promise to American families that his administration would tackle the climate crisis, and clean up and modernize the way we power our country," commented Michael Brune, director of the Sierra Club, the country's most prominent environmental lobby group.
Nearly halfway through his second term, Mr Obama is seizing on the climate issue to shape a long-lasting presidential legacy that in so many other areas, foreign policy included, has started to look increasingly ragged. "As president and as a parent, I refuse to condemn our children to a planet that's beyond fixing," he said in his weekly address on Saturday, which he used to trail the new rules.
For his ability to circumvent Congress he can thank the 1977 Clean Air Act and a Supreme Court ruling asserting that it gave the EPA the power to impose emission reductions. He has already imposed tough standards on vehicle emissions that account for 32 per cent of carbon dioxide emissions in the US. The power generating sector accounts for 38 per cent, meanwhile, not least because of the nearly 1,000 plants that are coal-fired, many of them ageing.
Alone, the US initiatives will not be nearly enough to ensure world leaders meet their stated goal of limiting the overall warming of the planet to 2 degrees Celsius above pre-industrialised levels. Mr Obama is hoping, however, that they will give him the moral power to persuade other nations, notably China, to take similar steps. The alternative scenario is that China will step in to buy cheap US coal that will no longer be consumed domestically.
Yet yesterday's initiative may not be quite as bold as it first appears. Individual US states will be granted maximum flexibility to find ways to make the overall national targets happen (cutting CO2 emissions by 25 per cent by 2020 and 30 per cent by 2030) and in some cases won't have to submit their implantation plans until 2017, by which time Mr Obama will be gone. And some of the proposed reductions are already happening as power plants switch from coal to America's suddenly abundant natural gas for purely economic reasons.
The EPA today conceded that the likely cost of achieving the plan, detailed in a memorandum extending to 645 pages, will reach $8.8 billion (£5.25 billion), much of that to fund further power station conversions. That will easily be made up for, it said, by the economic benefits that lower emissions will bring, including from providing America with healthier air to breathe and easing respiratory diseases.
The loudest opposition will come from states with large coal-mining sectors, notably West Virginia and Kentucky. Meanwhile the US Chamber of Commerce has claimed that the rules will in fact result in a net economic cost to the US economy of $50bn a year, partly due to higher energy costs that will be passed on to consumers and businesses.
"Today's proposal from the EPA could singlehandedly eliminate this competitive advantage by removing reliable and abundant sources of energy from our nation's energy mix," declared Jay Timmons, president and CEO of the National Association of Manufacturers.
Join our new commenting forum
Join thought-provoking conversations, follow other Independent readers and see their replies