'Beach body ready' posters in New York spark counter-campaign by feminists to promote women's football
The posters, which proved infamous on the London underground, have now moved to New York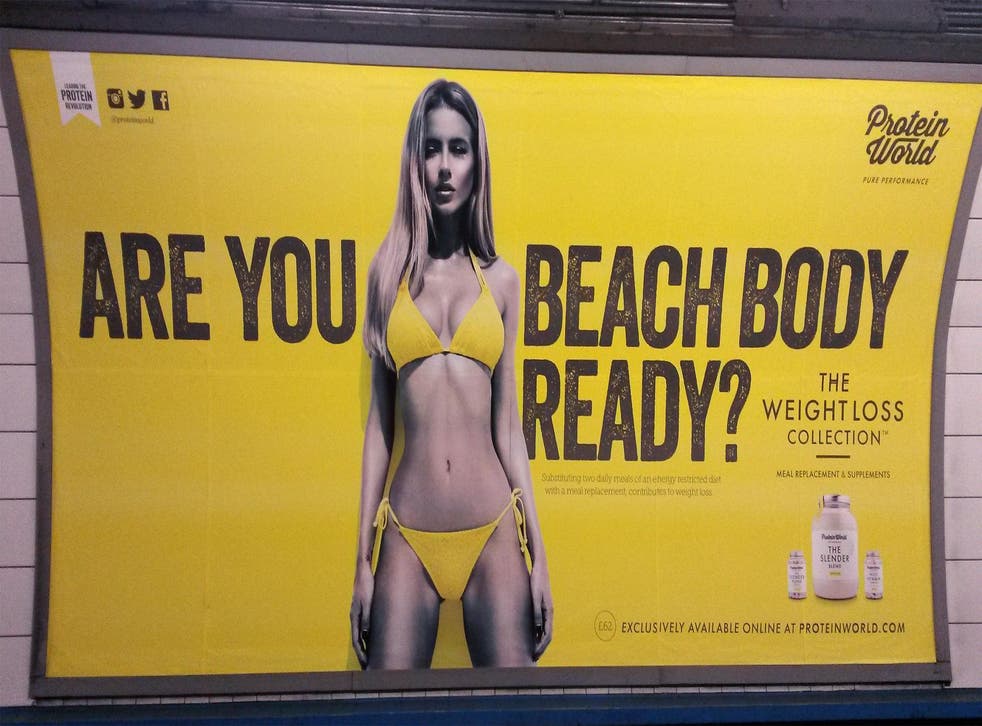 A controversial advertising campaign asking women if they are 'beach body ready' has sparked controversy in New York.
Feminist campaigners have launched a counter campaign highlighting the importance of the Women's World Cup.
The ubiquitous yellow posters, by weight loss company Protein World, were criticised in the UK when they appeared on the London Underground in April.
More than 70,000 people signed a petition calling for the posters to be removed on the grounds that they were 'sexist' and promoted 'unrealistic body image'. This week the Advertising Standards Authority ruled that the posters do not objectify women.
The infamous campaign has now relocated to New York, where adverts can now be found in Times Square and on subways.
In response a group of campaigners in the US have been covering the 'beach body' with stickers of the US women's football team kit. The team are playing in the World Cup final against Japan tomorrow. They counter campaign was begun by advertising creative Lannie Hartley and Alia Roberts, who are calling it 'WorldCupReady'.
In a statement on their website, they say: "Women have better things to do than be beach body ready- like winning the world cup.
"After realising that the Women's World Cup is a dramatically under promoted event; we, two twenty-something girls, decided to change that ourselves by taking over Union Square and these over promoted, oppressive ads- and turn the attention away from women's bodies and back to their abilities."
Protein World have denied suggestions that the campaign objectifies women. Speaking at the height of the UK controversy, marketing executive Richard Staveley defended the posters, saying: "This advert was based on a great deal of customer research, we're giving them exactly what they wanted to see, it's been a brilliant campaign for us.
"What we're suggesting by 'Are you beach body ready?' is we're asking if you as an individual have reached and attained your own goals that you set for yourself that are going to allow you to don your swimsuit."
The campaign moved to New York at the end of May. Renee Somerfield, the model who stars in the images, tweeted a photo of a huge advert in Times Square to announce the stateside campaign.
The Independent has contacted Protein World for comment.
Register for free to continue reading
Registration is a free and easy way to support our truly independent journalism
By registering, you will also enjoy limited access to Premium articles, exclusive newsletters, commenting, and virtual events with our leading journalists
Already have an account? sign in
Register for free to continue reading
Registration is a free and easy way to support our truly independent journalism
By registering, you will also enjoy limited access to Premium articles, exclusive newsletters, commenting, and virtual events with our leading journalists
Already have an account? sign in
Join our new commenting forum
Join thought-provoking conversations, follow other Independent readers and see their replies