Bin Laden documents: Family letters talk of meeting wife in paradise and not trusting Iranians
Correspondence reveal details of the al-Qaeda leader's relationship with his sons and wives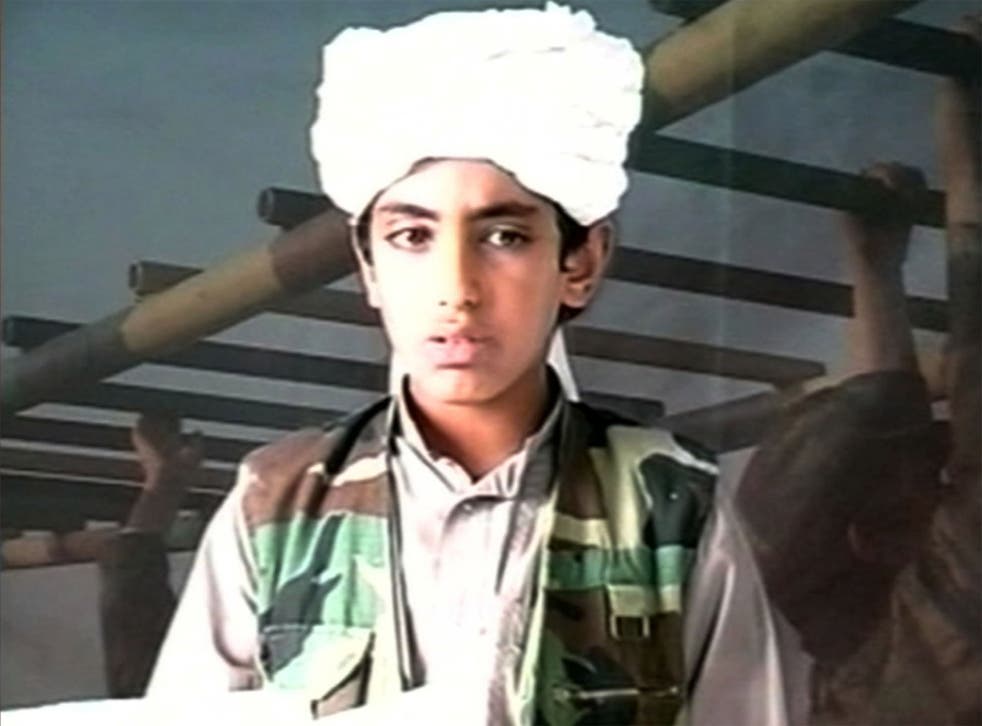 Among the documents retrieved from the Osama bin Laden raid and released by the US were many letters sent between the al-Qaeda leader and various members of his family, revealing intimacies of his relationship with his sons and wives.
"My beloved father," writes Hamza bin Laden. "I could not imagine the length of this bitter separation when you left me, my brother Khalid and my brother Bakr at the foot of the mountains." Hamza, who was 13 when his father, Osama, left, was by July 2009 a 22-year-old eager to wage war on the West. "What truly makes me sad is the mujahedin legions have marched and I have not joined them," he tells his father in one letter.
Intelligence sources in the US report that Bin Laden hoped his son Hamza would eventually succeed him as al-Qaeda's leader. "You might not recognise me when you meet me, as my features have changed," Hamza adds, telling his father about his pious wife, his stable life and his son, Usamah, and daughter, Khayriyah. He says he hopes to leave to join the "jihad troop that is waiting for us". In August 2008, Bin Laden writes to one of his wives, including a will. "I will remain in the land of jihad until God will bring us together in this world to see you and enjoy looking at you and at my children, and to compensate you for the kindness and love you missed in prison, due to the tension and being occupied with the thought. Or if meeting in the world is not possible, then I will see you in the thereafter and that will suffice… If you want to marry after me, I have no objection, but I really want for you to be my wife in paradise."
In September 2010, Bin Laden writes to his sons and one of his wives, Khairiah Sabar, known as Umm Hamza. He says that before Umm Hamzah arrives, "it is necessary for her to leave everything behind, including clothes, books, everything that she had in Iran… Everything that a needle might possibly penetrate. Some chips have been lately developed for eavesdropping, so small they could easily be hidden inside a syringe." He says the Iranians are "not to be trusted".
The bookshelf: US foreign policy – and conspiracy
A list of more than than 30 English-language books owned by Osama bin Laden was included in the tranche of documents dubbed "Bin Laden's Bookshelf". As might be expected, US foreign policy features heavily.
Among the books are Imperial Hubris, a critical account of US counter-terrorism programmes by Michael Scheuer, the former head of the CIA unit that was responsible for tracking Bin Laden, while Bob Woodward makes an appearance with Obama's Wars, which covered the war in Afghanistan and the global war on terror.
He also had a copy of America's Strategic Blunders – a theme suited to his interests – and his other volumes included a work subtitled "anti-aircraft weapons and techniques for guerilla forces" and the Oxford History of Modern War.
Among the more intriguing texts are The New Pearl Harbor, by September 11 conspiracy theorist David Ray Griffin, as well as Bloodlines of the Illuminati by Fritz Springmeier.
He also seemed to enjoy reading about the outside perception of his organisation, and had a copy of Al-Qaeda's Online Media Strategies. This might also explain his decision to own A Brief Guide to Understanding Islam.
Join our new commenting forum
Join thought-provoking conversations, follow other Independent readers and see their replies