Black Friday 2014: The chaotic US tradition that's coming to the UK
Black Friday falls on the Friday following Thanksgiving
Antonia Molloy
Tuesday 11 November 2014 11:54 Comments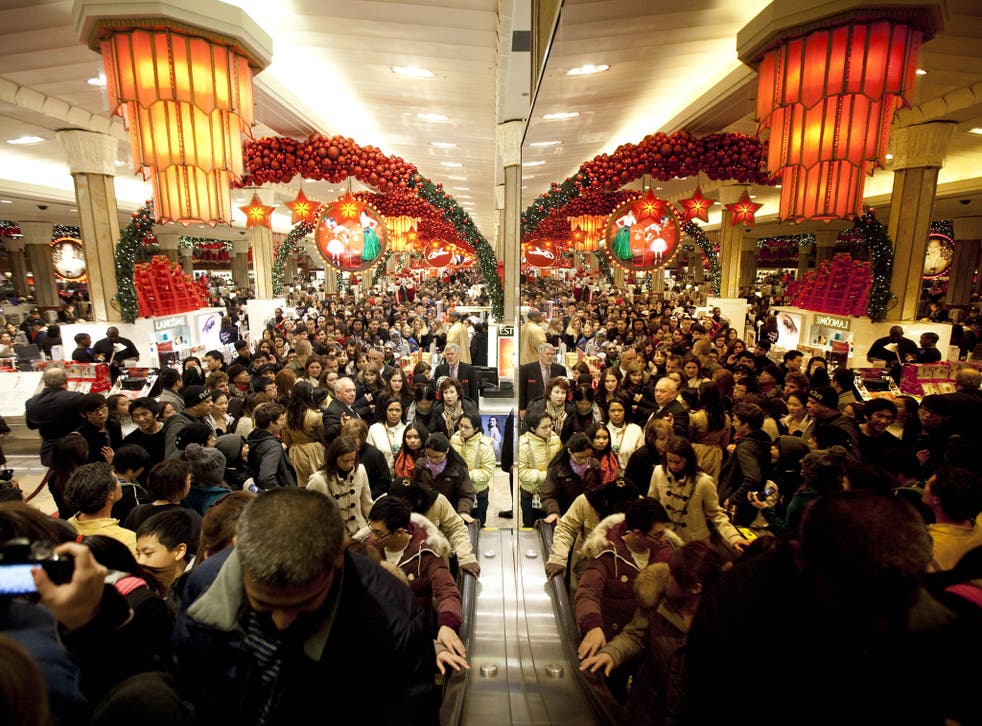 It sounds like a horror movie, a sequel to Friday the 13th perhaps – and in some people's eyes it is.
After the festivities of Thanksgiving comes the chaos of Black Friday: the beginning of the Christmas shopping season and the end of sanity.
Perhaps that sounds over dramatic but, actually, it's not. There are only a couple of weeks left until the madness descends on the US – and it's threatening to cross the Atlantic too…
What is Black Friday?
Thanksgiving falls on the fourth Thursday of November and the following day is Black Friday. This year it takes place on 28 November.
On that Friday the majority of major retailers will open their doors extremely early and offer shoppers a series of promotions intended to kick-start the festive season.
Some stores will even open on Thanksgiving evening itself – that means you, Target. Others will welcome customers anytime between 5am and 8am.
Where does the name come from?
The name originated in Philadelphia, where police coined the term Black Friday in reference to the heavy traffic and increased pedestrian presence in the city the day after Thanksgiving.
An alternative explanation has a more monetary meaning. After the financial lull between January and November retailers experience a hike in custom in the lead-up to Christmas. As such they go from "in the red" to "in the black".
Last year an eye-watering $57.4 billion was spent over the four-day weekend, according to the National Retail Federation – although this was down from $59.1 billion in 2012.
Is it a national holiday?
Technically no – although some states, including California, observe the day after Thanksgiving so that people get to enjoy a long weekend.
So what's all the fuss about?
Think Dante's seven circles of Hell and you get a rough idea. Basically, people see those reduced dollar signs and it all gets a bit (read: very) crazy. Photographs of shoppers pushing and shoving each other in order to get the best deal are a common occurrence and more than a few fists are usually thrown.
But it's not always funny and occasionally things get really out of hand. Last year Reuters reported that a Walmart outlet in White Plains, just north of New York City, was evacuated after employees and shoppers said they had been warned of a possible bomb threat.
And in Las Vegas, a shopper was shot in the leg during a struggle with thieves who tried to take the TV he had just purchased in a Black Friday sale at Target, as he was carrying it to a nearby apartment complex.
Some people have even lost their lives. A website called Black Friday Death Count alleges that seven people have been killed in Black Friday incidents since 2006, while 90 have been injured.
And it's coming to the UK?
While it's nowhere near as much of an institution here as it is across the pond, many UK retailers do slash their prices the day after Thanksgiving. International giants such as Apple and Amazon offer special Black Friday deals and last year Asda, which is a subsidiary of Walmart, announced its own version of the tradition.
Things didn't go too well and in an Asda store in west Belfast there were claims that a heavily pregnant woman had been pushed and shoved and pensioners knocked to the ground.
Let's hope that stiff British upper lip and propensity for queuing keeps things in check this year…
Register for free to continue reading
Registration is a free and easy way to support our truly independent journalism
By registering, you will also enjoy limited access to Premium articles, exclusive newsletters, commenting, and virtual events with our leading journalists
Already have an account? sign in
Join our new commenting forum
Join thought-provoking conversations, follow other Independent readers and see their replies