Nine charts that show extent of racial inequality in US
Social and economic data reveals two different Americas for white and black Americans in terms of education, incarceration, wealth and health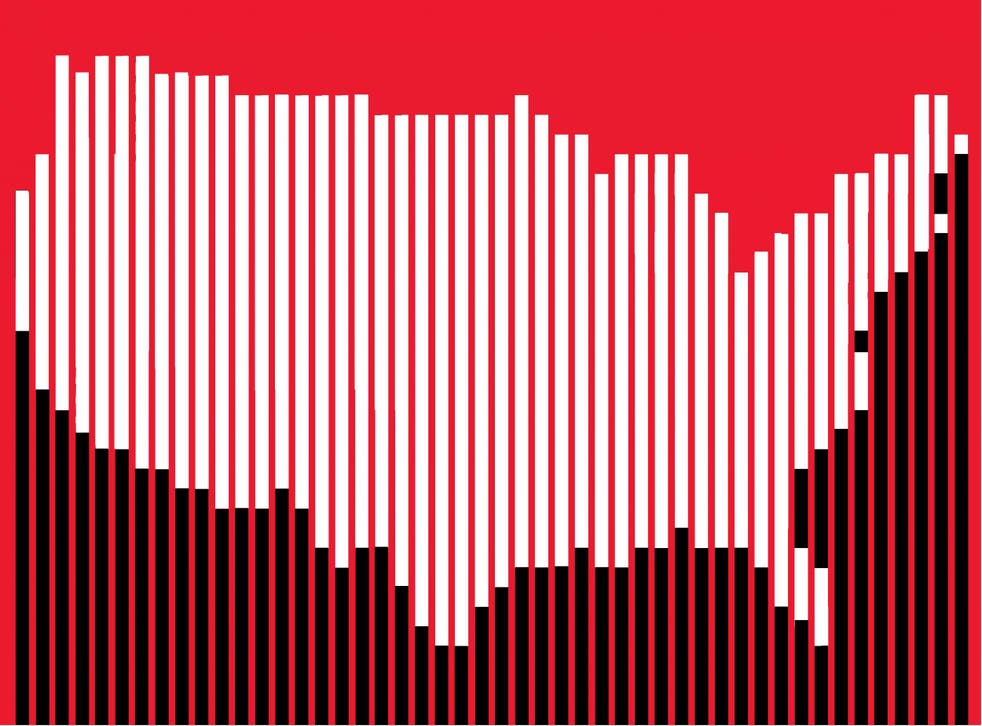 It has been 155 years since slavery ended in the United States, and more than half a century since segregation laws were repealed, yet the disparity between white and black Americans endures across all areas of life.
Protests that began in Minneapolis last week against racial injustice and police brutality have now spread throughout the US and the rest of the world.
The demonstrations may have been sparked by the death of George Floyd – a black American who died on 25 May after a white police officer pinned his neck against the ground for nearly nine minutes – but they are rooted in the context of wider injustices.
Social and economic data reveals how systemic racism in the US manifests itself in everything from wealth imbalance, to the proportion of deaths from the coronavirus pandemic.
These nine charts show the extent of racial inequality in the US.
Four of Floyd's arresting officers face criminal charges relating to murder, though it is just the latest incident of police violence in recent years. Between 1 January 2013 and 31 December 2019, US law enforcement killed 7,666 people, according to data compiled by research and advocacy group Mapping Police Violence.
Of those killed, black Americans were more than 2.5 times likely to be killed than white Americans.
Looking closer at the statistics reveals that eight of the 100 largest police departments in the US kill black men at a higher rate than the US murder rate.
Data from the Bureau of Justice Statistics and US Census Bureau shows how prison populations in the US are also vastly disproportionate in terms of race.
Between 2008 and 2018, the imprisonment rate of black people was around six times higher than that of white people.
High prison rates have been marked as a contributing factor for high unemployment, due to the difficulty of finding a job with a criminal record.
It is one of a number of socioeconomic factors that have resulted in the black unemployment rate remaining roughly double that of the white unemployment rate over the last 50 years.
A more recent metric that displays apparent racial inequalities in the US relates to the coronavirus death rate.
With an average of 55 deaths per 100,000 black Americans, the death rate is nearly 2.5 times higher that of white Americans.
Data gathered by APM Research Lab about the race and ethnicity of fatalities from 40 states leading up to 26 May shows the vast over-representation of black Americans from Covid-19 deaths.
Data from individual states reveals even greater local disproportionality, with black residents in Kansas seven times more likely to have died from coronavirus than white residents.
In only six states – Arizona, Massachusetts, Minnesota, Oklahoma, Rhode Island and Washington – was the death rate of black residents roughly proportional to their population size.
There is not a single key metric that black people in the US fare better than white people on a national scale.
Education, wealth and health measures all reveal significant advantages for white Americans over black Americans.
Register for free to continue reading
Registration is a free and easy way to support our truly independent journalism
By registering, you will also enjoy limited access to Premium articles, exclusive newsletters, commenting, and virtual events with our leading journalists
Already have an account? sign in
Register for free to continue reading
Registration is a free and easy way to support our truly independent journalism
By registering, you will also enjoy limited access to Premium articles, exclusive newsletters, commenting, and virtual events with our leading journalists
Already have an account? sign in
Join our new commenting forum
Join thought-provoking conversations, follow other Independent readers and see their replies