Bobby Daniels shooting: Police gun down father trying to calm down his mentally ill son during hostage situation
'His son pointed the weapon at Bobby, and forced him to sit back into the car, and that's when the police arrived with their weapons drawn'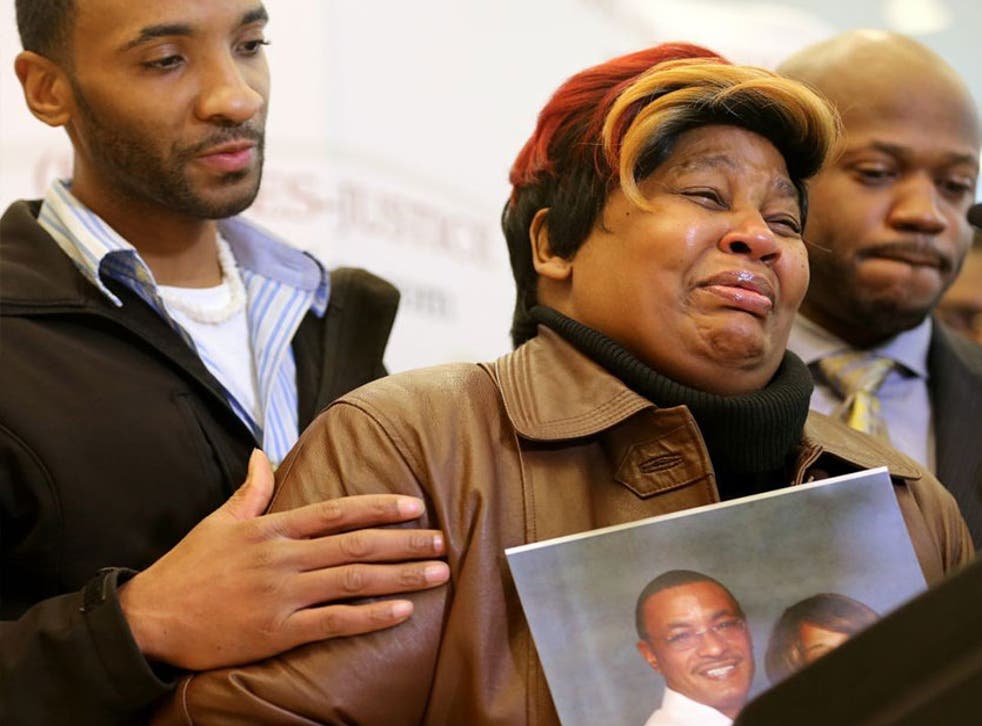 Police got the call around 8:20pm.
The security guard for a mobile home park in Douglasville in the state of Georgia said he had just been held at gunpoint for 45 minutes as he made his evening rounds.
That was around the same time that Bobby Daniels, 48, got the frantic calls from loved ones — his 25-year-old son Bias was having an emotional breakdown, he had a gun and had just been holding a hostage.
Bobby Daniels beat the deputies there, and according to family members talked his despondent son into putting the weapon down on the hood of a car. Moments later, the father of five was shot twice — not by his son, but by a Douglas County sheriff's deputy.
Daniels' death is one of more than 960 fatal police shootings by on-duty police officers in 2015, according to a Washington Post database, and the 246th black person to be fatally shot by the police this year.
And, as has often been the case in the aftermath of police shootings this year, police officials and the slain man's family tell contradictory stories of how Bobby Daniels ended up shot and dying on the asphalt.
In pictures: Michael Brown shooting nationwide protests

Show all 10
'Bobby came for the purpose of calming his son down, he arrived before even the police," said Chris Stewart, a civil rights attorney representing the Daniels family. "His son pointed the weapon at Bobby, and forced him to sit back into the car, and that's when the police arrived with their weapons drawn."
The family believes that Bias Daniels was going through a mental and emotional breakdown, which is a common precursor to police shootings this year. Roughly a quarter of all people shot and killed by the police this year have been in the midst of a mental health crisis, according to some reports.
Stewart said that Bobby Daniels then continued to reason with his son, eventually convincing him to set the gun down on the hood of the car.
It was then, Stewart says, that deputies attempted to use a stun gun on Bias Daniels — but it was ineffective because he was wearing a heavy coat. Bias Daniels then took a step toward the gun and, in what the family describes as an attempt to keep his son from getting the weapon, Bobby Daniels also went for the gun.
Initially, local police claimed that Bobby Daniels got the gun and pointed it at officers:
"I think that he could have been trying to help the situation instead of hurting it, but when he pointed the gun at the officers, he was shot," Douglas County Sheriff Phil Miller told reporters at the scene on Monday night. "There's no doubt in my mind that my officer thought his life was in danger, and he did what he thought he had to do."
That claim has enraged family members, some of whom witnessed the shooting. They said Bobby Daniels was a Navy veteran who had for years been employed as a security guard at CNN's Atlanta headquarters and another building run by Turner Broadcasting and that he was an avid defender of law enforcement.
"My husband would never ever take a gun and point it at an officer," Cynthia Daniels, the slain man's wife, said through thick tears during a news conference on Wednesday afternoon. "He would never do that."
They insist Daniels saw his son going for the gun and attempted to swat it away, hoping to prevent the police from having to use lethal force on his son.
"He tried to slap the gun off the car. They thought he was trying to grab the gun probably to shoot them, but no, he really wasn't," Garrett Daniels, a nephew of Bobby Daniels who witnessed the shooting, told Channel 2 Action News in Atlanta. "He was trying to protect him. That's all he was trying to do."
A statement released by the Georgia Bureau of Investigations offers a third version of events — stating that the father and son struggled over the gun, and that it was then that officers attempted to use a stun gun on the younger man.
"As the fight continued between Bias and Bobby, the handgun was pointed at the deputies, at which point one of the deputy fired, striking and killing Bobby," the GBI said in the statement.
But Daniels's family says the police still aren't telling the truth. They insist that the father never had his hand on the weapon.
"At no point did he touch the weapon, but for some reason the officer shot," Stewart said. "What they should know is that they killed a victim. Bobby didn't want anyone to be shot, he was trying to help protect his son and the officers."
After his father was shot, Bias Daniels grabbed the gun and ran away. He was later taken into custody and charged with aggravated assault, kidnapping and obstruction.
Daniels's family says it will spend the holiday planning a funeral and preparing a lawsuit against the sheriff's department.
"We want them to acknowledge the truth, Stewart said. "Mistakes happen. They shot Bobby, and he shouldn't have been shot. Acknowledge that. But don't tell this family who is grieving that this man picked up a gun and pointed it at the officers. It's just disrespectful."
Copyright: Washington Post
Join our new commenting forum
Join thought-provoking conversations, follow other Independent readers and see their replies