Boston Marathon bombing: Tamerlan Tsarnaev was a boxer. Dzhokhar Tsarnaev was a wrestler. Both were terrorists
The Tsarneav family fled war-torn Chechnya in pursuit of the American dream. So how did their sons turn out to be America's nightmare?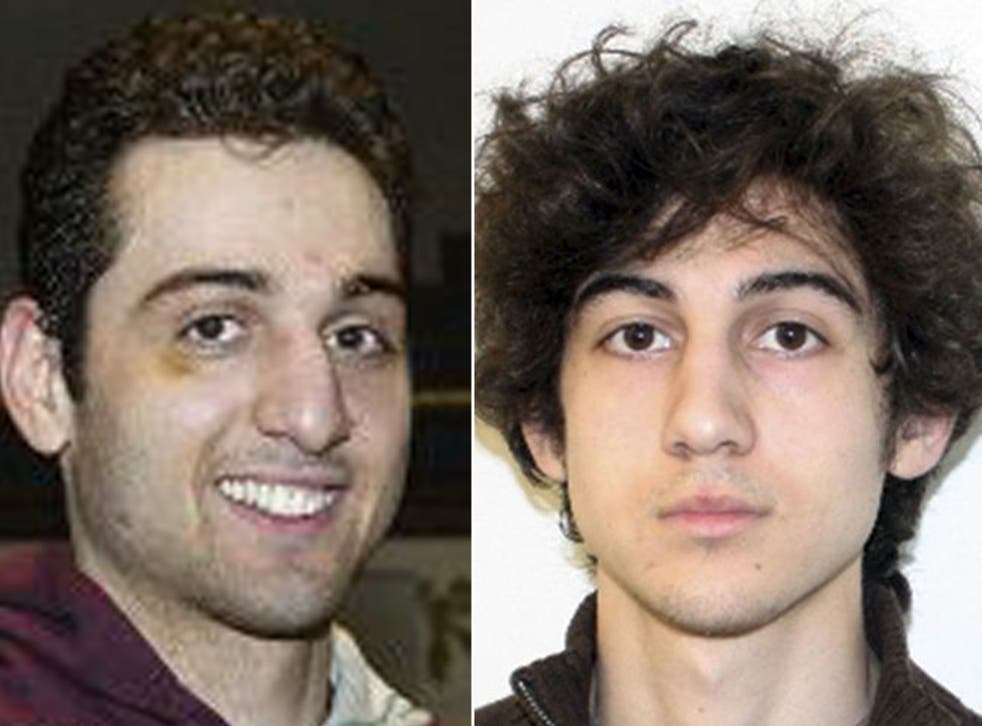 On Thursday night Alvi Tsarni received an unexpected phone call from his nephew, Tamerlan Tsarnaev. The pair had not spoken for four years because of a family dispute but Tamerlan had a simple request of his uncle. He said: "Forgive me."
As the pair spoke, images of the two rucksack-carrying prime suspects believed to have caused the carnage at the Boston Marathon were being beamed across America.
Within hours Tamerlan, 26, a talented amateur boxer, would lie mortally wounded in a Boston suburb after an apparent suicide dash into a hail of police bullets. His 19-year-old brother Dzhokhar, the other suspect, was the subject of a manhunt that paralysed the entire city.
The extraordinary drama which unfolded was the culminating chapter of lives that turned two young Muslims from the war-torn former Soviet fiefdom of Chechnya first into model US immigrants, but then into twisted bombers – who, according some reports, lingered after Monday's twin blasts to examine the results of their work.
The banditry that occurred in the Boston suburbs of Watertown and Cambridge must have seemed impossible on 16 May 2011 when the winners of a prized scholarship for graduating high-school students attended a formal civic reception to receive their $2,500 prize.
Among them was Dzhokhar, who was captured grinning proudly in a graduation photograph, sporting the same shock of unruly curly brown hair seen curling from under his white baseball cap in this week's CCTV images. A model pupil from the highly rated Cambridge Rindge and Latin School, he had been a popular classmate, acting in plays and featuring as an "all-star" in the school wrestling team.
The apparent reality that this handsome, carefree young man, whose father wrongly believed had embarked on studies to become a doctor, had along with his elder sibling become a calculating murderer was yesterday too hard for his family to take.
Speaking from Makhachkala, the capital of Dagestan, a Caucasus state neighbouring Chechnya, the men's father, Anzor, said: "My son is a true angel. Dzhokhar is a second-year medical student in the US. He is such an intelligent boy. We expected him to come on holidays here."
The car mechanic, who had originally lived with the family in a rented flat in Cambridge before travelling to Dagestan following treatment for a brain tumour, added: "They were set up. I saw it on television; they killed my older son Tamerlan."
Asked about the phone call from Tamerlan, Alvi Tsarni, who spoke in halting English at his home in the Boston area, said: "Yesterday he called me and said 'forgive me, from now we will be together forever'. If he did this, I'm sorry. It's crazy. It's not possible. I can't believe it."
There was little evidence of radicalisation as the 19-year-old went about his life. On his page on VKontakte, a Russian-language version of Facebook, Dzhokhar listed "career and money" as his principal interests. He listed his favourite song as "Hey Sexy Lady" by Shaggy. But when asked for his world view, he answered "Islam" and had recently added to links to jihadist material on the website. Larry Aaronson, a former teacher at Rindge and Latin, told the Boston Globe: "If someone were to ask me what the kid was like, I would say he had a heart of gold. He was as gracious as possible." A former classmate described Dzhokhar as a "normal American kid".
If any seeds of murderous intent were apparent yesterday, they lay with Tamerlan rather than his younger brother. The stocky heavyweight had dropped out of an engineering course to concentrate on his boxing career.
Like his brother, Tamerlan was outwardly at ease with his American identity. In a photo essay by a local photographer in 2010, he can be seen posing outside the gym in front of his silver Mercedes, sporting sunglasses and white slip-on shoes. But he told the photographer: "I don't have a single American friend. I don't understand them."
He added that he was "very religious", eschewing alcohol and complaining that "there are no values any more". Such values did not prevent his arrest a year earlier on suspicion of beating up his then girlfriend.
Despite their Chechen roots, the amount of time they spent in the country seems to have been limited as the family of two boys and two girls, Bella and Amina, shifted around a succession of former Soviet states including Kyrgyzstan, Kazakhstan and Dagestan. It was from Dagestan that the family eventually travelled to Massachusetts with Dzhokhar arriving in 2002 and his brother following two years later.
The family were assisted by members of Boston's small Chechen community. But despite some academic success for the brothers, the family was clearly struggling. Financial help was sought from relatives while Anzor, a talented mechanic but unable to speak English, scratched a meagre income at $10 an hour. The mother of the two apparent bombers, Zubeidat, 45, was last year charged with stealing $1,600 (£1,000) of clothes.
Along with it seems to have come the slow slide into radicalisation for the two brothers which reached its horrific zenith on Monday as they mixed with the crowds enjoying the proudest day in Boston's sporting calendar.
It emerged that both brothers had become increasingly interested in Islam and returned for significant periods of time to Dagestan, perhaps crossing into Chechnya where rebel leaders have increasingly allied themselves with al-Qa'ida and militant Islamists.
Tamerlan appears to have flirted with criminality, listing a series of texts on how to forge identity documents on his Amazon wishlist.
For another uncle of the two men, the meaning of their actions was grimly clear. Ruslan Tsarni, who lives near Washington DC and is a director of a London-based oil services company, branded Tamerlan "a loser", adding: "I always told those two, radical Islam has always been there, just do your business. Work, go to school, be useful. Know why you came to America. I am not sympathising with them." He added: "I wish they never existed. They do not deserve to exist on this earth."
Tamerlan Tsarnaev
The 26-year-old had been a talented amateur boxer who said he hoped one day to compete for the United States at the Olympics. He died at a medical centre in a Boston suburb after being shot by police, and as a suspect in America's worst terrorist attack since 9/11
Dzhokhar Tsarnaev
Tamerlan's 19-year-old brother was named as the second suspect in the Boston bombing. Once hailed as a model student at the highly-rated Cambridge Rindge & Latin School, he became the subject of a manhunt which paralysed Boston. His father yesterday described him as "a true angel".
Join our new commenting forum
Join thought-provoking conversations, follow other Independent readers and see their replies