Boy with autism reads to rescue dogs to help them find a new home
'They have to find new homes because they are alone'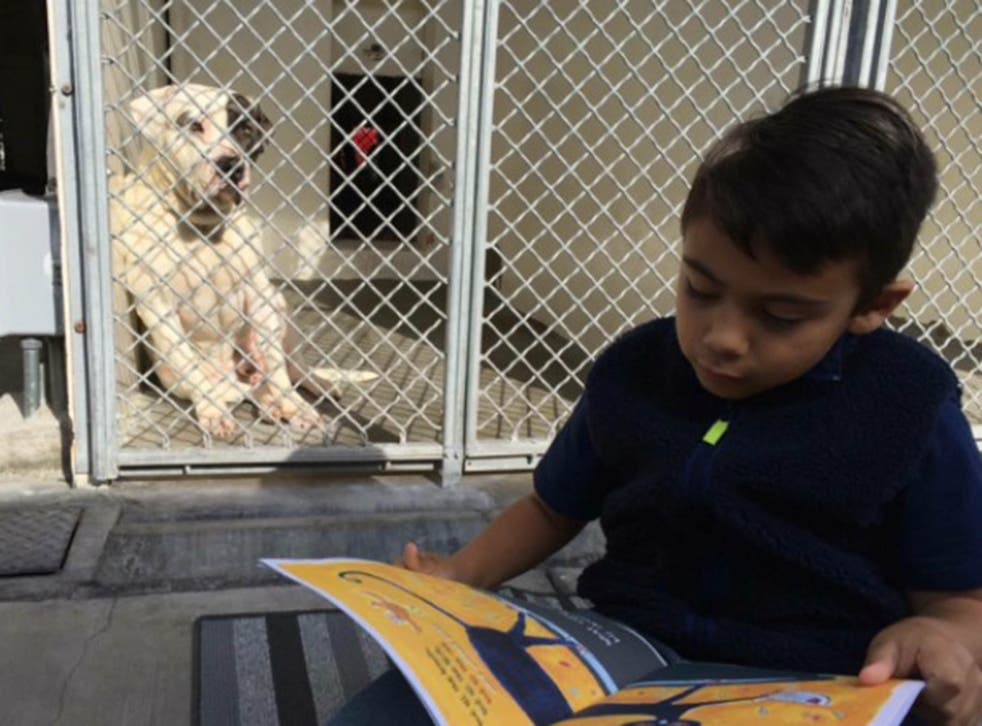 A young boy with autism reads to dogs at a shelter every week to help them become more sociable and get rehomed.
Jacob Tumalan, 6, takes part in the "Rescue Readers" group at the Carson Animal Shelter in California, and has been reading to the dogs for six months.
"If I read to the dogs they will come out of their cages and find homes," Jacob said. "They have to find new homes because they are alone," he told NBC.
He first visited the home, where his aunt works, a year ago before deciding he wanted to help the dogs.
Jacob visits the animals on Thursday afternoons after school. He sits on a mat in front of the cages while he reads and his work is said to have had a positive effect.
After finding out that one dog, named Pirate, had an issue with cats, he decided to read it a feline based book to help.
Aaron Reyes, the deputy director of the Los Angeles department of Animal Care and Control, said the dogs relax and calm down when Jacob reads to them.
As well as helping the dogs, his volunteering has also helped him to improve his reading. He now reads at a third-grade level, which is equivalent to an eight- and nine-year-old.
His mother also says he is more relaxed around the dogs.
The dogs from Instagram

Show all 6
"My son has always had a big problem with loud noises and a lot of activity around him," Katie Tumalan told ABC news.
"When he's there, he looks like he's pretty focused and he could block a lot of that out. At times he'll cover his ears, but he stays in tune with the dogs while reading his books, so that's pretty awesome to me."
However, reading to animals is not a new technique. Battersea Dogs Home, one of the UK's oldest animal shelters, has also used reading to help animals be re-homed.
Rob Young, Centre Manager at Battersea Dogs & Cats Home, said: "Many of these animals are shy or nervous, but they enjoy the comfort of having a human companion close by. Reading to the animals allows the dogs and cats to become comfortable around different people.
"As a result dogs and cats searching for new homes are more confident when meeting prospective owners which we hope will help them find their way into a new home faster."
Autism affects around 700,000 people in the UK, according to the National Autistic Society, and there is currently no recognised cure.
Join our new commenting forum
Join thought-provoking conversations, follow other Independent readers and see their replies