Brazil elections: Personality, rather than issues, sure to dominate poll with TV stars, an astronaut and a porn star among the candidates
The country's open list proportional representation system means that votes for anyone with a high profile can be used to get other candidates in for the same party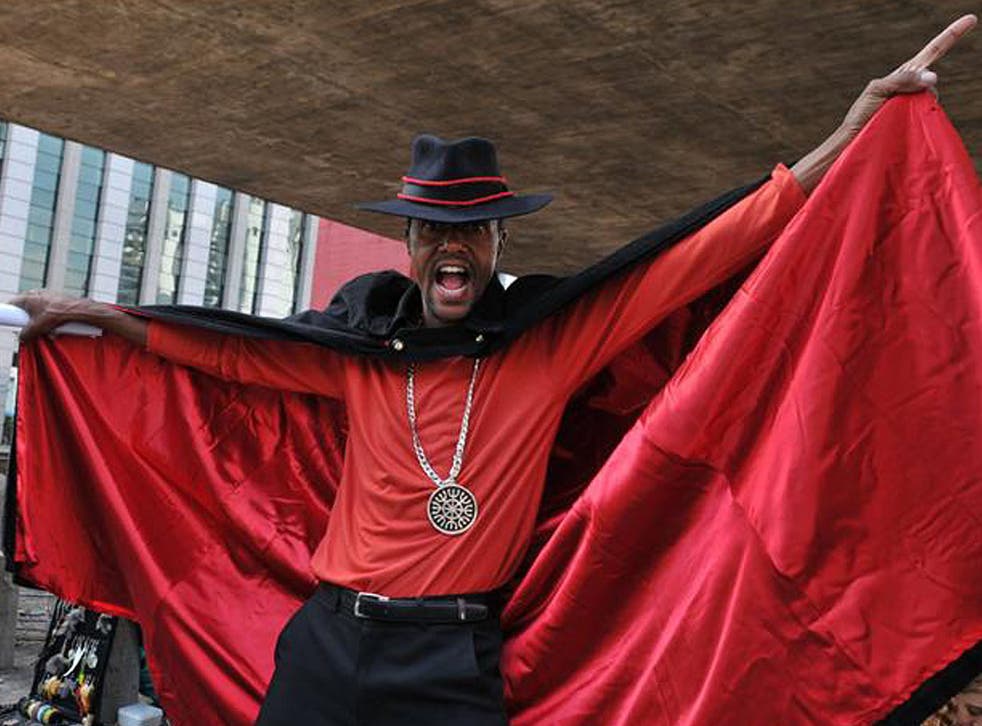 Singers, rappers, TV stars, comedians, volleyball players, numerous Big Brother stars, an astronaut, and even a porn star... these are just some of the candidates in Brazil's national elections next weekend.
They follow ex-footballer Romario, an outspoken critic of this year's World Cup, and the clown Tiririca, who both triumphed in the vote in 2010 and are standing again.
Favoured by parties for their instant appeal, celebrities are often popular with the public, since they are viewed as being independent of the corruption endemic in politics.
The plastic surgeon known as "Dr Hollywood", Roberto Rey, who is running in São Paulo as a federal deputy for the Social Christian Party, has already been a TV star in the US as well as Brazil.
Also in São Paulo, the astronaut Marcos Pontes will be counting on patriotic feeling to win him votes on 5 October.
As the campaign trail heats up, many have turned to extremes to get themselves noticed. One of the more eccentric is Toninho do Diabo, or Little Tony the Devil, a circus performer who dresses as Satan and promises to send corrupt politicians to hell. And after a legal ruling, Rio de Janeiro's candidate Claudio Henrique dos Anjos will be allowed to go to the polls with the name Barack Obama.
Brazil's open list proportional representation system means that votes for anyone with a high profile can be used to get other candidates in for the same party. This means they are more than just a novelty. Political scientist and professor at the University of Brasilia, David Fleischer, said popular or notorious public figures have found a home in Brazilian politics for many years, in part due to this system. This was even true during the military dictatorship from 1964 to 1985.
"The military leaders always courted Pelé, who would have been hugely popular with the public, but he sensibly said no," Professor Fleischer said.
"Proportional representation also helps evangelical Christian bishops and pastors who will always get their faithful to vote for them. The Catholic Church does not hold the same influence and control over its followers."
Protestant worshippers, often pentecostal or evangelical, now make up 23 per cent of the population and religious figures with an ultra-conservative agenda are increasingly influential. A survey by newspaper O Globo showed a 44 per cent increase in the number of candidates this year with the title pastor. As well as religion, some candidates use the nightly "political hour" on television to emphasise personal characteristics, such as the football team they support.
Clown and comedian Tiririca was elected in 2010 amid doubts he could read and write his own name, in a country with high rates of illiteracy, but received a record 1.3 million votes. It was viewed as a protest vote, but while celebrity candidates traditionally last only one term after being elected, Tiririca is now up for re-election.
While Professor Fleischer points out that while he has put in the hours with a 100 per cent attendance record in the local legislature, the clown is yet to present a single bill. Perhaps his main legacy will be that five other clown candidates have now presented themselves for next week's election.
Romario has won credibility with his outbursts against Fifa and Sepp Blatter during the World Cup. He too is likely to serve another term.
Corruption is high on the agenda for Brazil's electorate. State-run oil company Petrobras is currently at the centre of allegations that politicians took kickbacks. And the Mensalao corruption trial is still fresh in people's minds. The vote-buying scheme tainted the former president Lula Inacio da Silva's time in office, even though there were no charges brought against him. Both scandals implicate the ruling Workers' Party and could complicate the re-election prospects of the incumbent president, Dilma Rousseff.
Join our new commenting forum
Join thought-provoking conversations, follow other Independent readers and see their replies