More than 46 people killed in Brazil as record rainfall triggers floods and landslides
Scores are missing, according to authorities
Zoe Tidman
Sunday 26 January 2020 19:16 Comments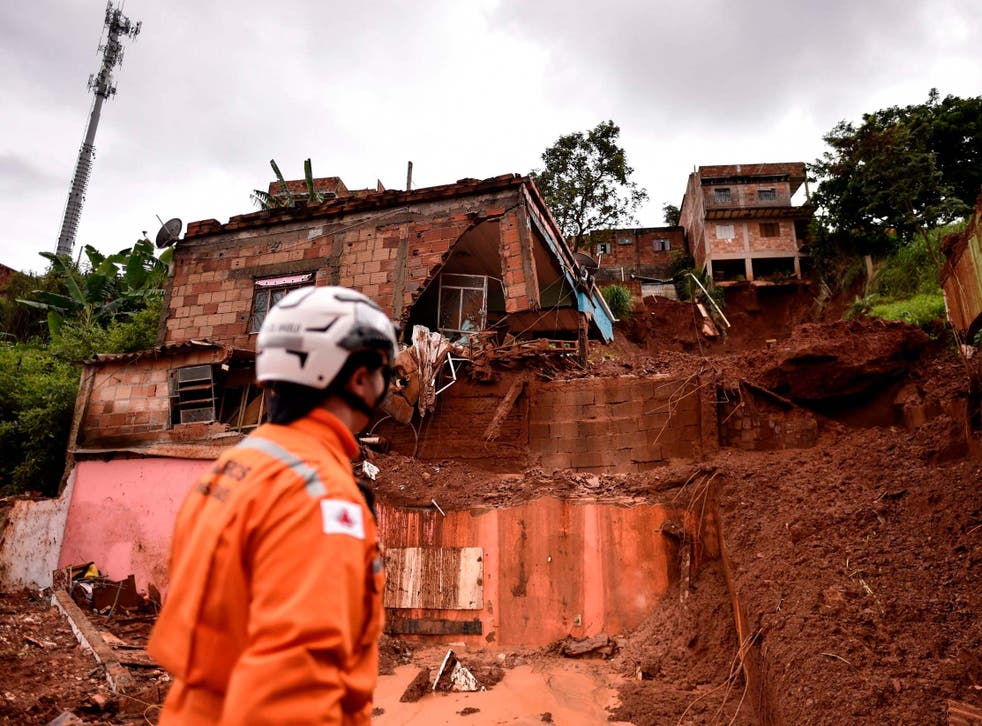 More than 46 people have been killed in flooding and landslides in Brazil after parts of the country experienced their heaviest ever rainfall.
At least 37 had died in the state of state of Minas Gerais and nine more in neighbouring Espirito Santo, according to local disaster officials, who said 28 people remained missing.
Some 20,000 people have evacuated.
Authorities said rain was expected to continue across parts of Minas Gerais - which neighbours Rio de Janeiro and Sao Paulo – throughout Sunday.
Romeu Zema, the state governor, has declared a state of emergency in over 47 cities.
Images have shown properties devastated by landslides and rubble covered in mud following the extreme weather.
On Friday, Belo Horizonte - the state capital – received the most rain it has ever seen in a 24-hour period.
"I am deeply sorry for the deaths, especially a child's, as a result of the largest ever rainfall recorded in [Belo Horizonte]," Mr Zuma said on Friday.
He has declared three days of mourning for the victims of the floods and landslides.
Storms and more downpours are forecast to continue across Brazil's southeast over the next few days, according to the national metrological agency.
Vale SA, a Brazilian mining firm, raised the emergency level at a dam at its Gongo Soco mine in Minas Gerais over the weekend after heavy rainfall eroded the structure's reservoir.
One year ago, one of the company's dams collapsed in Minas Gerais, killing over 250 people.
The disaster – which has been touted as one of the worst mining disasters in the world – triggered a mudslide which destroyed buildings and covered neighbouring areas with waste.
Commemorations were held for victims of the 2019 collapse in Brumadinho on Saturday.
Additional reporting by agencies
Register for free to continue reading
Registration is a free and easy way to support our truly independent journalism
By registering, you will also enjoy limited access to Premium articles, exclusive newsletters, commenting, and virtual events with our leading journalists
Already have an account? sign in
Join our new commenting forum
Join thought-provoking conversations, follow other Independent readers and see their replies