Breitling boss Thierry Prissert accused of homophobia by gay sales rep
Luxury watch maker has gay icon David Beckham as brand ambassador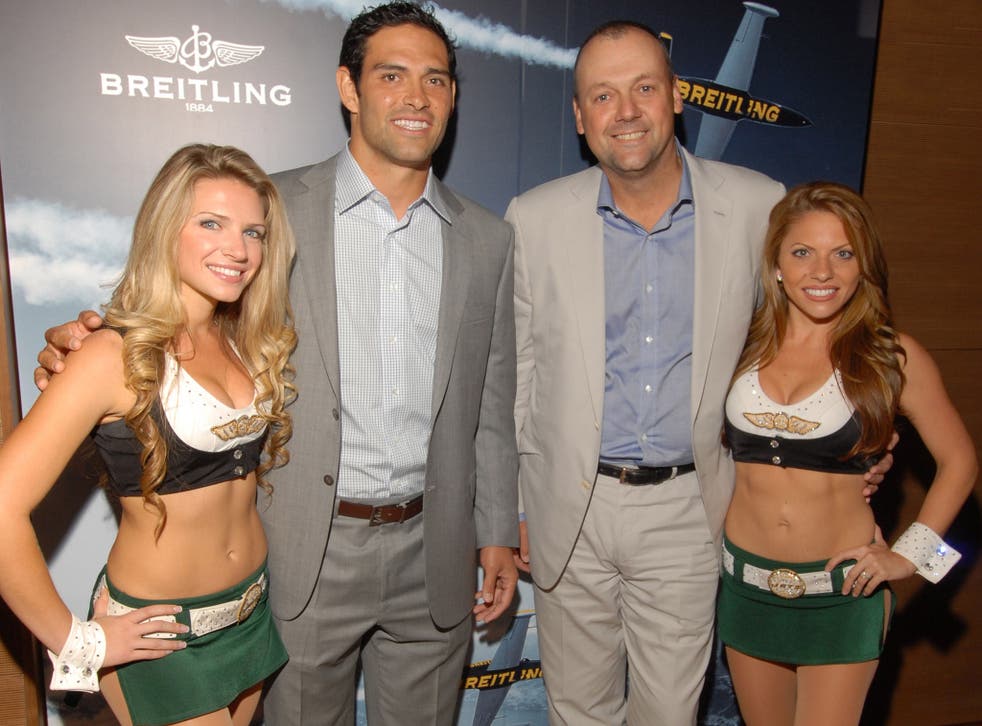 Luxury watchmaker Breitling may have hired David Beckham – who once said he was "very honoured" to be a gay icon – to help sell their brand, but according to a new lawsuit the US branch of the Swiss firm was less keen on having a gay sales rep in Frederick Cargian.
Mr Cargian was a star member of the sales team who helped transform Breitling's fortunes in the US as its turnover rose from $2m (£1.29m) to more than $100m, the lawsuit claims.
But the 54-year-old executive, who earned $230,000 a year plus bonuses, alleges that because of his sexuality he was harassed, treated differently from other male employees and undermined in his work.
He also claims that part of his sales territory was given to a married former college lacrosse star – whose father was once an American football player with the Cleveland Browns – despite his apparent lack of sales experience. His salary was cut and he was eventually fired in December 2013 after 23 years with the firm.
A lawyer for the firm said Breitling, which hired Beckham as a brand ambassador in November 2012, planned to "vigorously defend" itself against Mr Cargian's claims.
The lawsuit says that his mistreatment began when Thierry Prissert became president of Breitling USA in October 2010.
"Prissert, by his actions, made it clear that he expected stereotypical male behaviour. He gave preference to stereotypical straight men with sport backgrounds," the document filed with Manhattan Federal Court says.
"Prissert would regularly engage in sports talk with male reps in the office, but never included the plaintiff or the female reps. Prissert invited all of the male reps to his new New York apartment, but did not invite the plaintiff or any of the female reps.
"Because the plaintiff is gay, he was treated with the same disdain as were the female staff members."
In June 2013, the lawsuit says: "All of the experienced male sales reps, except for the plaintiff, were invited to the prestigious marketing event held with Bentley cars in Crewe, England. No female sales reps were invited."
Mr Cargian, who lives in New York, and the female reps were also not invited to other networking events and, on the annual trip to Basel, Switzerland, he was assigned to share a room with a married female rep.
Gay Times Top 30 gay icons of the last 30 years

Show all 30
He claims that when his territory was reduced in size, his salary was cut from $230,000 to $196,000. A female sales rep's pay was also cut when her territory was reduced, but this did not happen to another male rep in the same position.
Mr Cargian is seeking punitive damages and compensation including damages for "mental anguish and humiliation".
Mr Prissert told The Independent Mr Cargian's lawsuit was "without merit" and that his central claim was a "false allegation". He added that Breitling took US equal opportunity law "very seriously".
Beckham, a major star in both the US and Europe, has been credited with helping tackle homophobia in football. Asked about Beckham's involvement in the firm, Mr Prissert said: "He's an amazing person and we are very proud to be associated with him."
Join our new commenting forum
Join thought-provoking conversations, follow other Independent readers and see their replies