California killings: Elliot Rodger's family warned police about killer's disturbing online videos before shootings and stabbings
Investigators may have missed opportunities to stop the massacre that left six dead in the student community of Isla Vista, California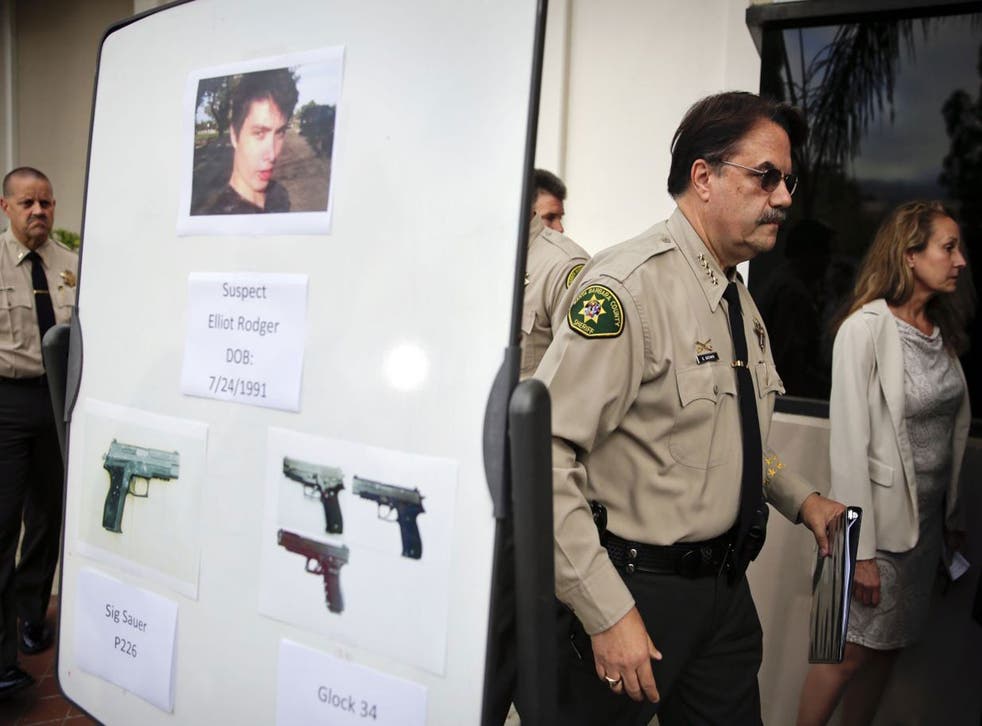 The aunt of Elliot Rodger has spoken of the family's devastation following his killing spree in Isla Vista, California, on Friday.
Rodger's father, an assistant director on The Hunger Games, is said to be "absolutely broken" after his son carried out the massacre near UC Santa Barbara (UCSB), which left six dead and many more injured.
The sister of Peter Rodger told Sky News the family was "in total shock" - and she condemned US gun laws.
Jenni Rodger, who lives in Cazals, France, said: "I can't imagine how awful this must be for the families of those killed. My heart goes out to them.
"I don't know how on earth a sick, disturbed young man was able to get hold of a gun.
"He was always a disturbed child. I don't know how he was allowed to get a gun. Something has to be done about gun laws in America."
She added: "Pete is absolutely broken. He is such a sensitive being. I can't see how he'll ever recover from this."
Her comments came as reports suggested police may have missed opportunities that could have prevented Rodger's knife and gun rampage in the student beach community.
Santa Barbara County Sheriff Department officials said they had several interactions with Rodger in the lead-up to the tragedy. Sheriff Bill Brown said deputies had interacted three times with the 22-year-old, who also died in the attack, including a welfare check just weeks ago on 30 April, the Los Angeles Times reported.
Relatives had expressed concern about Rodger's health after he posted a series of disturbing videos online - but no action was taken after officials ruled that the young man appeared to be fine and was "polite and courteous". Mr Brown said he refused to "second guess" his officers' decision.
Warning: Some viewers may find the following video disturbing
And last summer, Rodger accused several people of assaulting him – but investigators conceded he was actually the aggressor and suspended the case.
However, in a 137-page document that has now been published, Rodger reveals that if police had searched his room during their visit, they would have found incriminating evidence indicating his deadly intentions
In it he details his fear that "someone had somehow discovered what I was planning to do" and vows to be more careful in the future.
Rodger writes: "The police would have searched my room, found all of my guns and weapons, along with my writings about what I plan to do with them. I would have been thrown in jail, denied of the chance to exact revenge on my enemies. I can't imagine a hell darker than that. Thankfully, that wasn't the case, but it was so close."
He continues: "It was all because of the videos. I must have expressed too much anger in them.
"I immediately took most of them off of YouTube, and planned to reupload them a few days before the Day of Retribution."
The "Day of Retribution" is thought to refer to Friday's rampage, during which Rodger stabbed his three flatmates to death before shooting dead two young women outside a sorority house and then killing a young man inside the local deli in the student beach community of Isla Vista.
The aftermath of the Santa Barbara shooting

Show all 10
Rodger then drove around in his black BMW, randomly shooting at pedestrians. After getting into a gun battle with deputies, he was apparently wounded but continued to drive and was later found dead from what is believed to have been a self-inflicted gunshot wound to the head.
The three people shot were named as 22-year-old Katie Cooper, 19-year-old Veronkia Weiss and 20-year-old Christopher Michael-Martinez.
Footage emerged on Saturday that captured the shooting in the IV Deli Mart. The surveillance video obtained by CNN shows panicked customers throwing themselves to the ground as Rodger opens fire – it does not show the moment in which Mr Martinez was fatally shot.
Police found three guns in Rodger's car that were legally bought from licensed firearms dealers and were registered in his name. They also found more than 40 unused loaded gun magazines in the vehicle, indicating the extent of his plans.
In a video uploaded to YouTube the day before the massacre, entitled "Elliot Rodger's Retribution", the suspect chillingly foretells the killings. He describes his plans to shoot women and promises retribution for his "loneliness and frustration" at never having had a girlfriend.
He complains that he has been at college for more than two and a half years but is still a virgin and has never kissed a girl.
Rodger says: "All you popular kids, you've never accepted me and now you'll pay for it."
He goes on: "I'll take great pleasure in slaughtering all of you. You will finally see that I am, in truth, the superior one, the true alpha male."
And in earlier posts on his online blog Rodger, who was born in the UK and moved to the United States when he was five and was attending college in Santa Barbara, describes his sense of alienation.
In a post dated 16 April he writes: "Being lonely in a beautiful place like Santa Barbara is truly a horrible experience.
"As I've said many times, a beautiful environment can be the darkest hell if you have to experience it all alone, especially while having to watch other men walking around with their girlfriends. I wish girls were attracted to me. I don't know why they aren't."
Mr Brown said the video was "obviously the work of a madman, adding: "It is very, very apparent that he was severely mentally disturbed".
He continued: "We're analysing both written and videotaped evidence that suggests that this atrocity was a premeditated mass murder."
Additional reporting by agencies
Join our new commenting forum
Join thought-provoking conversations, follow other Independent readers and see their replies