Canada's 'bad-ass' defence minister Harjit Sajjan explains why his country is taking in 25,000 Syrian refugees
'It is the humanitarian thing to do – and it is a way of hitting Isis, too'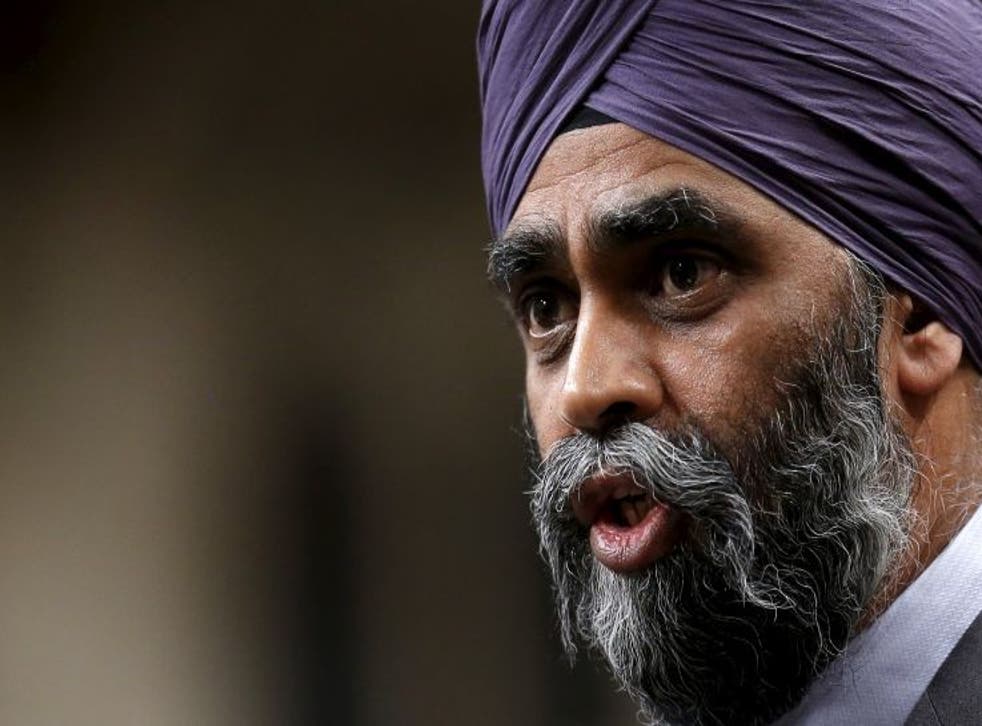 "Not only can we do this, it is the right thing to do," says Canada's Defence Minister, Harjit Sajjan, referring to the country's decision to take thousands of refugees from Syria. "This is not just a humanitarian project but it is a way of hitting Isis [Islamic State] as well."
While accusations and recriminations echo among European states over refugees, Canada is taking 25,000 people. For Mr Sajjan, his nation is "showing the Syrian people that Isis is creating this environment, but we are standing by them and we will continue to do so".
The first group of Syrians was welcomed personally nine days ago by the country's new Prime Minister, Justin Trudeau, saying: "You are home, you are safe home now." The reaction of the public has been broadly welcoming, too, seemingly without the fear across the Atlantic or over the border in the US of terrorist infiltration and social upheaval.
Mr Sajjan adds: "Of course, it is important for any government to address security and other concerns of people over this and we have described fully all the steps we are taking, the security vetting, the health screening ... before they get on the plane.
"We also believe these people will make an important contribution to Canada; among the people I met ... were a couple who were both doctors, who used to run a clinic before they left. If they were that successful in Syria, I suspect they will be very successful in Canada."
Mr Sajjan's Sikh family emigrated from India when he was five years old. "Multiculturalism isn't an experiment in Canada any more," he says. "My kids think like Canadians, they don't know anything else."
There was little surprise when he was picked for his cabinet post by Mr Trudeau. As a decorated lieutenant-colonel in the Canadian army, he had done three tours in Afghanistan and one in Bosnia. Pictures of him in combat gear circulated on social media as "our bad-ass defence minister".
Mr Sajjan, who has also been an officer in the gang warfare and organised crime department of Vancouver Police, was initially rejected when he applied to join the army. He went on to become the first Sikh to command a Canadian regiment, and he maintains that most obstacles can be overcome with innovative thinking.
In Afghanistan, he created his own gas mask, which he later patented, to enable him to keep his beard. There were no Sikhs among his American colleagues because US forces forbid bearded men from the front line.
His third deployment to the war was specifically at the request of Lieutenant-General James Terry, the American commander of international forces in the south of the country.
By then, Mr Sajjan had been described by his Canadian superior, the then Brigadier-General David Fraser, as "the best single Canadian intelligence asset" on the ground, who "through his personal bravery and dogged determination undoubtedly saved a multitude of coalition lives", and, "through his courage and dedication, single-handedly changed the face of intelligence gathering and analysis is Afghanistan".
As Britain extended its bombing mission against Isis from Iraq to Syria earlier this month – amid impassioned opposition, the government in Ottawa announced it will end air strikes in Iraq, a move strongly opposed by the Conservative opposition.
The issue is not, however, simply one of difference between left and right, pacifist tendency versus a military one. While Britain's Chief of the Defence Staff, General Sir Nicholas Houghton, publicly expressed his concern about Jeremy Corbyn becoming prime minister because of his position on the nuclear deterrent, the former head of the Canadian army, Lieutenant-General Andrew Leslie, is a fellow MP of Mr Sajjan in the Liberal Party.
British MPs from the Commons Defence Committee complained, after a visit to Iraq earlier in the year, that British troops, part of one of the smallest ground contingents in the coalition, were too far away from the front line. Canadian troops have been among the furthest forward.
Earlier this week, when Isis fighters, supposedly on the back foot, launched a three-pronged offensive with mortars, rockets and car bombs against Kurdish troops in northern Iraq, Canadian special forces joined in the successful counter-attack.
Was this not another argument for having troops on the ground in large numbers? "In Iraq, the boots on the ground have to be Iraqi forces themselves," says Mr Sajjan. "This is not something being done from scratch, the Americans have been training them for four years, so this is more of a refresher. We have been training the Kurds, who are doing very well."
Syria is a "very different and more complex situation", he adds. "We need to press forward with the political solution; we need to look at a proper transition from Assad. We are hopeful that, with recent developments, this will happen. Essentially, as a coalition, we need to pursue every single option before putting men and women who serve our country in harm's way."
US investigates Iraqi deaths in air strike
Baghdad's defence minister has launched an investigation into the deaths of Iraqi soldiers in an apparent American air strike, adding that the wrongdoers would be "punished according to Iraqi law".
Khalid al-Obeidi said that 10 soldiers were killed on Friday near Fallujah, which is under Islamic State (Isis) control. He said he would "not neglect the blood of Iraqis".
The US Defense Secretary, Ash Carter, called the Iraqi Prime Minister Haider al-Abadi to express his condolences, and said the US was investigating the incident.
He said yesterday that the incident seemed to be "a mistake that involved both sides". He added that it "has all the indications of being a mistake of the kind that can happen on a dynamic battlefield".
The US is leading the coalition air offensive against Isis in Iraq and Syria. Mr Obeidi said that the strike occurred when coalition air forces were covering the advance of Iraqi ground troops near Fallujah because the Iraqi army helicopters were not able to fly due to the bad weather.
Asked if he was worried that the strike would anger Iraqi citizens, Mr Carter said: "I hope Iraqis will understand that this is a reflection of things that happen in combat. But it's also a reflection of how closely we are working with the [Iraqi] government."
AP
Join our new commenting forum
Join thought-provoking conversations, follow other Independent readers and see their replies