Canadian soldier dies after being run over by suspected Islamist extremist
The suspect, Martin Rouleau, was shot by police after a car chase and has died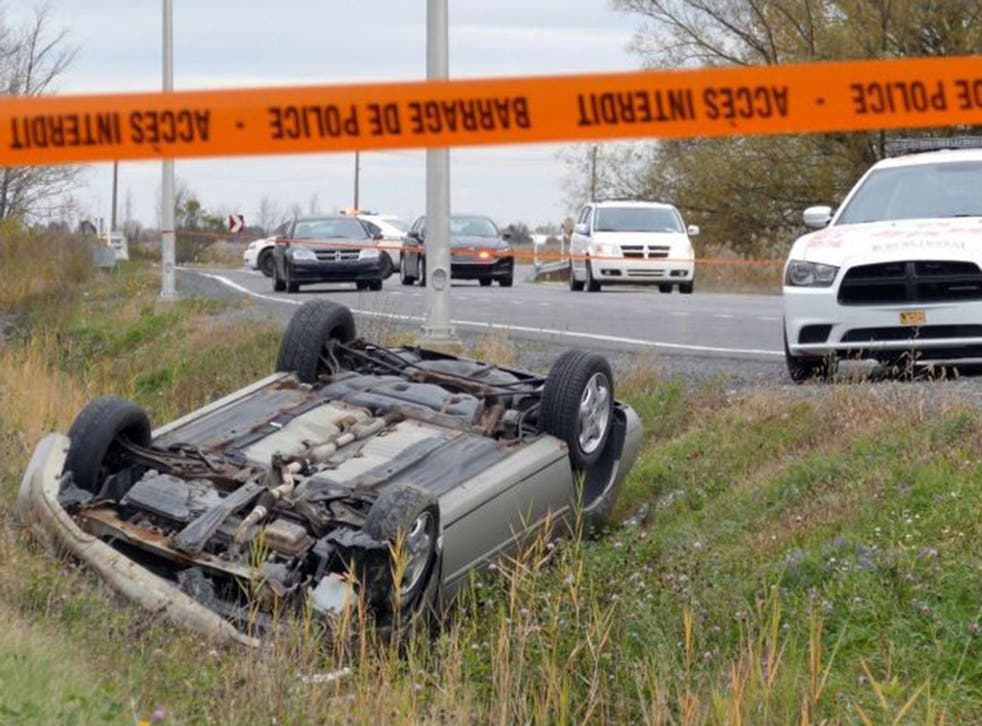 A Canadian soldier has died after being run over by a suspected Isis extremist.
The soldier, who has not been named at his family's request, was hit alongside another serviceman in Saint-Jean-sur-Richelieu, a city near Montreal, on Monday.
The pair were standing in a car park at about 11.30am when Martin Rouleau, the 25-year-old suspect, reportedly deliberately drove into them before speeding away from police.
A spokesperson for Quebec police said the first soldier died of his injuries but the second soldier's wounds were not serious.
Police chased Rouleau in the car for more than two miles until he lost control during the high-speed chase, flipping it into a ditch.
Lieutenant Michel Brunet, from Quebec police, said police shot him several times when he got out of the vehicle.
He was taken to hospital but later died.
Television footage of the crash scene showed a large knife in the grass near the car but Mr Brunet would not confirm whether Rouleau had it in his hand when officers opened fire.
The incident sparked comparisons in Canadian media to the murder of Lee Rigby in May 2013, when the off-duty soldier was run over and hacked to death by two Islamist extremists near his barracks in Woolwich.
It was unclear whether the soldiers were wearing their uniforms when they were hit.
The Royal Canadian Mounted Police said that Rouleau was known to federal authorities, including counter-terrorism agencies, who "were concerned that he had become radicalised".
A statement from the Canadian Prime Minister's office said: "The individual who struck the two [Canadian armed forces] members with his car is known to federal authorities, including the Integrated National Security Enforcement Team.
"Federal authorities have confirmed that there are clear indications that the individual had become radicalised."
Rouleau's Facebook page has now been deactivated but according to Radio-Canada he went by the name Ahmad LeConverti (Ahmad the Converted).
Propaganda videos and other materials calling for jihad had been posted, including a video featuring the logo for Isis.
The group, which is waging a bloody war in Iraq and Syria to establish a hardline Islamic caliphate, has urged supporters to carry out attacks in their home countries in the West.
As one of the countries in the US-led international coalition against Isis, Canada was believed to be among the targets.
One of Rouleau's neighbours, Daniel Fortin, said he had started wearing religious clothing and grown a beard over the last year.
Mr Fortin said his father, who lived with him, was worried about his son's apparent radicalisation and "tried everything" to help him.
The Prime Minister, Stephen Harper, sent his condolences to the victims' families.
"First and foremost our thoughts and prayers are with the victims and their families; we're closely monitoring the situation and obviously we will make available all of the resources of the federal government," he said.
Additional reporting by AP
Join our new commenting forum
Join thought-provoking conversations, follow other Independent readers and see their replies