Gyrocopter: Postman lands 'copter on Capitol Hill lawn to demand campaign finance reform
Doug Hughes warned media ahead of his protest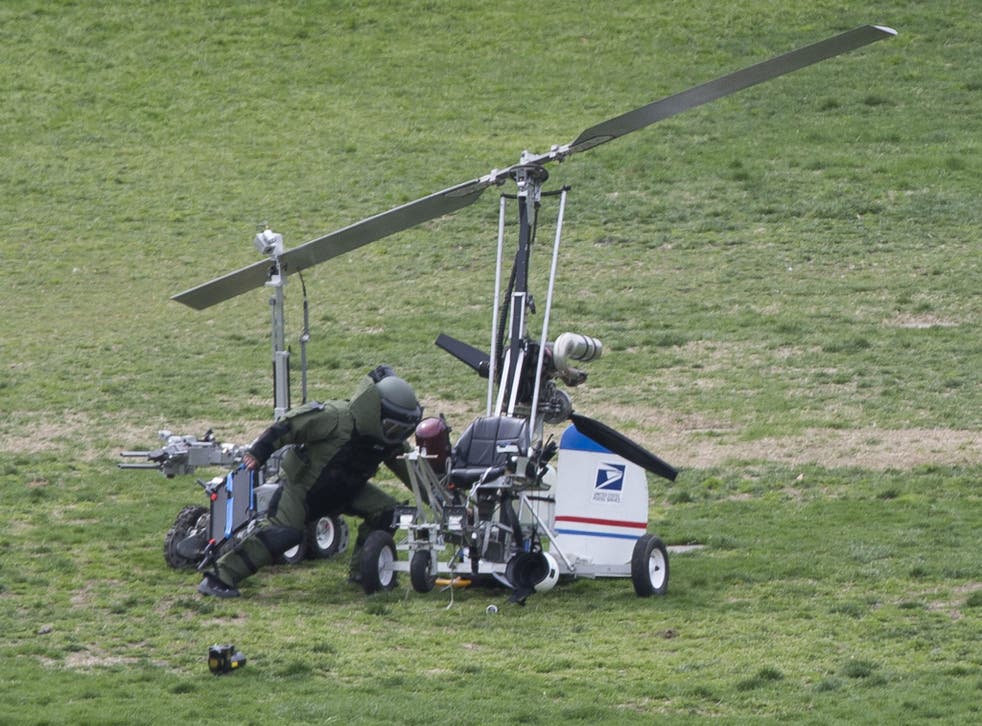 Police have detained a 61-year-old man who flew a gyrocopter onto the lawn of the US Capitol building in Washington – carrying with him a letter for every member of Congress.
Reports said that postman Doug Hughes had revealed to the media ahead of the mission that he wanted to raise the issue of campaign finance reform and fly through some of the most heavily restricted airspace in the world. He told the Tampa Bay Times that he was not a terrorist and would not be flying into a building. He even emailed the office of President Barack Obama.
"We heard him coming. There are a lot of helicopters in DC but I could tell this one was smaller," said witness Gil Wheeler, 53, from Las Vegas. "It came right down the middle of the lawn. You can tell he knows how to fly that thing."
Reports said that Mr Hughes was carrying 535 letters - one for every member of Congress. He had been visited last year by members of the Secret Service after they became aware of his gyrocopter and his desire to drawn attention to the issue of money in politics.
The letters said: "I'm demanding reform and declaring a voter's rebellion in a manner consistent with Jefferson's description of rights in the Declaration of Independence.
"As a member of Congress, you have three options. 1. You may pretend corruption does not exist. 2. You may pretend to oppose corruption while you sabotage reform. 3. You may actively participate in real reform."
Reports said Mr Hughes confronted and arrested by Capitol police immediately after landing. A bomb disposal robot and a bomb squad officer could be seen inpsecting the vehicle.
Join our new commenting forum
Join thought-provoking conversations, follow other Independent readers and see their replies