Carnell Snell Jr: Black teenager shot dead by police in Los Angeles in front of younger sister
Trenell Snell says she heard gunfire and saw her brother lying on the ground being handcuffed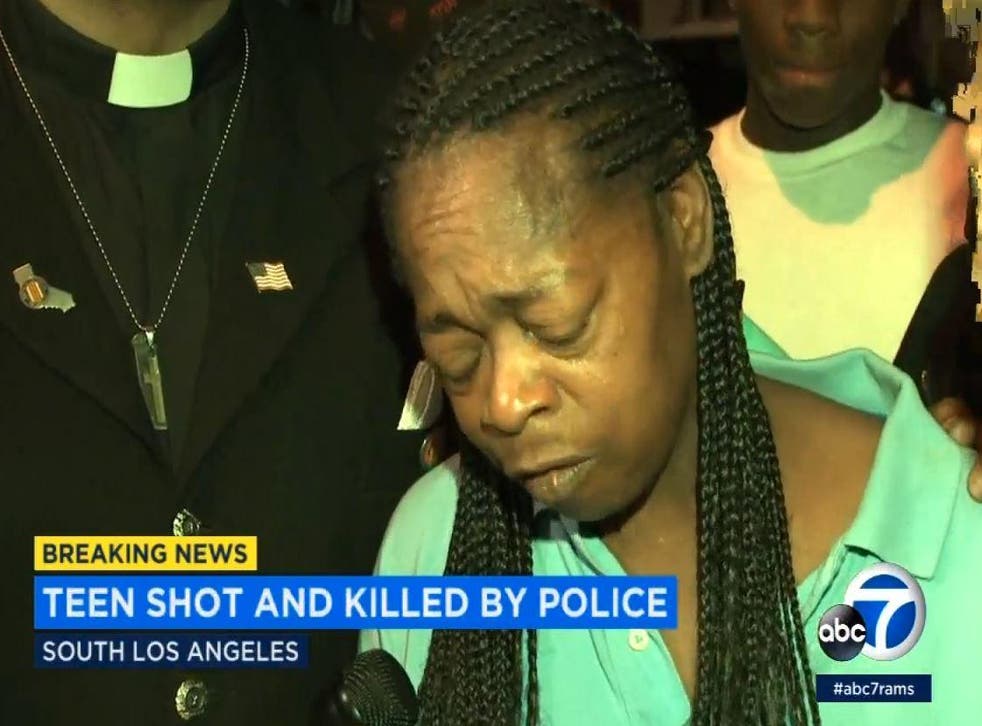 Police shot dead a black teenager in front of his younger sister in a killing that has sparked angry protests in Los Angeles.
Officers from the city's police department said Carnell Snell Jr was killed after they noticed the car he was travelling in had a paper licence plate and believed the vehicle may have been stolen.
While in pursuit the police claim the 18-year-old got out of the vehicle with another man and started to flee.
Sergeant Barry Montgomery said they chased Mr Snell Jr to the back of a house, where they shot him.
The other man, believed to have been the driver of the car, fled the scene and is currently on the run.
Sgt Montgomery said a gun was removed from the scene, but Mr Snell Jr's family deny he was armed.
His younger sister, Trenell Snell, said she was sitting with friends outside the house when she saw her brother running from police.
She said she began to run as well and heard gunfire. She dropped to the ground and saw her brother was being handcuffed on the ground.
"At the end of the day, the cops came and shot my brother," she said. "Killed my brother."
Mr Snell's mother, Monique Morgan, told reporters she had asked authorities to let her see the her son's body to confirm it was him, but claimed her request had been refused.
In a tearful interview with ABC News, Ms Morgan repeatedly begged police to let her see her son.
LA police said they did not know exactly what happened during the incident and that they were currently at the early stages of an investigation.
Police shooting of Keith Lamont Scott sparks riots in Charlotte

Show all 7
As news of the shooting spread, protests erupted around the crime scene as the family described Mr Snell Jr as respectful young man who liked skateboarding and loved his family.
One protester at the scene, Tia Gonzalez, 36, told the Los Angeles Times she had come because she knew the community was "going to be hurting".
She criticised the recent spate of shootings of black men in the US by police, saying: "A police officer should not be the judge, the jury and the executioner".
It comes after days of protests near San Diego, where police shot a black man who was believed to have been "behaving erratically".
Meanwhile in Pasadena, California, a black man armed with a knife was shot dead by police, prompting two mostly peaceful protests.
Campaigners, including the Black Lives Matter movement, say police are too cavalier when it comes to pursuing black suspects.
The high-profile deaths of men such as Keith Lamont Scott and Terence Crutcher have prompted calls for prosecutions of the police officers involved.
Register for free to continue reading
Registration is a free and easy way to support our truly independent journalism
By registering, you will also enjoy limited access to Premium articles, exclusive newsletters, commenting, and virtual events with our leading journalists
Already have an account? sign in
Register for free to continue reading
Registration is a free and easy way to support our truly independent journalism
By registering, you will also enjoy limited access to Premium articles, exclusive newsletters, commenting, and virtual events with our leading journalists
Already have an account? sign in
Join our new commenting forum
Join thought-provoking conversations, follow other Independent readers and see their replies