CBS Twitter account apparently hacked by Syrian Electronic Army
One tweet accuses Barack Obama of trying to 'take away your guns'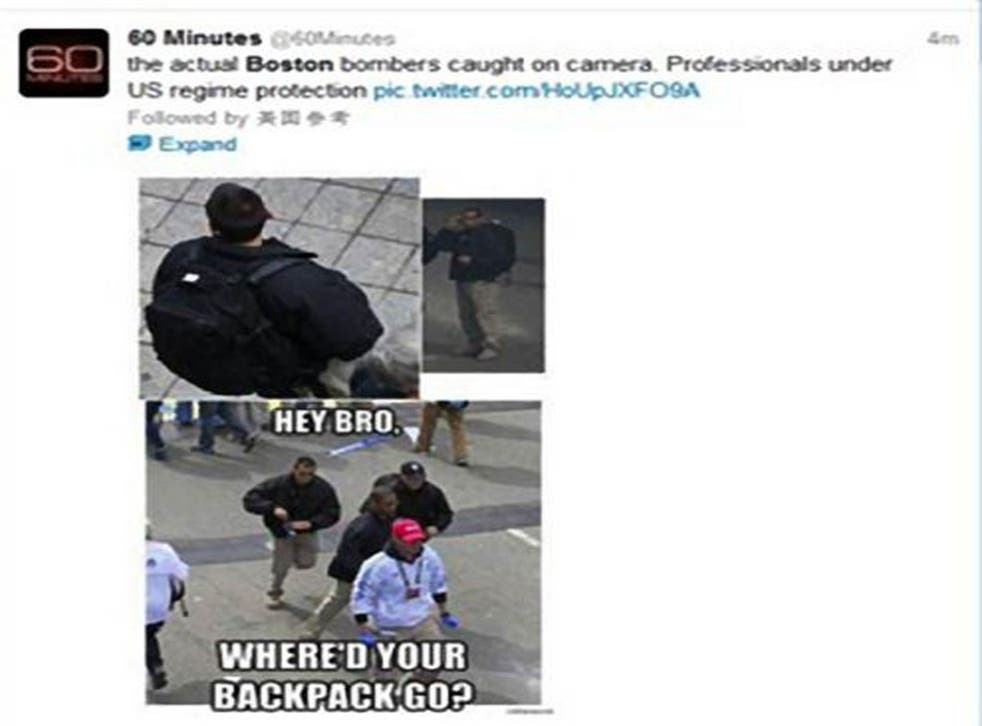 Another Western news corporation has fallen foul of pro-Assad Twitter hackers, with accounts for the American CBS network criticising US support for "terrorist" rebels in the country and accusing Barack Obama of trying to "take away your guns".
The account for the network's investigative show 60 Minutes was taken over, as was its Denver local news account.
A group calling itself the Syrian Electronic Army, which has previously put out messages in support of Syrian President Bashar al-Assad, claimed responsibility for the hijack.
It appeared to be behind the takeover of several BBC Twitter accounts last month, when the corporation's weather feed advised: "Saudi weather station down due to head-on collision with camel."
There were also more sinister tweets, with anti-semitic tones.
CBS confirmed that the accounts had been hacked, saying they were working with Twitter to "resolve the issue".
The fake messages that appeared on the @60Minutes account reportedly included:
"The US government is hiding the real culprit of the Boston bombing";
"The US government is sponsoring a coup in Venezuela and a terrorist war in Syria";
"Your duty is to protect your nation from the parasites that have taken your government";
"Obama wants to destroy the Syrian and American people. We must stop this beast."
Other messages claimed: "Syrian Electronic Army Was Here via @SyrianCyberArmy" and suggested the action was in response to the suspension of the @Official_SEA account.
Syria's civil war, now in its third year, is thought to have killed more than 70,000 and displaced more than one million. It is fought between forces loyal to President Assad and rebels, mostly from the disparate Free Syrian Army.
The conflict has spilled periodically across the ceasefire line and Syria's borders with Lebanon, Iraq and Turkey, threatening to engulf the region.
Twitter has not commented on the latest account hackings.
Join our new commenting forum
Join thought-provoking conversations, follow other Independent readers and see their replies