Cecil the Lion's 'Killer Dentist' is now a Halloween costume
'Maybe our money has Cecil's lion's blood on it'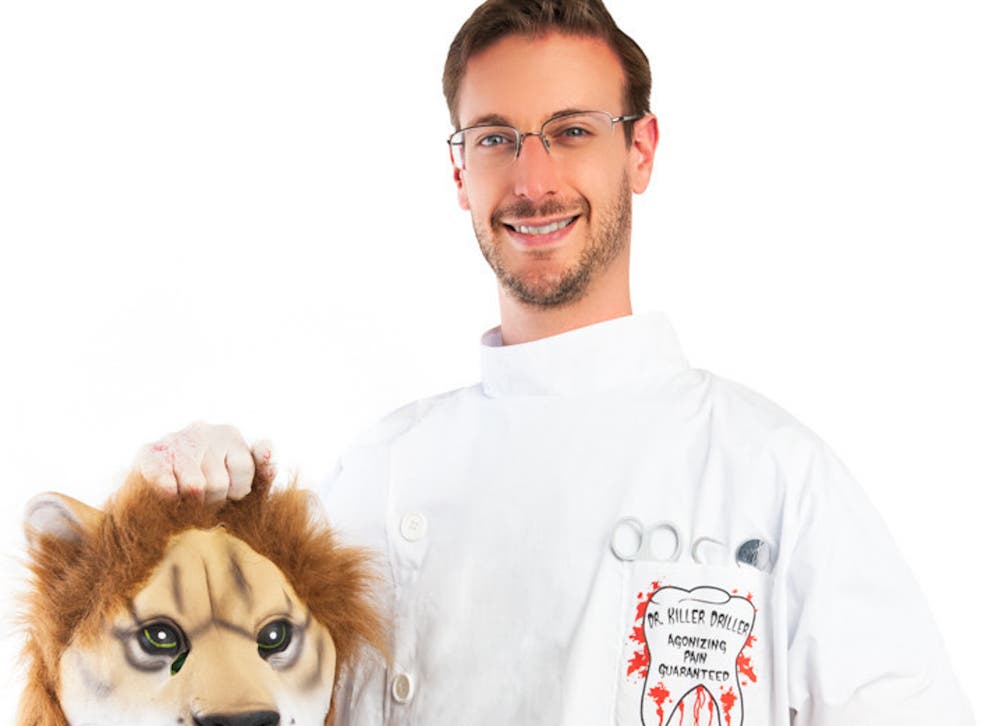 A costume company has sparked outrage after releasing a Cecil the Lion-themed Halloween costume.
The "Lion Killer Dentist Halloween Costume" is currently being sold by Costumeish.com for $99.99 (£64.91). The costume references Dr Walter Palmer, the US dentist who illegally shot and killed Cecil the Lion in late July, featuring a severed lion's head, a smock and gloves splattered with fake blood and dentist tools in the front pocket.
The retailer's costume description reads:
"All Doctor Palmer wanted was to hang dead animals in his house, but what started as an obscure (if legally-dubious) hunting trip has since erupted into a brouhaha of trans-Atlantic proportions.
"2015's most controversial killing has laid bare the rift in American and Zimbabwean attitudes toward exotic game hunting and animal conservation pitting an outraged mob against a Minnesotan dentist in a scandal sure to be remembered for a generation."
Johnathon Weeks, the 33-year-old Founder, told TIME that his company would donate 15 percent of all proceeds to "a wildlife foundation." He also said that he was approached by the African Wildlife Foundation.
"Maybe our money has Cecil's lion's blood on it. I'm not here to offend anybody, I'm just here to keep things questionable. We're just in the very beginning of this Halloween season. There's more to come."
Mr Weeks also admit that his company is inspired by controversial stories in the news cycle.
"We have a Jared costume that comes with a Subway sandwich, Donald Trump, Bill Cosby, Ashley Madison, [Josh] Duggar," he said. He also told Time that a "Megyn Kelly menstruation-themed costume" may make an appearance on the site in the future.
"Where do you draw the line? I don't know. I won't make a toddler ISIS costume," he said.
Just days after the release, the People for Ethical Treatment of Animals (PETA) seemingly responded to the news by releasing their own "Cecil's Revenge Halloween Costume" costume at the price of $139.99 (£90.75).
The costume promises Halloweeners to "turn the tables" on big-game trophy hunters in the "limited-edition" release.
Join our new commenting forum
Join thought-provoking conversations, follow other Independent readers and see their replies