Chapel Hill shooting: Calls for donations in honour of Muslim victims who volunteered for homeless and refugee charities
'This is definitely not the end of your life's work'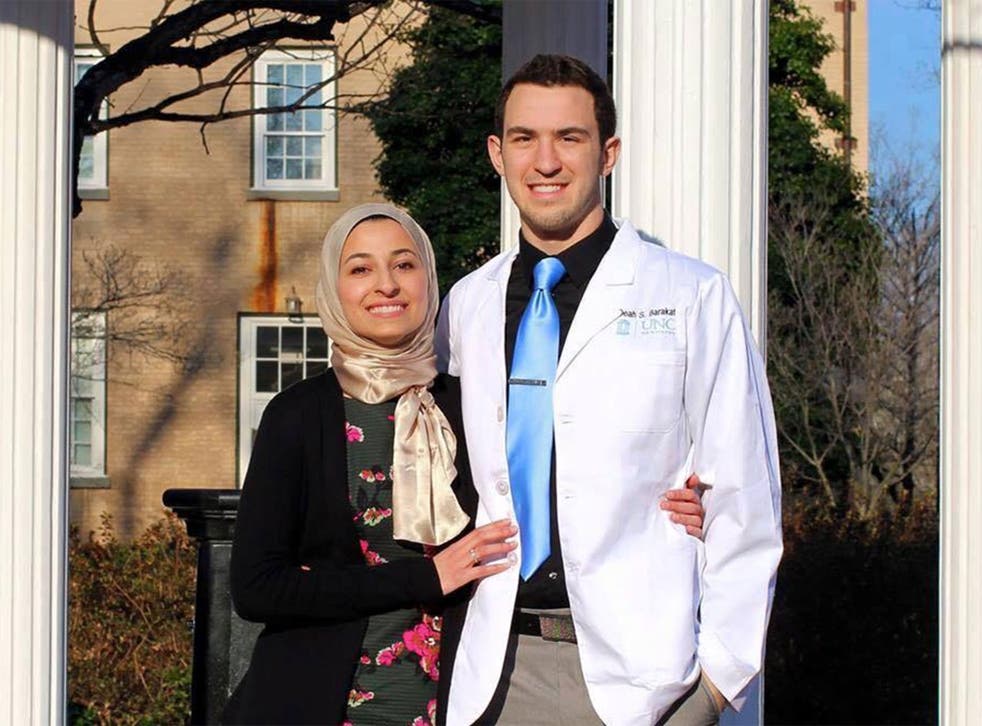 Activists are calling on people around the world to donate to charity in the wake of the murder of three young US Muslims in Chapel Hill, North Carolina last night.
Abed A Ayoub, the legal director of the American-Arab Discrimination Centre, led calls last night for people to "donate now" to the memory of 23-year-old Deah Barakat, killed in his family home alongside his wife Yusor Mohammad Abu-Salha, 21, and her sister Razan Mohammad Abu-Salha, 19.
Mr Barakat had set up a fundraising page before he died that was raising money to provide dental care to Syrian children made refugees by the country's civil war.
The 23-year-old dental student had been due to travel to Turkey with a team of faculty members from the University of North Carolina this summer.
"This is definitely not the end of your life's work," wrote one person on the Youcaring.com page set up by Mr Barakat.
"Your charity and humanitarian efforts will live on beyond your lifetime, and I hope that brings some comfort to your family."
In pictures: the Chapel Hill shooting

Show all 8
An American football and basketball fan, Mr Barakat also volunteered with a charity providing emergency dental care to children with special needs in Palestine.
He regularly posted on Twitter urging people to buy dental products which saw proceeds going towards charity, and wrote in January: "It's so freaking sad to hear people saying we should 'kill Jews' or 'kill Palestinians'. As if that's going to solve anything."
Mr Barakat did not limit his activism to the plight of those in the Middle East. He asked on Twitter: "Why is it accepted that people wait an hour in the lobby before being seen by a doctor?", and even extended his goodwill to opposition sportsmen.
Mr Barakat's wife Yusor Mohammad Abu-Salha, 21, appears alongside him in pictures showing charity work in the US as well. One Facebook post in which she is tagged reads: "Today we passed out dental supplies and food to over 65 homeless people in Raleigh! A big thank you to NC State MSA for sponsoring funds #DowntownSmiles."
The three victims were recently pictured together at the graduation of Yuzor's sister, Razan, who ran a blog showing her interest in photography and art.
She had started a degree at North Carolina State University last summer, studying Architecture and Environmental Design, and her Twitter biography read: "I like buildings and other stuff."
A community Facebook page set up in the memory of the three victims, called "Our Three Winners", thanked people for their support and said it would carry "official announcements".
"It sorrows us all to see what has happened here today," a statement on the page read. "Please rely on each other and remember these beautiful souls in your happy thoughts. Their faith meant a lot to them, and it is in fact what helps us all feel at peace with the tragedy of their murder."
Join our new commenting forum
Join thought-provoking conversations, follow other Independent readers and see their replies