Charles and David Koch: The billionaire brothers 'trying to buy America'
A recent study estimated that in the 2012 election cycle some 17 different Koch-backed groups spent a combined $400m (£240m) trying to influence the outcome of the presidential race and scores of other elections across the US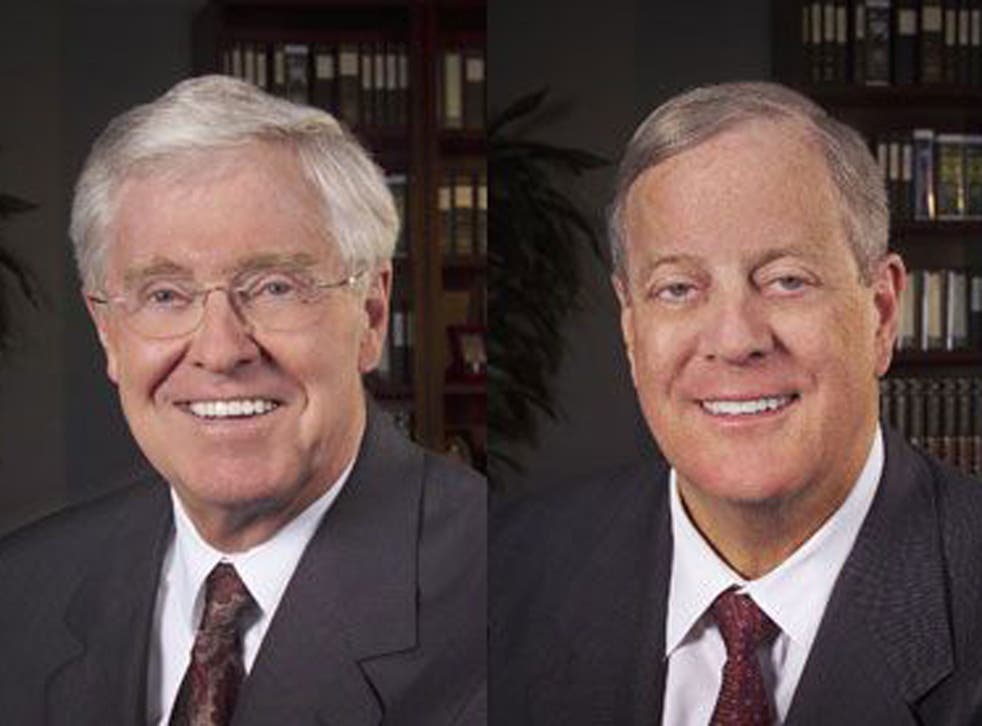 Two billionaire brothers who have poured their fortune into a network of charitable organisations that are dedicated to supporting Republican causes and candidates have been drawn into an unusual and very public spat with the Majority Leader of the US Senate, Harry Reid.
Senator Reid, a Democrat, provoked a new round of recriminations when, in off-the-cuff remarks on the Senate floor on Thursday, he openly accused David and Charles Koch of "actually trying to buy the country" by funding the organisations. He was speaking in support of a White House-backed plan to place new disclosure rules on the groups and limits on how far they can involve themselves in politics while retaining tax-free status.
"What they're doing is spending their … dollars on governor's races, and on the state level and, of course, spending huge amounts of money around the country attempting to defeat Democrats both in the House and the Senate," Mr Reid said. "The Koch brothers hide all their campaign efforts. They disguise themselves with rare exception as social welfare organisations, with all these fancy names going after people who are trying to improve the country."
The comments were sufficiently irksome to the Kansas-based Koch Industries, which has enormous holdings in mining, energy and chemicals, that it offered a rare rebuke. Philip Ellender, the president of Koch Companies Public Sector, said Mr Reid's "divisive remarks were not only disrespectful and beneath the office he holds, they were indicative of what lengths he and his Democratic allies will go to eliminate and silence their political opposition".
A recent study by the Washington Post and the Centre for Responsive Politics estimated that in the 2012 election cycle some 17 different Koch-backed groups, all under charitable social welfare status, spent a combined $400m (£240m) trying to influence the outcome of the presidential race and scores of other elections across the US.
In 2012 the Koch network outspent all other groups created to support Republicans, and in dollar terms matched the money that labour unions traditionally give to the Democrats, triggering loud complaint from the left. "It should be the power of our vote, not the size of our bank account, that drives our democracy," President Barack Obama lamented in this week's State of the Union address.
Tensions over the issue are expected to worsen as November's mid-term congressional elections approach, with the Democrats at some considerable risk of losing control of the US Senate.
The Koch brothers have made it clear they will continue to spend to make that happen. "Charles Koch and David Koch will continue to exercise their First Amendment rights to advocate for their fundamental beliefs in individual liberty, limited government, and the promotion of policies that help people improve their lives," Mr Ellender said.
On the Senate floor Mr Reid was drawn into invoking the Koch brothers after Mitch McConnell, his Republican opposite number, accused Mr Obama of trying to crack down on the tax-exempt groups as a means to stifle Republican opposition.
Join our new commenting forum
Join thought-provoking conversations, follow other Independent readers and see their replies