Charleston shooting victim Tywanza Sanders 'died trying to protect his elderly aunt'
They were two of three members of the same family killed in the massacre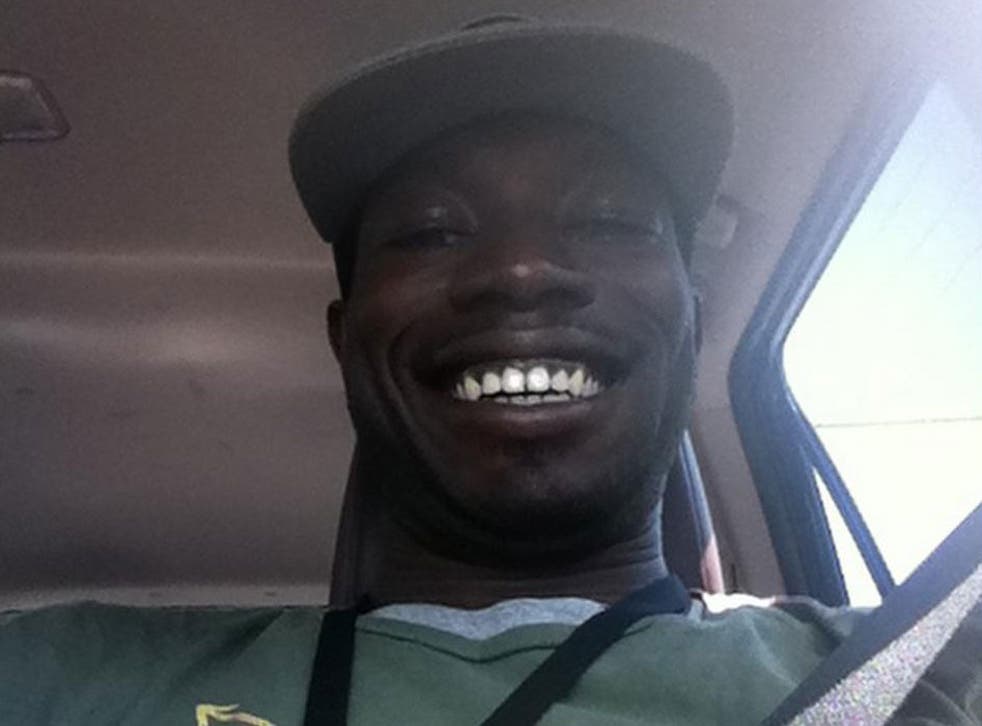 The youngest victim of the Charleston church massacre died trying to protect his aunt, devastated family members have said.
Tywanza Sanders, 26, was one of three members of the same family gunned down at a Bible study meeting on Wednesday night.
His friend, Torrence Shaw, told People magazine he stood up to shield 87-year-old Susie Jackson when a young white man opened fire, killing them both and seven others.
"He tried to step in front of his aunt to save her. He took her bullet," Mr Shaw said.
Kristen Washington, who was told of the massacre by family members who survived, told the New York Times that Mr Sanders tried to calmly talk the gunman down, saying: "You don't have to do this."
But the shooter replied by saying black people were "raping our women and taking over the country".
When the gunman aimed at Mrs Jackson, Ms Washington said Mr Sanders told him to point the weapon at him instead. "It doesn't matter. I'm going to shoot all of you," the attacker allegedly told him before opening fire.
Mrs Jackson's cousin, Ethel Lance, also died at the Emanuel African Methodist Episcopal Church.
Their relatives also told the Charleston Post and Courier that Mr Sanders attempted to save his aunt.
A graduate of Allen University in South Carolina, he received his Business Administration degree in 2014.
The university issued a statement saying that Mr Sanders was a well-known student who was committed to his studies.
"He presented a warm and helpful spirit as he interacted with his colleagues," it said.
In pictures: Charleston vigil

Show all 6
On Instagram, he described himself as a businessman, artist, barber and poet, and friends said he was hoping to get a collection of his poetry published while laying plans for his own barbershop.
His profile contains an upbeat mix of smiling photos with friends and family and inspirational quotes.
Mr Sanders' also wrote extensively on racial discrimination in the US following the killing of an unarmed black man by a Charleston police officer earlier this year, using the hashtag #blacklivesmatter.
His last post on the social media site was a quote by African-American baseball player Jackie Robinson, saying: "A life is not important except in the impact it has on other lives".
Mr Sanders' aunt was a long-standing member of Emmanuel AME church, singing in its choir and sitting on its usher board.
"She was a loving person, she never had no animosity toward nobody," her son Walter Jackson told the Charleston Post and Courier.
Mrs Jackson's cousin, 70-year-old Ethel Lance, was a sexton of the church and great-grandmother.
Dylann Roof, a 21-year-old white man, is suspected of targeting a historic African-American church because of his racial hatred and his Facebook page suggests a fascination with apartheid and white supremacy.
Roof was arrested after a 14-hour manhunt yesterday when his car was recognised by a passing florist and eventually stopped in a small North Carolina town.
He is expected to appear via video link from custody at a bail hearing later on Friday.
Join our new commenting forum
Join thought-provoking conversations, follow other Independent readers and see their replies