Walter Scott shooting: Father of unarmed black man says white policeman shot his son as if he was trying to 'kill a deer running through the woods
Officer Michael Slager said he feared for his life after his stun gun was taken by 50-year-old Walter Scott during a 'scuffle'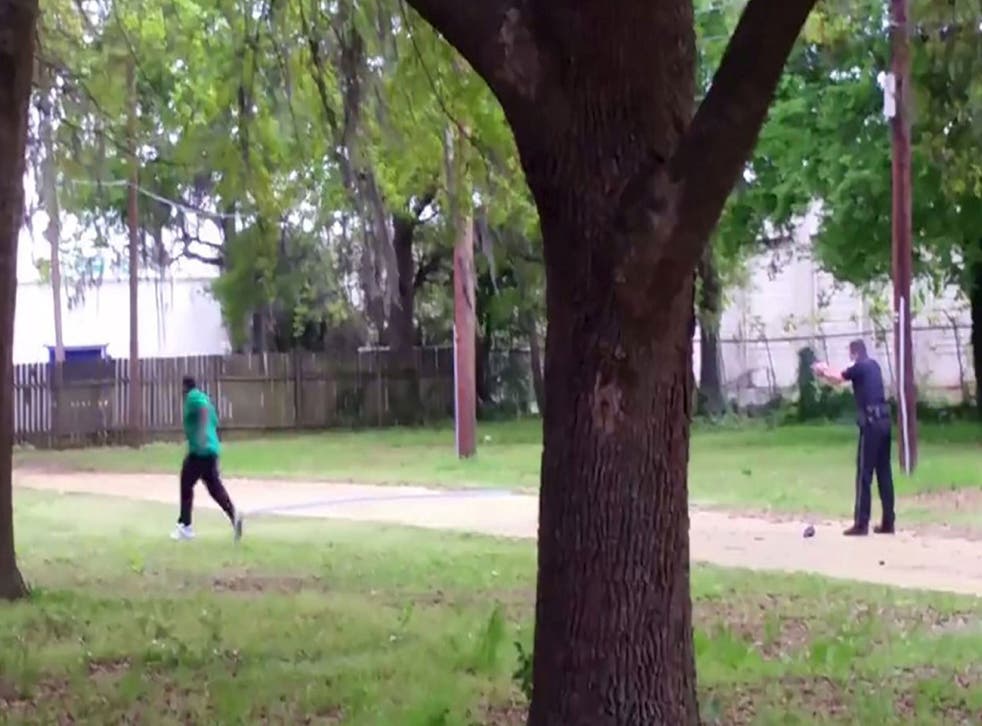 The father of a black South Carolina man blasted in the back by a white policeman said the officer shot his son as if he was trying to "kill a deer running through the woods".
As residents of North Charleston gathered to protest the killing of Walter Scott – his death captured on shuddering, shocking video footage – the 50-year-old's father said he fell to the ground as he watched the images of the incident.
"When I saw it, I fell to my feet and my heart was broken," Walter Scott Sr told the NBC Today Programme. "It looked like he was trying to kill a deer or something, running through the woods."
Amid outrage over the latest in a series of incidents across the US where black suspects have been killed by the police, officer Michael Slager, 33, who previously served in the US Coast Guard, was charged with murder after the incident last Saturday in the suburbs of Charleston, South Carolina. If convicted he could face either life in prison or the death penalty.
The video footage, captured by an unidentified passerby and passed to the New York Times by Mr Scott's family, shows Mr Slager shooting at the father-of-four eight times as he fled from him. Mr Scott was struck five times - three times in the back, once in the buttocks and once in the ear.
The video shows the patrolman handcuffing the victim as he lies on the ground, before walking back to a spot near where he opened fire. It then shows him appearing to pick something up, return to where Mr Scott is lying, motionless, and then drop it next to him on the ground
Moments earlier, the two men had apparently engaged in a brief scuffle following a traffic stop for a faulty brake light before Mr Scott ran. The police officer claimed he had been forced to use his weapon because Mr Scott had grabbed his Taser and that he feared for his life.
The North Charleston Police Force initially supported the officer but on Tuesday evening North Charleston Mayor Keith Summey announced that Mr Slager had charged and said the officer could not hide "behind the shield".
"When you're wrong, you're wrong," he said. "When you make a bad decision, don't care if you're behind the shield or a citizen on the street, you have to live with that decision."
The shooting of Mr Scott follows a series of incidents, including the killing of black suspects Eric Garner in New York and Michael Brown in Ferguson, that have sparked anger across the country about the way some officers deal with African Americans.
In pictures: Walter Scott shooting

Show all 12
Race relations have been in turmoil since a police officer shot a black teenager, Michael Brown, in the town of Ferguson, Missouri, in August last year. The US Justice Department released a report in May that found systematic bias in the city's police department and courts.
It has drawn further attention both to the racial make-up of forces tasked with policing racially mixed communities – North Charleston is 50 per cent black but African Americans constitute just 18 per cent of officers – and the increasingly vital role of smartphones' video capability in bringing such incidents to light.
"[Without the footage] it would have never come to light. They would have swept it under the rug, like they did with so many others," said Mr Scott's father.
In July last year black New York City resident Eric Garner died after he was put into a chokehold by Officer Daniel Pantaleo. Both officers were white. Grand juries decided not to indict either officer, setting off large protests.
The spate of incidents lead President Barack Obama to launch an inquiry entitled "Task Force on 21st Century Policing", charged with interviewing police and community leaders across the country. That committee will report back later this year.
On Wednesday, as the FBI and the US Justice Department launched their own probes of the case, demonstrators in North Charleston held signs and placards. "There is an atmosphere of racism in North Charleston, and we need to get rid of it," one protester, Ramon Roane, told Reuters.
The family of Mr Scott, who enjoyed music and singing and was a fan of the Dallas Cowboys Football team, have said they plan to sue the force for damages.
Mr Scott's mother said the video that revealed her son's last moments was the "the most horrible thing I've ever seen".
"I almost couldn't look at it to see my son running defencelessly, being shot," she said on ABC's Good Morning America. "It just tore my heart to pieces."
South Carolina Governor Nikki Haley issued a statement saying Mr Slager's actions were not acceptable and did not reflect the state's values or "the way most of our law enforcement officials act".
Join our new commenting forum
Join thought-provoking conversations, follow other Independent readers and see their replies