Chattanooga shooting: Gunman sent text to friend saying 'I have declared war' hours before spree
Text message gives insight to police still searching for a motive behind the Tennessee naval base shooting which killed five and wounded two others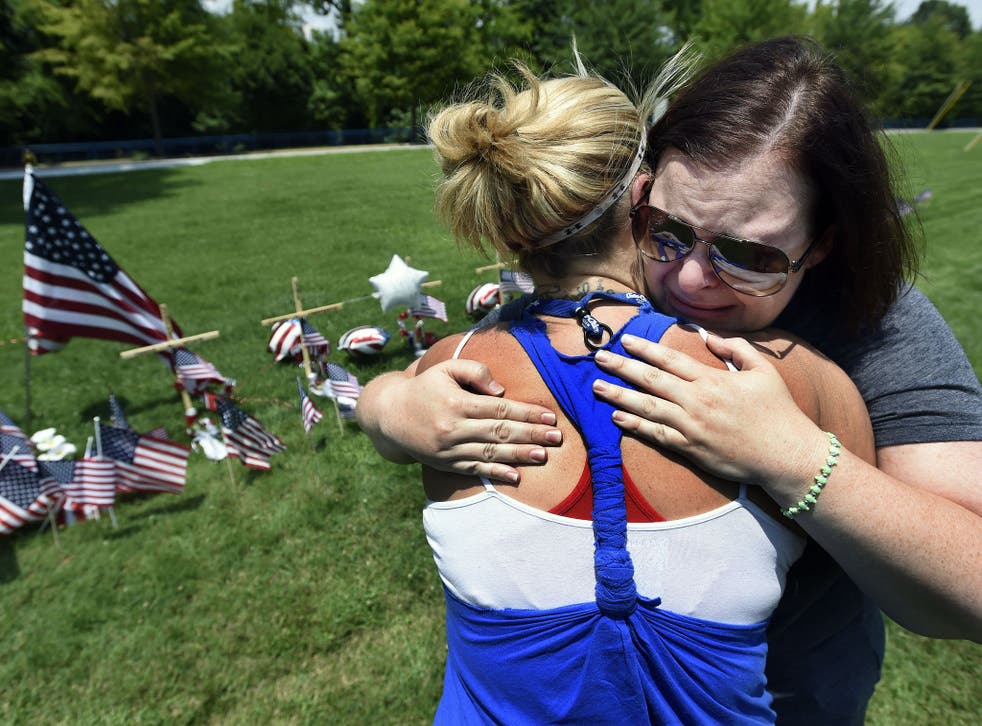 A text sent by the Chattanooga shooter the night before his gruesome attack said he was "declaring war" on the enemies of Allah.
The suspect, Muhammad Youssef Abdulazeez sent a text to a friend hours before killing five US marines saying: "Whosoever shows enmity to a friend of mine, then I have declared war against him," it has been revealed.
The friend who received the text spoke anonymously to Reuters on Saturday: "I didn't see it as a hint at the time, but it may have been his way of telling me something," he said.
The quote is a section of the Islamic text Hadith 38 which Abdulazeez sent his friend in a link.
The friend, who has been interviewed by the FBI, said he received the text at 10.00pm the night before the attack but did not see it as a cause for alarm.
For ultraconservative Muslims, the Hadith "is usually understood within the context of love for Islam and hatred for its enemies," David Cook, an associate professor who specializes in Islam at Rice University in Texas, told The Guardian.
The shooter had seemed normal the last time they say each other, his friend told Reuters.
"The signs just weren't there," he said. "The only thing I can think of is that it was a combination of things – what is happening overseas, his family problems, maybe some of the issues with the less educated people here. I don't know."
Abdulazeez, a 24-year-old Kuwaiti-born naturalized US citizen, was an engineering graduate from Chattanooga. He was killed by police on Thursday after carrying out a shooting spree at two Tennessee locations.
The shooting is being investigated by the FBI as an act of terrorism however his motive is still unknown.
Abdulazeez was a devout Muslim although had not been considered radical by his friends and family.
He was not in any of the FBI's databases of suspected terrorists and did not have a strong presence online.
In a statement his family said: "The person who committed this horrible crime was not the son we knew and loved.
"For many years, our son suffered from depression. It grieves us beyond belief to know that his pain found its expression in this heinous act of violence."
Abdulazeez returned from a trip to stay with his uncle and grandparents in Jordan in 2014 concerned about the conflicts in the Middle East.
He felt that US-influenced countries were not doing enough to intervene in the Israeli bombings in Gaza and the civil war in Syria, friends have said.
He had previously travelled to several Middle Eastern countries in 2010.
Abdulazeez owned several guns including an AK-74, an AR-15 and a Saiga 12 which he purchased online and a 9mm and .22 caliber handguns.
Ed Reinhold, the special agent in charge of the regional FBI headquarters, said the gunman wore a "load-bearing vest" which allowed him to carry extra ammunition.
The five victims have been named as navy servicemen Skip Wells, Thomas Sullivan, David Wyatt, Carson Holmquist and Randall Smith.
Four of the Marines were killed on the day of the attack and Petty Officer Smith became the fifth victim when he passed away from his gunshot wounds to the liver and colon early on Saturday morning.
According to his family, officer Smith saw the shooter and warned people around him but was unable to get away.
Two of the wounded survived the attack. A Marine recruiter was shot in the leg and a Chattanooga police officer, Dennis Pedigo, was shot in the ankle.
The day after the shooting took place, hundreds attended an interfaith prayer vigil in Olivet Baptist Church in Chattanooga, where Christians and Muslims mourned the victims' deaths.
In response to the shootings, some governors have taken steps to increase security of National Guard recruiters and military facilities in their states.
Texas Governor Greg Abbott has ordered for National Guard personnel to be armed at military facilities throughout the state.
"Arming the National Guard at these bases will not only serve as a deterrent to anyone wishing to do harm to our service men and women, but will enable them to protect those living and working on the base," Governor Abbott said in a statement.
Join our new commenting forum
Join thought-provoking conversations, follow other Independent readers and see their replies