Chicago police shooting protests in pictures: Calm reigns during LaQuan Mcdonald demonstrations
Hundreds took to the streets the protest the death of the 17-year-old, shot 16 times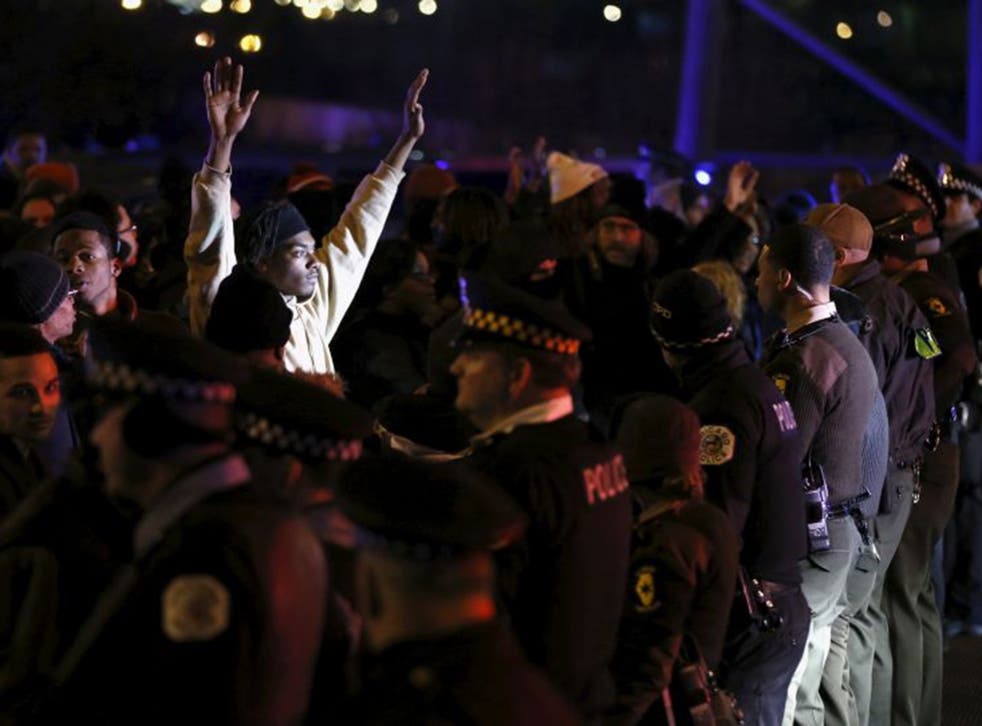 Most protesters in Chicago seem to have heeded pleas for restraint in the hours after the release of a video showing the shooting death of a black teenager by a white police officer.
Demonstrators took to the streets on Tuesday night, at times numbering in the hundreds, and there were a few tense moments and at least two arrests, but the demonstrations dissipated in the early morning without any reports of damage or injuries.
Protest groups are expected to stage more demonstrations in the days ahead, including one at City Hall on Wednesday and another seeking to block Michigan Avenue during the Black Friday shopping bonanza.
The protests came after the release of the dashcam video of the death of 17-year-old Laquan McDonald, who was shot 16 times. Jason Van Dyke, a Chicago police officer, was charged with murder on Tuesday.
City officials and community leaders had been braced for the kind of unrest that occurred in cities such as Ferguson, Missouri, after young black men were killed by police or died in police custody.
A judge ordered that the recording be made public, and moments before the footage was released, the mayor and the police chief appealed for calm.
"People have a right to be angry. People have a right to protest. People have a right to free speech. But they do not have a right to ... criminal acts," Police Superintendent Garry McCarthy said.
The fears of unrest stem from long-standing tensions between Chicago police and its minority communities, partly due to the department's reputation for brutality, particularly involving black people.
Chicago PD dashcam footage of Laquan McDonald shooting
The relevant portion of the video runs for less than 40 seconds and has no audio.
Laquan appears on a four-lane street where police vehicles are stopped in the middle of the road.
As he jogs down the street, he appears to pull up his trousers and then slows to a brisk walk, veering away from two officers who are emerging from a vehicle and drawing their guns.
Almost immediately, one of the officers appears to fire from close range. Laquan spins around and crumples to the pavement. The second officer simultaneously lowers his weapon.
The car with the camera continues to roll forward until the officers are out of the frame. Then the teenager can be seen lying on the pavement, moving occasionally. At least two small puffs of smoke can be seen coming off his body as the officer continues firing.
In the final moments, an officer can be seen kicking something out of the youth's hands.
Police have said Laquan had a knife. Cook County prosecutor Anita Alvarez said a 3in knife with its blade folded into the handle was recovered from the scene.
AP
Join our new commenting forum
Join thought-provoking conversations, follow other Independent readers and see their replies