Christian leaders denounce Donald Trump's 'Muslim ban', calling for people of all faiths to oppose the policy
The policy has provoked backlash around the world, amid concerns it unfairly targets Muslims
Siobhan Fenton
Social Affairs Correspondent
Monday 30 January 2017 15:34 Comments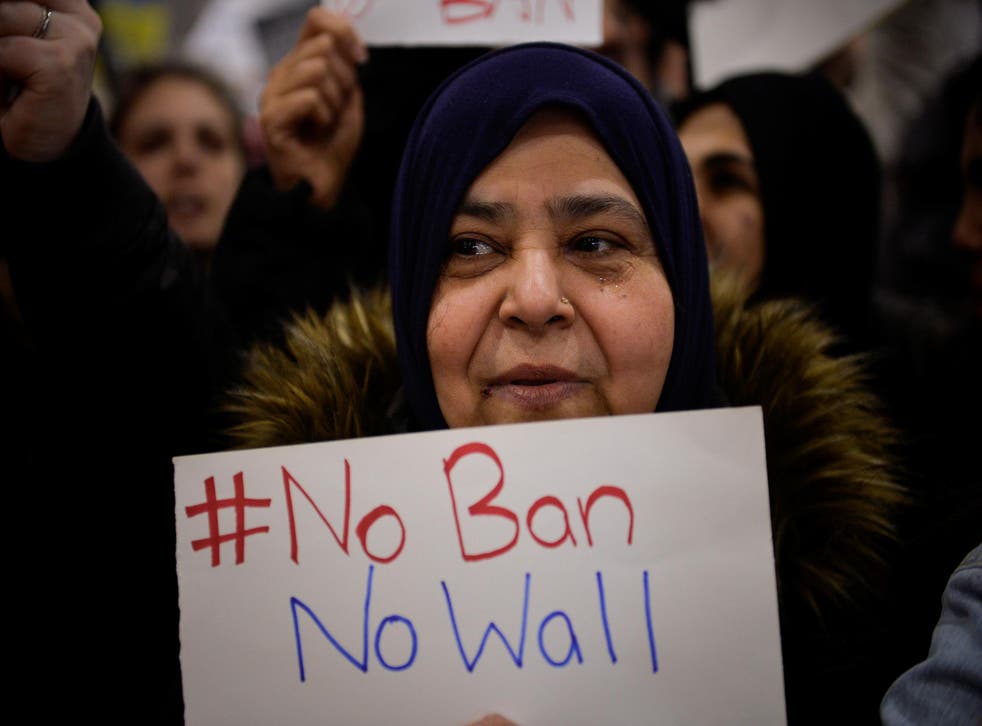 Christian leaders have denounced Donald Trumps's immigration ban, calling on people of all faith to oppose the policy and stand with Muslims affected by it.
The ban, signed by President Trump as an executive order, stops immigration from seven majority Muslim countries. It also stops refugees from entering for the next four months.
The move has been criticised amid fears it unfairly targets Muslim people, however the White House has insisted the policy will protect against Islamic extremism and terrorism.
The policy has provoked outcry both in the US and around the world, with demonstrations and protests planned outside airports and legislatures.
Mr Trump announced his plan during an interview with a Christian television network, alleging that the his predecessor's administration had unfairly let in Muslim refugees while turning away Christian refugees.
Bishop Joe S. Vasquez, chairman of the committee on migration for the United States Conference of Catholic Bishops told The New York Times he would not be supporting the policy. He said: "We believe in assisting all, regardless of their religious beliefs."
Jen Smyers, the director of policy and advocacy for the immigration and refugee program of Church World Service, echoed his concerns, calling Friday a "shameful day" in the history of the United States.
The controversial orders Donald Trump has already issued

Show all 9
Rev. Scott Arbeiter, the president of World Relief, the humanitarian arm of National Association of Evangelicals which has helped resettle thousands of Muslim refugees, revealed the group have been collecting signatures from evangelical Christians who oppose the ban. He told the New York Times: "We have no evidence that would support a belief that the Obama administration was discriminating against Christian populations.
He added that group would resist: "any measure that would discriminate against the most vulnerable people in the world based on ethnicity, country of origin, religion, gender or gender identity. Our commitment is to serve vulnerable people without regard to those factors, or any others."
Register for free to continue reading
Registration is a free and easy way to support our truly independent journalism
By registering, you will also enjoy limited access to Premium articles, exclusive newsletters, commenting, and virtual events with our leading journalists
Already have an account? sign in
Register for free to continue reading
Registration is a free and easy way to support our truly independent journalism
By registering, you will also enjoy limited access to Premium articles, exclusive newsletters, commenting, and virtual events with our leading journalists
Already have an account? sign in
Join our new commenting forum
Join thought-provoking conversations, follow other Independent readers and see their replies