Colombian elections: Juan Manuel Santos re-elected President on renewed pledge for peace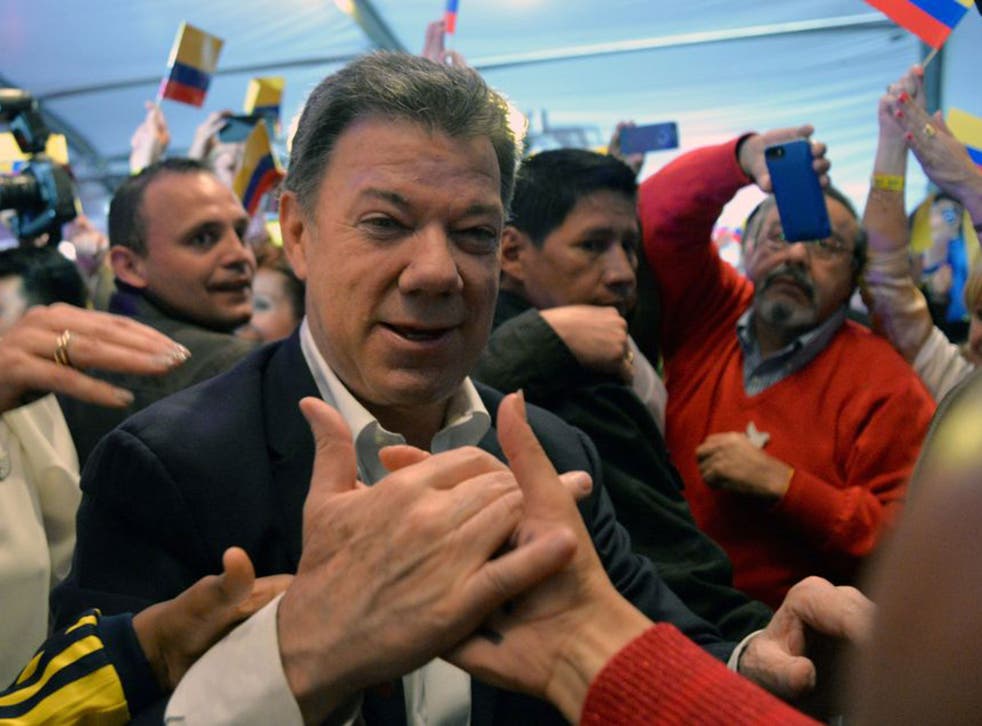 Months of political uncertainty in Colombia were finally at an end today as results from Sunday's elections showed sitting President Juan Manuel Santos winning a second term on a pledge to continue peace negotiations with rebel leaders of the Revolutionary Armed Forces of Colombia (Farc).
Jubilant supporters of President Santos, 62, raised their hands into the sky in celebration in central Bogota as the last of the returns rolled in with the word paz – peace – scrawled across every palm. Since taking office in 2010, President Santos has made ending five decades of conflict with Farc the centrepiece of his political programme. Negotiations have been under way for months in Havana, Cuba.
"This is the generation of peace. Millions of Colombians have chosen hope over fear," Mr Santos, who now has a second four-year term, declared. "Thank you very much, Colombians. Your support means we will have to work even harder. This is the end of more than 50 years of violence in our country and the beginning of a new Colombia with more freedom and social justice. It's a Colombia that will be at peace with itself."
In Sunday's election Mr Santos took nearly 51 per cent of the vote against 45 per cent for his more conservative challenger, Oscar Ivan Zuluaga. With the strong support of Alvaro Uribe, the former president who held office from 2002 to 2010, Mr Zuluaga came out on top in the first round of balloting in May and was shown to be leading the run-off by some polls just before last weekend.
Mr Zuluaga had made clear that unless Farc accepted tougher conditions for a final peace deal, he would revert to the policies of former President Uribe, eschewing further negotiations and pursuing the destruction of Farc on the battlefield. While the United States long supported that armed effort, it has also offered praise for President Santos' alternative path.
Mr Santos is re-elected with a weaker mandate – in 2010 he won with 69 per cent share of the vote – and the pressure on him will now be intense to complete the peace negotiations by his promised end-of-the-year deadline.
Join our new commenting forum
Join thought-provoking conversations, follow other Independent readers and see their replies