2012 Aurora cinema shooting: Victims' families must face horror again as trial of 'Dark Knight' killer opens
Three years ago, James Holmes shot dead 12 people in a Colorado cinema. He is pleading not guilty by reason of  insanity and his victims' loved ones will have to face the horror all over again. Tim Walker reports from Denver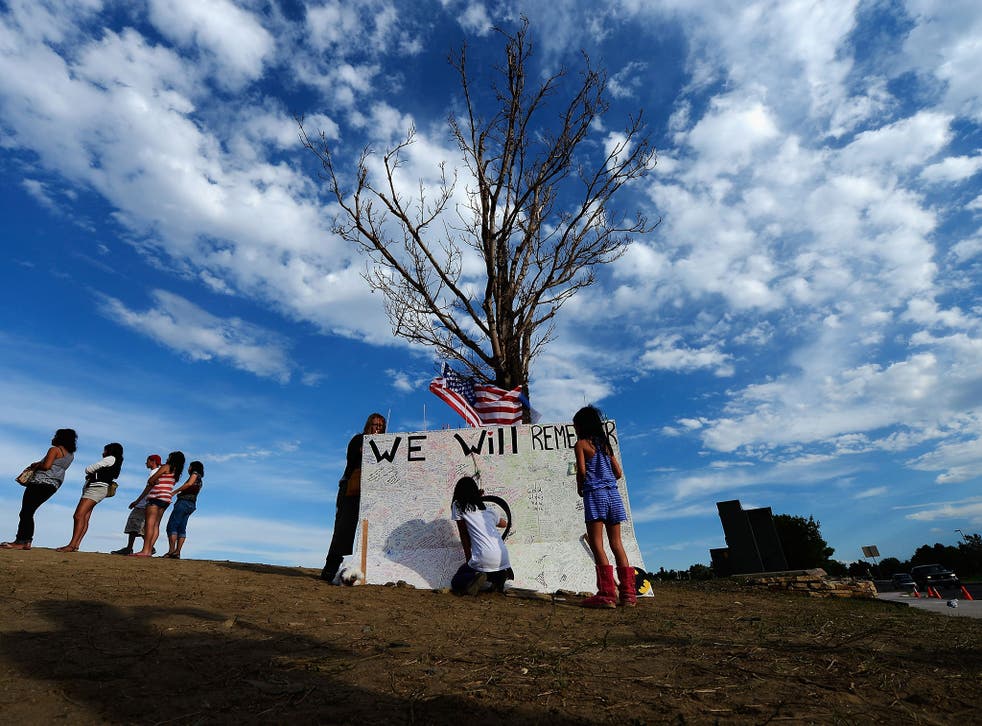 Tom Mauser still wears a pair of his son Daniel's old trainers for public appearances. If he is ever contacted by other families who have suffered a tragedy like his, he tells them: "You will never completely get over it; that's the bad news. The good news is that you will learn to deal with it. Keep in mind what your loved one would want, and they wouldn't want you going on in pain indefinitely. They would want you to heal. But it takes a long, long time."
He and his wife, Linda, were among the first people to lose a loved one to a mass shooting in the full glare of the world's media. Ever since Daniel was killed, aged 14, during the Columbine High School massacre in April 1999, Mr Mauser has been a committed gun control campaigner. Earlier this year, he wore Daniel's shoes to testify before the Colorado senate, as it debated the repeal of recent state gun laws that he had fought to see passed.
When a gunman killed 12 people and injured 70 at a cinema in Aurora, Colorado, 13 years later but a mere 20 miles from Columbine, he spoke at the candlelit vigil for the victims. But this weekend, as he reflected on the trial of the Aurora shooter, which will begin in earnest today at the Arapahoe County District Court, even Mr Mauser admitted he had difficulty comprehending what the victims' families will go through in the coming months.
"Our situations are different. Most mass shooters are suicidal, but that guy is going to be sitting in a courtroom," he said. "We know exactly what happened, yet this thing has been dragged out for so long. It's just so painful for those folks. I think the whole thing is a travesty."
There is no dispute that on 20 July 2012, James Holmes opened fire in a crowded cinema during a midnight screening of The Dark Knight Rises. A year later, however, the 27-year-old pleaded not guilty by reason of insanity, to charges that include 12 counts of first-degree murder and 12 of first-degree murder with extreme indifference. Thus the jury must first determine his mental state at the time of the killings, and then – if he is convicted – whether he should face the death penalty. Though the survivors and victims' families want to see justice done, many also fear that the spotlight of a lengthy, painful trial will serve only to sensationalise the killer and his actions.
Alex Teves, 24, had just completed a master's degree in psychological counselling when he died shielding his girlfriend. His parents, Caren and Tom Teves, have since set up No Notoriety, a campaign group composed of survivors and families of victims from nine mass shootings including Aurora and Columbine, urging the media to resist "gratuitous use" of the killer's image and name during the trial, which could trigger PTSD and, they say, encourage copycats.
Mr Teves will refer to his son's killer only obliquely. "What really bothers me is that the media will focus on the 'thing' that killed everybody, instead of on the people who were killed or injured," he said. "You folks will make it into a cult hero, which acts as a call to action for other like-minded things out there. And one of those other things will go out and kill a bunch of people."
Last week, the US National Centre for Victims of Crime launched a new "national compassion fund" for public donations to directly support Aurora victims during the trial, helping them to cover any ongoing medical, counselling or other costs associated with the attack.
The gunman's bullets struck Marcus Weaver in the shoulder and killed his friend, 32-year-old Rebecca Wingo, who was sitting in the seat next to him. In the aftermath, Mr Weaver gave numerous broadcast interviews. But off-camera, he said, "I was a mess. I was having nightmares every night. I was angry at God, wishing I had been in Rebecca's seat. People would recognise me and pray for me in grocery stores, or they'd pay for my gas at gas stations. It just made things worse."
A community and social worker, he even left his job as he became too anxious about being indoors at a busy workplace. Finally, 18 months after the attack, at the urging of his wife and his lawyer, he had an operation on his shoulder to cure the numbness inflicted by the shooting. He also agreed to go to therapy, which he says has steeled him to testify at the trial this week. "I think about the theatre every day, every hour," he said. "Of course, I'm nervous and scared, but I have the perseverance to see it through."
"For the world, this is old news, but for us it happened yesterday," Mr Teves said. "Everyone handles it in different ways. Some people can't get out of bed. That's not me. Sometimes you'll find me on the treadmill at 3.30 in the morning just because the pain is so bad, I have to do something to get it out. The club we joined is very exclusive, the dues are impossibly high and nobody wants to be in it. The general public can't even come close to comprehending it, and I don't expect them to."
That club may be small, but a disproportionate number of its members are from the Denver suburbs. One of the Aurora jurors is reportedly a survivor of the Columbine shooting, who was friends both with the high school gunmen and with two of their victims.
Connie Sanders was 24 when her father Dave, a teacher and sports coach, was killed at Columbine. Today, she is a forensic therapist working with people affected by violence. "It sounds terrible, but we're fortunate that the two boys who murdered our loved ones at Columbine killed themselves," she said.
"There was no trial, we didn't have this live person to look at. The media has shown the gunmen's picture so many times, and every time I see the coverage it pulls at my heart because I know exactly what that's like – to have the person who committed the murders be the centre of attention, and to have nobody paying attention to the victims."
Join our new commenting forum
Join thought-provoking conversations, follow other Independent readers and see their replies