The Confederate banner isn't the only flag to cause controversy
Pressure is mounting to ban the Confederate banner after the Charleston shooting. Gillian Orr flags up some other offenders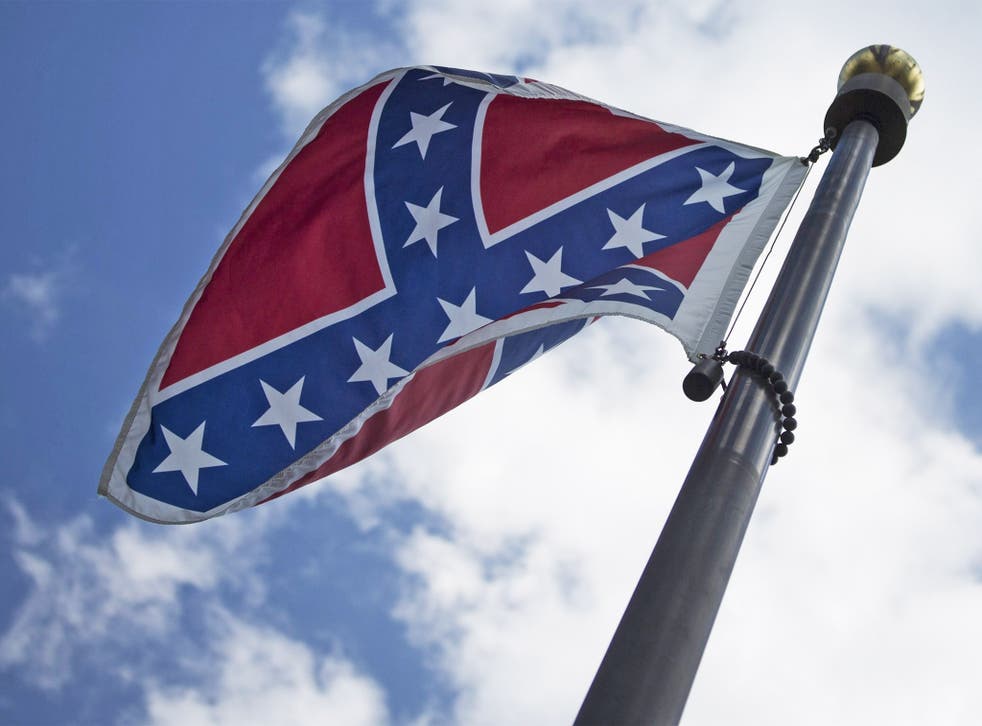 They are supposed to unite, but all too often flags become symbols of division. And for a piece of cloth, they certainly can induce charged responses. People rally together behind flags, burn flags, even die for them. They can represent notorious pasts and disrespectful claims. So the mounting pressure to withdraw the Confederate battle flag across the US doesn't come as a surprise. South Carolina lawmakers have requested that it be removed from the state house, insisting that it does not represent Southern heritage and pride, but instead serves as a reminder of slavery and segregation. Dylann Roof, accused of murdering nine parishioners at a historical black church in Charleston last week, has appeared in many photos holding the flag. But it is far from the first to cause offence; here are a few other controversial banners.
New Zealand
Next year New Zealand will hold a referendum on changing the national flag, after more than a century with the current banner. Prime Minister John Key hopes to drop the current design, featuring the Union Jack, in favour of a silver fern, saying that it is time for the former British colony to adopt a flag that is more recognisably Kiwi. Some say that New Zealanders have fought and died under it for generations and a change would dishonour their memory, while others want one that reflects the country's status as a modern, independent nation (and won't be nearly identical to that of its neighbour, Australia).
Poles apart: controversial flags

Show all 5
Rainbow
We might have legalised same-sex marriage now, but a fluttering rainbow – a symbol of the LGBT community since it was designed by San Francisco artist Gilbert Baker in 1978 – can still make headlines. Just this week there has been a fiery argument in Parliament over Matthew Hancock's decision to fly the rainbow flag over the Cabinet Office ahead of this weekend's Pride march, while Philip Hammond refused to do the same for the Foreign and Commonwealth Office. And Marion City Council in Adelaide this week voted in favour of displaying a flag despite opposition from a councillor who said that it "promotes homosexuality".
IS
It has become a chilling symbol of terror, appearing everywhere from the background of videos showing captives being beheaded to the window of a Sydney café during a hostage crisis. "There is no God but God" is emblazoned across the top of Islamic State's stark black-and-white flag, while inside the white circle are the words "God Messenger Mohammed". There were protests in Beirut last September at which IS flags were burned, with activists starting a #BurnISIS campaign. Afterwards, the Lebanese Minister of Justice asked for the burning of the flag to be banned because it features the word "Allah" on it and it is therefore sacrilegious to desecrate the flag, despite their opposition to IS.
Japan's Rising Sun
The military flag of Japan was used as the ensign of the Imperial Japanese Navy and Army from the late 1800s until the end of the Second World War (the Nisshoki – the red circle on a white background – has been the country's official flag since 1870). When Japan was defeated in August 1945, the flag was prohibited by Allied Occupation authorities, but with the re-establishment of a Self-Defense Force, the flag was re-adopted in 1954. By It is now considered offensive in countries that were victims of Japanese aggression, particularly in China and Korea, where it is thought to be a symbol of Japanese imperialism (at the 2008 Beijing Olympics, Japanese attendees were warned not to wave it). The flag can still be found on commercial products and advertisements in Japan, but it remains a divisive symbol.
Apartheid-era South Africa
South Africa's orange, white and blue flag under apartheid disappeared from buildings in April 1994, when the country held its first free election. But it immediately became a symbol of white resistance and continued to be used by political groups who wanted to reinstate racial segregation. These days, America's white supremacists have adopted the flag, and pictures of Dylann Roof wearing it on his jacket have recently emerged. Similarly, the flag of Rhodesia, another former racist state (now Zimbabwe), is also used by such groups.
Join our new commenting forum
Join thought-provoking conversations, follow other Independent readers and see their replies