Could this be the most expensive gem ever sold?
Today the 34-carat Princie diamond, once owned by the world's  richest man, is up for auction. David Usborne tells its remarkable story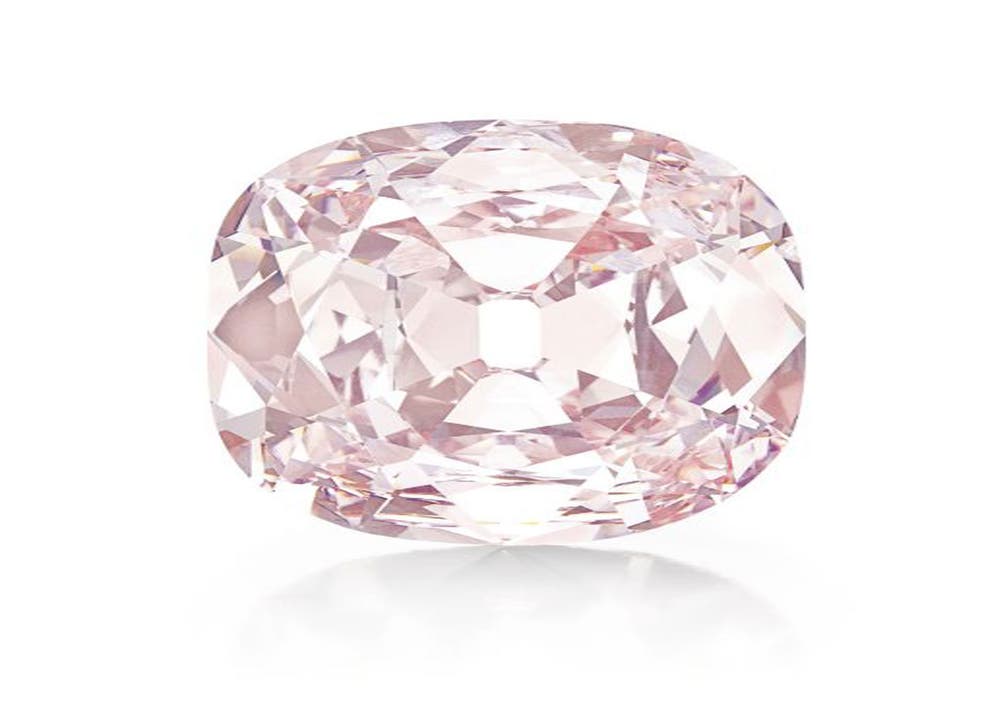 Christie's auction house will be offering more than 300 pieces in its Magnificent Jewels spring sale in New York today. All are fitting of the title, but all eyes will be on one lot only. This is Lot 295, the Princie diamond, as rare in brilliance as it is intriguing in provenance.
One of the most famous pink diamonds ever set with cushion-cut facets, it once belonged to the last nizam, or ruler, of Hyderabad State in southern India, Mir Osman Ali Khan, proclaimed the richest man in the world by Time magazine in 1937 and the father of 149 children born of assorted wives and concubines. Other, less impressive, stones from his collection were dispatched to Princess Elizabeth as wedding gifts six years before she would become Queen Elizabeth II.
Like most stones of such pedigree, this one has been shy, not seen in public since 1960, when Sotheby's put it on the block as the "Property of a Gentleman". That was the nizam, who, following Indian independence, had surrendered rule and moved to Bombay, where his once-vast fortune was quickly sapped. It was bought by jewellery house Van Cleef & Arpels "for a very significant 46,000 English pounds", say the lot notes released by Christie's.
It was at a party in Paris that the head of Van Cleef & Arpels re-christened the stone Princie after one of the guests, the cosseted 14-year-old son of Sita Devi, Maharani of Baroda, who was also known in the West as the Princess of India or "the Indian Wallis Simpson". The two women were to meet many years later at a reception in Manhattan, which, for the real Mrs Simpson, ended in unexpected humiliation.
It is in part because the diamond has been out of view for so long that the bidding today should reach thin-air heights. (Van Cleef was later to sell it to an unidentified buyer.) Then there is its quality. It is a type-IIa pink diamond of 34.65 carats. The pink diamond set in the Queen's Williamson Diamond brooch, part of her private collection, is 23.6 carats. Only 1 to 2 per cent of all diamonds mined are type-IIa. It is their particular purity that gives them a pink glow. "I would hedge a guess it will sell for above the $50m [£32.7m] mark," predicts Joanna Hardy, a jewellery expert and star of Antiques Roadshow, on the website thejewelleryeditor.com. If it does, it would become the costliest gemstone sold at auction in history.
Believed to have been extracted from the legendary Golconda mines of what was the Kingdom of Hyderabad more than 300 years ago, the stone was thought to have been passed down from Nizam-ul-Mulk Asif Jah, the first nizam, who ruled between 1724 and 1748, to his successors.
"The most beautiful stones discovered in Golconda were always reserved for kings and rulers as they represented the highest power, which was then magically transferred to the owner," the lot notes explain.
François Curiel, the chairman of Christie's Jewellery Department, takes up the theme. "The Princie diamond brings together the legendary names of Golconda, Nizam of Hyderabad, and the Maharani Sita Devi of Baroda," he says. "This rich history, combined with its rare pink hue, conveys a special charm, which will speak to all collectors in the world seeking the best of the best in gemstones."
Mir Osman Ali Khan, the nizam, may have been one of the wealthiest people in history. (Time estimated his fortune at $33bn in today's money.) He owned garages of Rolls-Royce limousines, hundreds of racehorses and trunks filled with silver and gold bullion. His collection included the Jacob diamond, which was valued at £100m in 2008. He used it as a paperweight. His wedding presents to Princess Elizabeth in 1947 included brooches and a necklace she is known still to wear today. That he sent his pink diamond to Sotheby's (and accepted what seems now like a rather paltry sum in return) was an indication of how far his fortune had dwindled.
But it may be the connection to the Maharani of Baroda, Sita Devi, and her son, Princie, that also gives the stone its allure. She married the Maharajah of Baroda, a city in Gujarat now named Vadodara, after meeting him at the Madras races in 1943, even though he already had a wife. As independence from Britain approached, the couple fled to Europe, taking many of their treasures with them, settling in a mansion in Monte Carlo. A carpet made of pearls was discovered as recently as 1994 in a vault in Geneva.
It was in 1953 that the couple – they later divorced – were forced to sell assets to keep afloat. A pair of bejewelled anklets was purchased by Harry Winston, the jewellery house, which transformed them into a necklace subsequently purchased by none other than Wallis Simpson, the Duchess of Windsor. In 1957, both women were invited to the same New York reception and when Sita Devi spotted the necklace she loudly observed how nice the jewels had once looked draping her feet. Aghast, the story goes, the Duchess returned it.
Tragedy left its mark in 1985, when Princie cut his throat one day after his 40th birthday amid reports of drug and alcohol abuse. Sita Devi died four years later, some said from a broken heart.
Diamond highlights: most expensive gems
1. £28.9m Graff pink
The 24.78-carat pink diamond was bought by London dealer Laurence Graff in 2010, who described it as "the most fabulous diamond I've seen in my career". Still the most expensive gemstone bought at auction in history, it had previously been in the hands of Harry Winston for 60 years.
2. £16.4m Wittelsbach-Graff
Again bought by Laurence Graff, this 35.56-carat grey-blue stone was bought in 2008 at auction in London. Graff then had it cut three times to remove its flaws.
3. £14.86m Perfect pink
Considered perfection by dealers and the first stone in 244 years of auction history to be graded "fancy intense pink", this 14.23-carat gem was sold in Geneva in 2010. The pink colouration is a result of impurities or structural defects within the stone, and those with colours intense enough are termed "fancy".
Join our new commenting forum
Join thought-provoking conversations, follow other Independent readers and see their replies