CPAC 2015: 5 things you should know about the right-wing conference
Conservative conference kicks off on Thursday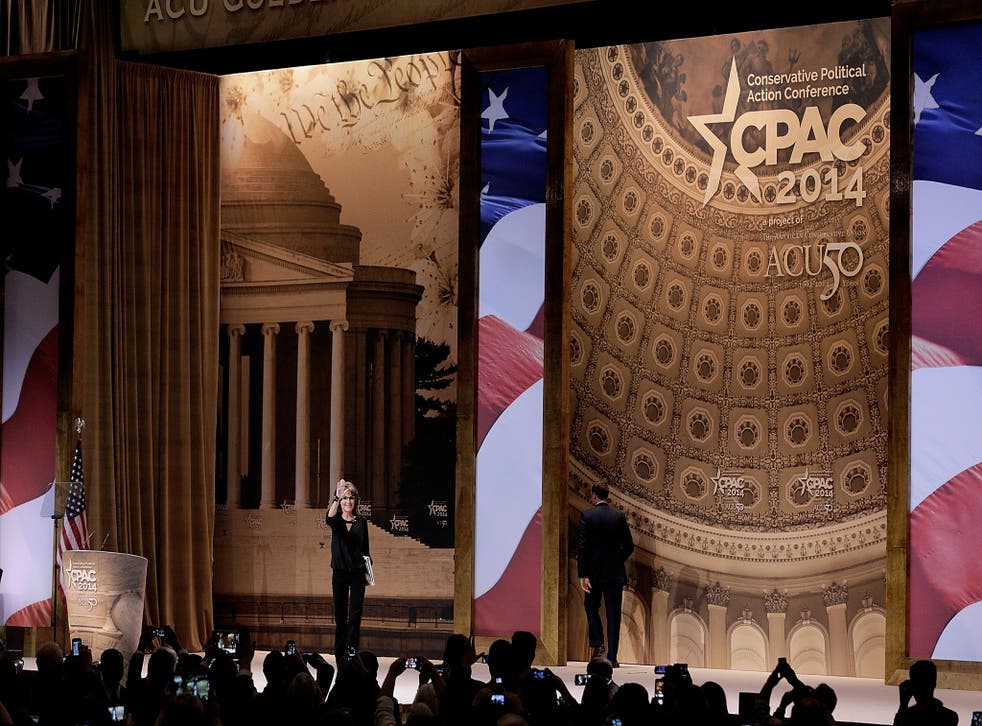 The Conservative Political Action Conference (CPAC) kicks off tomorrow near Washington DC and many prominent Republicans – including several who have been mentioned as possible presidential candidates – will take the stage.
Conference guests also will be privy to panel discussions on conservative issues, policy debate, organisation strategy and a so-called activism boot camp.
CPAC likely will see the future Republican presidential nominee deliver a speech , though it is still very murky who that person will be. Below are five things you should know about CPAC. Be sure to follow The Independent's coverage of the conference over the next couple of days.
What is CPAC?
CPAC is an annual conference put on by the American Conservative Union that gives Republican politicians a chance to stump for conservatives and libertarians. The conference is an opportunity for Republican politicians to measure their conservative credentials against those of fellow politicians.
Ronald Reagan attended CPAC almost every year of his presidency and in his book said "These were my people, the people who had laboured for the conservative cause when it seemed like a hopeless endeavour.... They were the people who persevered, and I can't tell you how much I admire them for their tenacity and their hope."
Which prominent politicians will speak?
Nearly all the names that have been mentioned in the same breath with the Republican presidential nomination are on the agenda to speak at CPAC. Jeb Bush, Chris Christie, Scott Walker and Marco Rubio will speak, as will Ben Carson, Ted Cruz, Bobby Jindal, Rick Perry, Rand Paul and Rick Santorum.
Other popular – yet long-shot – names on the agenda are Carly Fiorina, Sarah Palin and Donald Trump. Mike Huckabee, who topped a recent CNN poll on Republican candidates, has said he will not attend.
What other speeches I should pay attention to?
Executive vice president and CEO of the National Rifle Association Wayne LaPierre will speak on Friday. His comments usually are worth following.
On Thursday evening, Nigel Farage, leader of the UK Independence Party, will address the conference. Ukip is the UK's right-wing political party and it will be interesting to hear how far right Mr Farage will go.
What issues will be discussed at CPAC?
The conference will run the gamut of conservative issues over its three days, but some of the standout topics are education, Obamacare, fracking, immigration, cyber-security and foreign policy.
The ongoing debate over President Barack Obama's executive order on immigration and the looming threat of Isis surely will be on the tip of many tongues during the conference.
Why is this important for the presidential hopefuls?
As mentioned above, CPAC is a litmus test for the politicians' conservative credentials. Attendees of the conference generally are on the far-right side of American politics and they will be judging each potential presidential candidate on their politics.
At CPAC 2012, Republican presidential nominee Mitt Romney was roasted for his appearance at the conference in which he made the mistake of calling himself "severely conservative" during his time as governor of Massachusetts. The adjective did not go over well with many conservatives who were already concerned that Mr Romney was not conservative enough.
Mr Bush faces many of the same questions about his politics ahead of CPAC 2015. He has a chance to solidify support from the right with a speech appealing to conservatives, but risks alienating them with the slightest misstep.
Follow Payton Guion on Twitter @PaytonGuion.
Join our new commenting forum
Join thought-provoking conversations, follow other Independent readers and see their replies