As it happened
ended
1637314406
Christy Giles: Police say model's death is drug overdose as husband says masked men dumped body
As it happened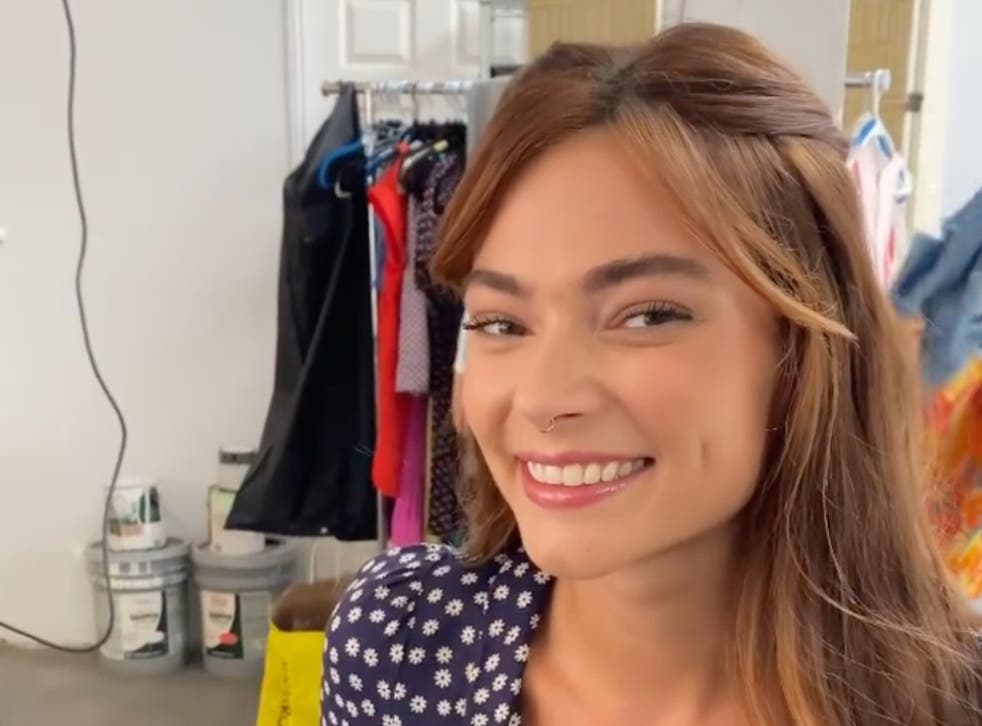 The husband of LA-based model and aspiring actress Christy Giles has paid tribute to her on Instagram after she was allegedly found outside a Los Angeles hospital at the weekend.
Giles, who died of a suspected drug overdose, was allegedly found dumped outside a Los Angeles hospital following a night out with friends. Her family blame a group of masked men.
A friend, Hilda Marcela Cabrales-Arzola, was allegedly dumped at another hospital two hours later and remains in critical care.
Giles's husband, Jan Cilliers, told his Instagram followers that he could not believe what had happened, and that she was "taken from us. From me. How can this world be so cruel. How can people be so evil."
He continued by describing the 24-year-old as "the light of my sky. Guiding stars of my journey. The twinkle in my eye. The tongue in my ear", and said: "My heart is shattered."
Police have said that it appears Giles's death was due to a possible overdose that turned fatal.
1637294983
Husband tells of 'worst fear'
ICYMI: Jan Cilliers, the husband of Christy Giles told The Independent it is his "worst fear" that his wife was potentially drugged and attacked before her body was dumped outside a Los Angeles hospital.
"Maybe they gave her something that incapacitated her and then you know, who knows what happened at that point," Mr Cilliers said.
"That is my worst fear but also my working theory. We will just have to wait and see wait and see what the medical examiner comes back with, supposedly that should be any day now."
Graeme Massie has more on the story here:
The 24-year-old died after night out in Los Angeles with friend
Graeme Massie
19 November 2021 04:09
1637295539
Christy's mother believes she was raped
Christy Giles' mother, Dusty Giles, has said that she believes her daughter was raped after being drugged and her body dumped outside the LA hospital.
Ms Giles told the Sun: "I believe they drugged them to keep them and I believe they probably raped them."
She added: "The only way that these men would have kept my daughter and Hilda for over 10 hours would be by giving them drugs, maybe tying them up."
She was quoted as saying that Christy Giles "would have fought like hell and from my understanding from speaking to the emergency room doctor and nurse, they did not see any visible bruises, scratches, or any indication of an altercation."
Maroosha Muzaffar
19 November 2021 04:18
1637297863
'Please just let me know you are ok'
ICYMI: The mother of Christy Giles has shared details of the heartbreaking messages her son-in-law sent her daughter as he tried to get hold of her the weekend she died.
Dusty Giles told The Independent's Jade Bremner: "He tried to reach her several times, the phone was at the same location and had not been moved for hours. He was texting her "what's wrong, are you ok?" And: "did I do something to upset you?" And "please just let me know that you are ok."'
Graeme Massie
19 November 2021 04:57
1637299182
Neighbours heard someone moaning in pain at apartment Christy visited
A neighbour heard some "weird noises" coming from the apartment where Christy Giles was before she was dumped outside a hospital in Los Angeles.
A local resident, who didn't want to be identified, told the Sun that he heard someone moaning in pain all day on Saturday from the apartment of a person named David Pearce.
"I was wondering what it was because there are always very loud noises coming from that apartment," the neighbour said. "But this was moaning, and it was weird to me but he's a weird guy and I don't want to get on his bad side so I never confront him."
On Sunday, police arrived to speak with Mr Pearce, the resident said.
"I'm not sure if they went up to his apartment. Then the police came and spoke with me and they said there had been an incident but they didn't give any more detail," he said.
He added: "They showed me a picture of him and his black Prius car. I told them that I had heard moaning all day and they took notes. I haven't seen his car for a few days now."
Maroosha Muzaffar
19 November 2021 05:19
1637303657
'Let's get out of here': Model's last text
The last text that model Christy Giles sent was to her friend Hilda Marcela Cabrales-Arzola around 5.30 am on Saturday. "Let's get out of here," Giles told her friend.
Giles' husband Jan Cilliers said that he had obtained "all the messages [she] exchanged with anybody else that night", according to ABC7.
He added that he does not believe Giles checked or answered any messages after sending that line to Ms Cabrales-Arzola.
Mr Cilliers has paid tribute to his wife on Instagram after she was found dead this weekend.
Giles died of a suspected drug overdose and was found dumped outside a Los Angeles hospital following a night out with friends.
Her family has blamed a group of masked men.
Maroosha Muzaffar
19 November 2021 06:34
Register for free to continue reading
Registration is a free and easy way to support our truly independent journalism
By registering, you will also enjoy limited access to Premium articles, exclusive newsletters, commenting, and virtual events with our leading journalists
Already have an account? sign in