Cyntoia Brown: Who is the former child sex slave facing life in jail?
A petition has been signed by more 200,000 people asking for clemency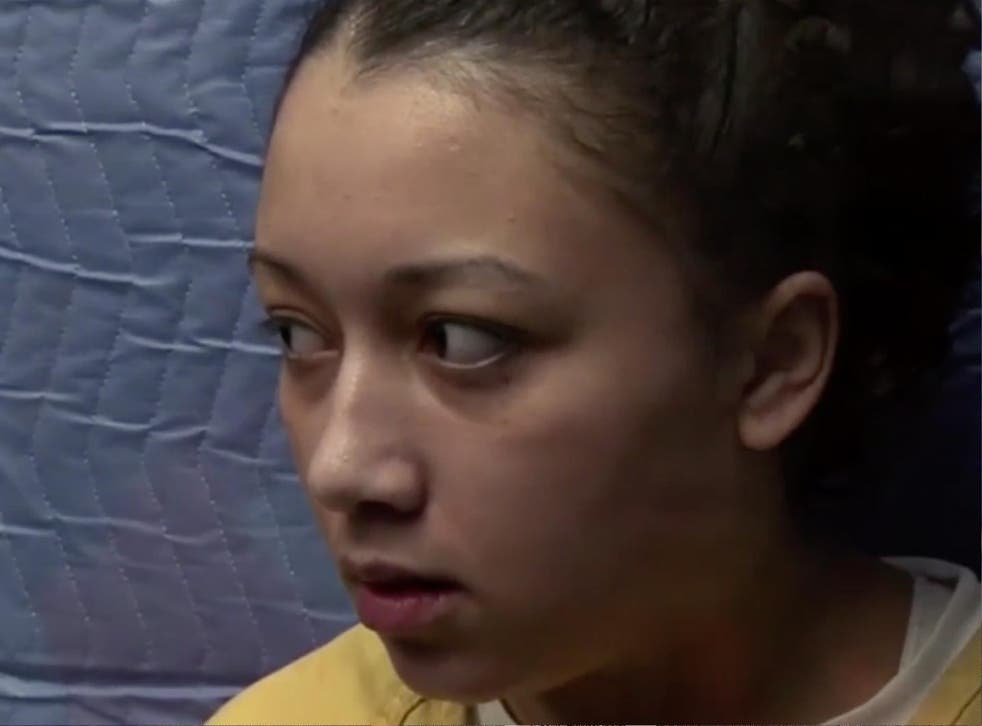 Cyntoia Denise Brown was 16 when she was sentenced to life in prison for killing a man who had picked her up for sex. She has been behind bars for 13 years, but her story is now spreading around the world after a social media post about her went viral.
The post - shared on Twitter and Instagram by Rihanna and Kim Kardashian West - was part of a campaign to see her released.
Here is what we know about her case.
Who is she and what happened to her?
Brown had been given up for adoption at the age of two by her white birth mother Georgina Mitchell, who faced issues with alcohol and served in prison herself.
Ms Mitchell would not see her biological daughter again until after she was already incarcerated.
Brown had been adopted by Ellenette Brown - a substitute teacher Ms Mitchell had known - but by the age of 16 in 2004 had been living with a 24-year-old man nicknamed "Cut Throat."
He began pimping out the teenager, who already had a lifelong history of physical, sexual, and drug abuse.
Why is she in jail?
One night in August 2004, Brown was picked up by Johnny Allen, a 43-year-old real estate agent, outside of a Nashville fast-food restaurant.
According to Brown's testimony, the pair at dinner at Mr Allen's home. She had spent the previous two weeks on a cocaine binge.
Mr Allen had allegedly made unwanted sexual advances towards her, and Brown's testimony said she thought he was reaching for a gun. She said she remembered that he claimed to have been a sharpshooter in the military.
World news in pictures

Show all 50
Brown said she reached for the pistol in her purse that "Cut Throat" had given her for protection and fatally shooting Mr Allen. Her lawyers argued that shot Mr Allen in self-defense.
She then took two guns, some money out of his wallet and drove his truck to a Walmart parking lot
The jury rejected Brown's claims of self-defense. She was found guilty of first-degree murder and prostitution, sentenced to life in prison and only up for parole when she is nearly 70 years old.
While in prison Brown has finished her two-year degree and is reportedly working on a Bachelor's degree through a prisoner education programme.
Why is her story making headlines now?
Filmmaker Daniel Birman made a 2011 documentary about Brown that tracked her for nearly seven years, called Me Facing Life: Cyntoia's Story.
He shared a clip from it on a Nashville television station last week, which appears to have inspired the viral post.
"This is a young girl who's at the tail end of three generations of violence against women...She had no chance" Mr Birman said.
Tennessee changed the law in 2011 to prevent those under the age of 18 from being charged with prostitution which, Mr Birman explained, meant Brown would have been treated as a child trafficking victim had her case been heard later.
After seeing the post, reality television star Kardashian West tweeted that she "called my attorneys yesterday to see what can be done to fix this."
Rihanna wrote on her Instagram post: "did we somehow change the definition of #JUSTICE along the way?? cause..... Something is horribly wrong when the system enables these rapists and the victim is thrown away for life!"
Model Cara Delevingne also tweeted about Ms Brown, calling the justice system "so backwards."
What happens next?
Ms Brown has served just a quarter of her 51-year sentence before parole eligibility.
Her attorney Charles Bone took on her case pro bono seven years ago. He has continued to file appeals with the court system in the state in a bid to get Ms Brown's sentenced reduced.
How are people campaigning for her release?
After the story on Mr Birman's documentary and a flood of support from such high-profile celebrities, a clemency petition was launched.
It has received more than 220,000 signatures thus far by people who argue Ms Brown was just a child when she committed the crime, has served her debt to society, and deserves to have her case heard by Tennessee Governor Bill Haslam and a parole board. It needs 250,000 signatures to reach the Governor's desk.

Several of the celebrities sharing the post have also been using the hashtag #freecyntoiabrown on Instagram and Twitter to grow awareness of her story.
Join our new commenting forum
Join thought-provoking conversations, follow other Independent readers and see their replies