Democrat senators including Bernie Sanders and Elizabeth Warren try to block Donald Trump's 'Muslim registry'
Proposals would ban government departments from introducing system that discriminates on race, religion or nationality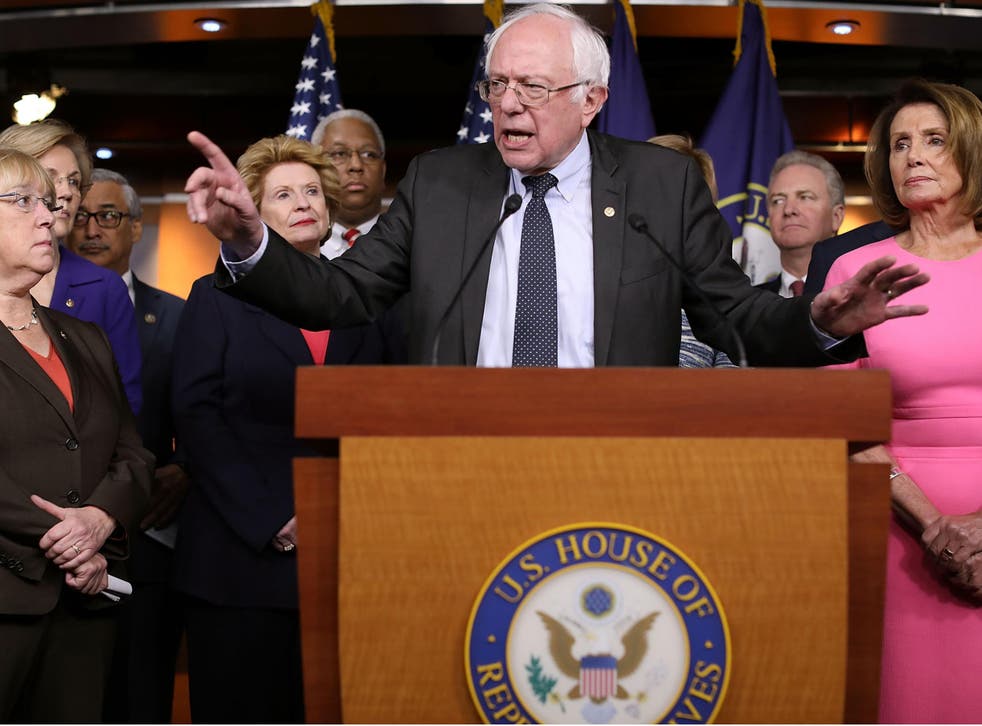 Senior Democrat senators including Bernie Sanders and Elizabeth Warren have introduced a bill to prevent Donald Trump creating a "Muslim registry".
The new law would ban government agencies setting up any kind of programme that required people to "register or check in" on the basis of religion, race, ethnicity or national origin. It would also prevent federal funds being used to set up such a system.
Mr Trump has previously said he is considering introducing a "registry" of Muslim immigrants in the USA. Asked about the issue in November 2015, he said: "I would certainly implement that".
He also pledged to impose a ban on Muslims entering the country but has since modified this to apply only to people coming from countries with "a proven history of terrorism".
The new bill was introduced by Cory Booker, a New Jersey senator and former Mayor of Newark, and backed by a number of leading Democrats. It will only pass through the Senate if it gets the backing of 60 senators, including at least 12 Republicans.
The wording of the bill states government departments "may not create or implement a law enforcement or national security program that requires, or has the effect of causing, people to register or check in on the basis of religion, race, age, gender, ethnicity, national origin, nationality, or citizenship; and… no Federal funds may be used to create or implement an immigration registry or check-in program."
Mr Booker said: "Forcing people to sign up for a registry based on their religion, race…undermines the freedom of religion guaranteed by our Constitution and promote[s] the false notion that people of certain faiths and nationalities are inherently suspect.
"Our legislation would block Donald Trump and subsequent administrations from infringing on religious liberty by creating an immigration-related religious registry."
President Trump protests

Show all 20
Elizabeth Warren, a prominent left-wing Massachusetts senator who has been tipped to run for president in 2020, said: "Targeting people based on their religion flies squarely in the face of who we are as Americans – and it makes our country less safe. This bill will uphold American values and ensure the federal government cannot engage in surveillance or harassment of certain immigrant groups."
Mr Trump has argued that action against Muslim immigration to the US is needed to combat terrorism. He said a registry would help because it would be "good management".
Asked by NBC whether Muslims would be legally obliged to register on the database, the Republican replied: "They have to be, they have to be".
The Obama Administration has already taken steps to try to prevent Mr Trump establishing a "Muslim registry".
Last month it closed down a dormant programme that, until 2011, had been used to register people who entered the US from countries with active terrorist groups.
There had been reports Mr Trump could use the system to keep track of Muslim immigrants but the programme, called Nseers, was scrapped by the Department for Homeland Security last month.
Register for free to continue reading
Registration is a free and easy way to support our truly independent journalism
By registering, you will also enjoy limited access to Premium articles, exclusive newsletters, commenting, and virtual events with our leading journalists
Already have an account? sign in
Register for free to continue reading
Registration is a free and easy way to support our truly independent journalism
By registering, you will also enjoy limited access to Premium articles, exclusive newsletters, commenting, and virtual events with our leading journalists
Already have an account? sign in
Join our new commenting forum
Join thought-provoking conversations, follow other Independent readers and see their replies