Did Mexico's 'First Lady of Murder' order mass killings?
Mayor's wife arrested with husband as police search for 43 missing students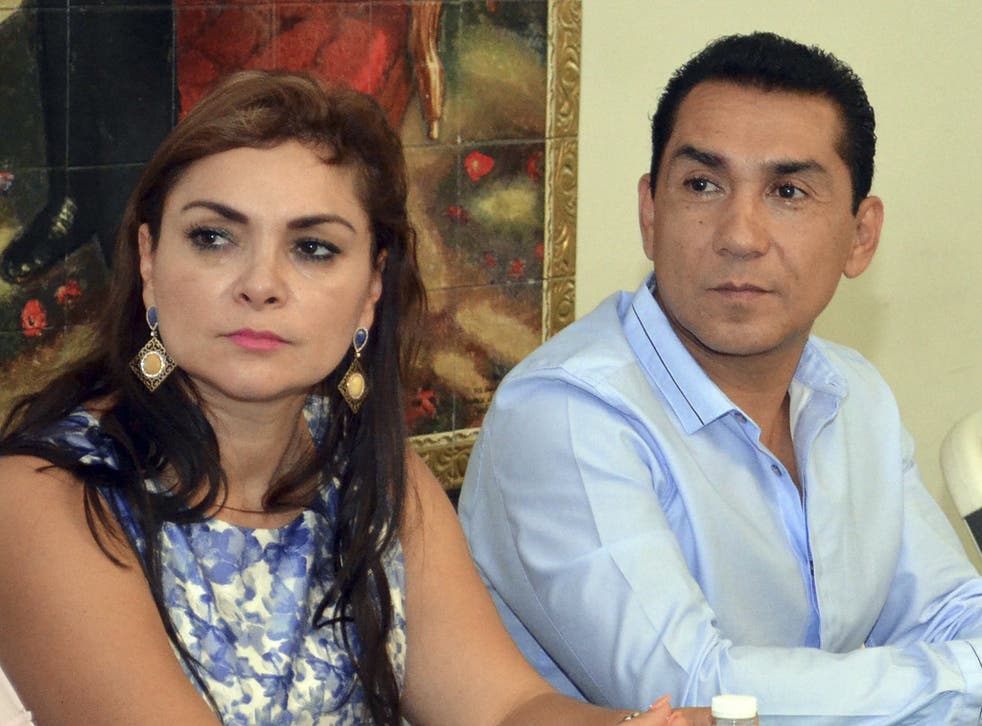 When 43 students vanished from the Mexican town of Iguala, the mayor's wife arrived to the party in pink.
Maria de los Angeles Pineda was running to succeed her husband as mayor, and her campaign was in full swing.
She had bused in 3,000 people to the Plaza de las Tres Garantías, and pictures show a meticulously-organised stage, replete with a vast picture of Mrs Pineda. Afterwards, promised "Lady Iguala", there would be dancing.
That dance was just about the last moment anyone in the town of about 100,000 saw the couple – until this week. Days ago, they were arrested for allegedly orchestrating the abduction of 43 students and colluding with a local cartel in a case that has roiled Mexico, spurred massive protests and gained international attention.
Mrs Pineda has now gained the recognition she sought, but on very different terms. A growing number of observers and authorities now suspect that she played a pivotal role in the students' disappearance.
Routinely described as the "The First Lady of Murder," or the "Queen of Iguala", Mrs Pineda was the "key operator" of Iguala's criminal network, gang leaders tell local press. The story of Maria de los Angeles Pineda illustrates the endemic collusion between state and criminal actors in the region, where politics, business and cartels converged to take a town hostage.
Protests in Mexico over 43 missing students

Show all 13
The search for the abducted students, which has overshadowed President Pena Nieto's agenda, has failed to turn up any of the missing. But it has unearthed a series of unrelated mass graves, filled with bodies belonging to people few knew were missing.Mexican authorities have detained "Lady Iguala" and her husband, Mayor Jose Luis Abarca. Police found and arrested the couple squatting in an apparently abandoned house in Iztapalapa, north of Iguala in Guerrero state.
Theirs was an unusual path to prominence. The husband grew up in a family that sold hats and wedding dresses, according to the Yucatan Times. Those endeavours ultimately gave way to something more profitable: gold and jewellery. It was around that time he met his wife, sister to powerful, local cartel brothers.
The husband and wife got busy selling gold. They soon became wealthy off the trade, Borderland Beat reported. They eventually came into contact with some local political bigwigs, who tapped Mr Abarca to enter a mayoral contest he ultimately won. Mrs Pineda soon announced her candidacy, but on 26 September, the day of the Plaza's campaign event, she was greeted by an unwelcome surprise: A group of student teachers were going to make a noise that would disrupt the festivities.
"Teach them a lesson," numerous reports quoted her saying. According to government statements reported by the Toronto Star, her family's cartel cooperated with the local police to confront the students – and in the ensuing violent melee, 43 young men simply vanished.
"It is a global confession," journalist Julio Hernandez Lopez wrote. "A collective X-ray, a clarifying revelation of the mechanisms of understanding between the economic powers, in this so-called organised crime, and the politicians, all of whom, in reality, are one and the same."
© Washington Post
Join our new commenting forum
Join thought-provoking conversations, follow other Independent readers and see their replies