Brazil's embattled president claims attempts to impeach her amount to a 'coup'
'In the past, coups were carried out with machine guns, tanks and weapons. Today, all you need are hands that are willing to tear up the Constitution,' Dilma Rousseff said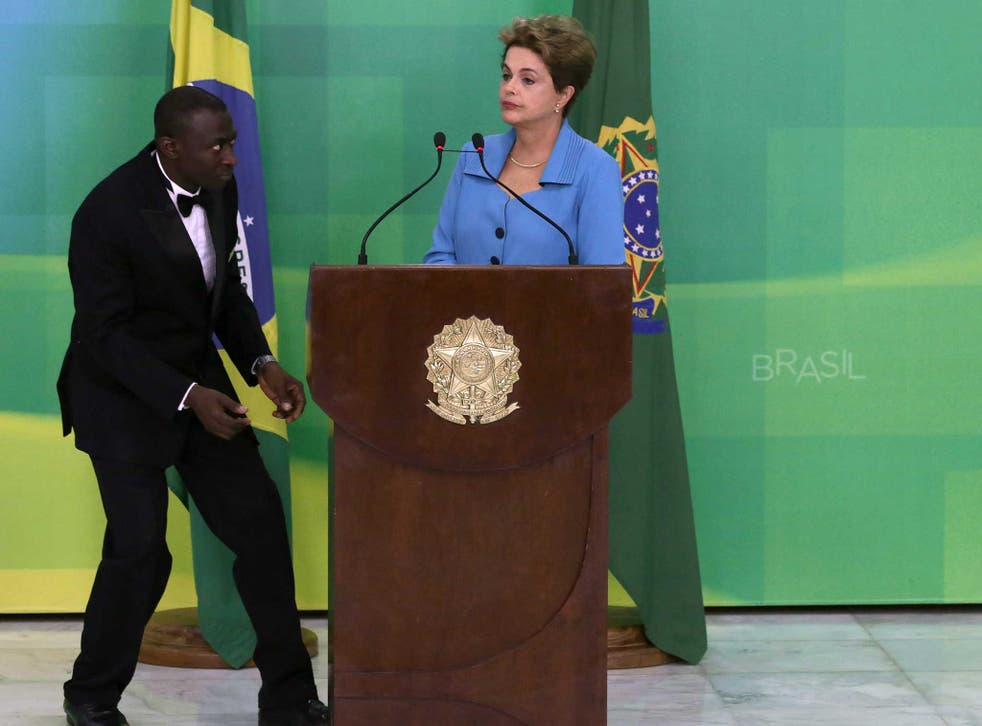 Dilma Rousseff, the embattled President of Brazil, has invited the international community to side with her in a domestic crisis that could spell the end of her leadership, telling reporters in New York that her opponents' plans to see her impeached would constitute a "coup".
In a meeting with foreign journalists at the Brazilian ambassador's residence in Manhattan, Ms Rousseff said: "In the past, coups were carried out with machine guns, tanks and weapons. Today, all you need are hands that are willing to tear up the Constitution."
Her political rivals, whom she characterised as "conspirators", are seeking to oust Ms Rousseff, the leader of the centre-left Worker's Party, over allegations that she illegally used funds from state-controlled banks to disguise Brazil's deficit ahead of her 2014 re-election.
Legislators in the Brazilian Chamber of Deputies voted last Sunday to press ahead with impeachment proceedings, which the President insisted had "no legal foundation", arguing that such accounting tricks are common practice for political leaders in Brazil and elsewhere.
Ms Rousseff was in New York ostensibly to join representatives of 175 countries in signing the Paris climate change agreement, in a ceremony at the United Nations on Friday. Given the upheaval at home, she had wavered on whether to attend the event at all.
She concluded an address to the General Assembly on climate change by noting "the grave moment Brazil is undergoing", but said: "Brazil is a great nation, with a society that was able to defeat authoritarianism and build a vibrant democracy. Our people are hard-working and have great esteem for freedom. I have no doubt they will be able to prevent any setback."
With Brazil in the midst of a crippling recession, deepened by a multi-billion-dollar corruption scandal involving the government-run oil company, Petrobras, public opinion is decidedly against the president.
After the vote in Brazil's lower house of congress, Senators in the capital, Brasilia, are expected to give the go-ahead for an impeachment trial no later than 17 May. Ms Rousseff would be suspended for up to 180 days during the trial.
She would be replaced, at least temporarily, by her Vice President, Michael Temer, who faulted Ms Rousseff for risking the reputation of the Latin American giant in the interests of saving her presidency. Speaking to the New York Times, Mr Temer said he was "very worried about the president's intention to say Brazil is some minor republic where coups are carried out."
Ms Rousseff, who is 68, was imprisoned and tortured as a young Marxist activist in the guerilla struggle against the military dictatorship that ruled Brazil from 1964 to 1985, when democracy was re-established. She would be the second Brazilian leader since 1985 to be impeached.
Though many Brazilians are keen to see her pushed out of office, others fear her opponents may be guilty of misdeeds as bad as or worse than hers. Most nonetheless believe she will probably be convicted by the necessary two-thirds majority of Senators.
"I will fight with all my strength," Ms Rousseff said on Friday. "I am willing to fight to ensure that Brazil does not become a country where democratic rule is broken."
Join our new commenting forum
Join thought-provoking conversations, follow other Independent readers and see their replies