Donald Trump foreign policy speech: 5 things we learned about his world view
The only way to make the world great again is to make America great again, billionaire tells crowd in Washington
Feliks Garcia
New York
Wednesday 27 April 2016 21:49 Comments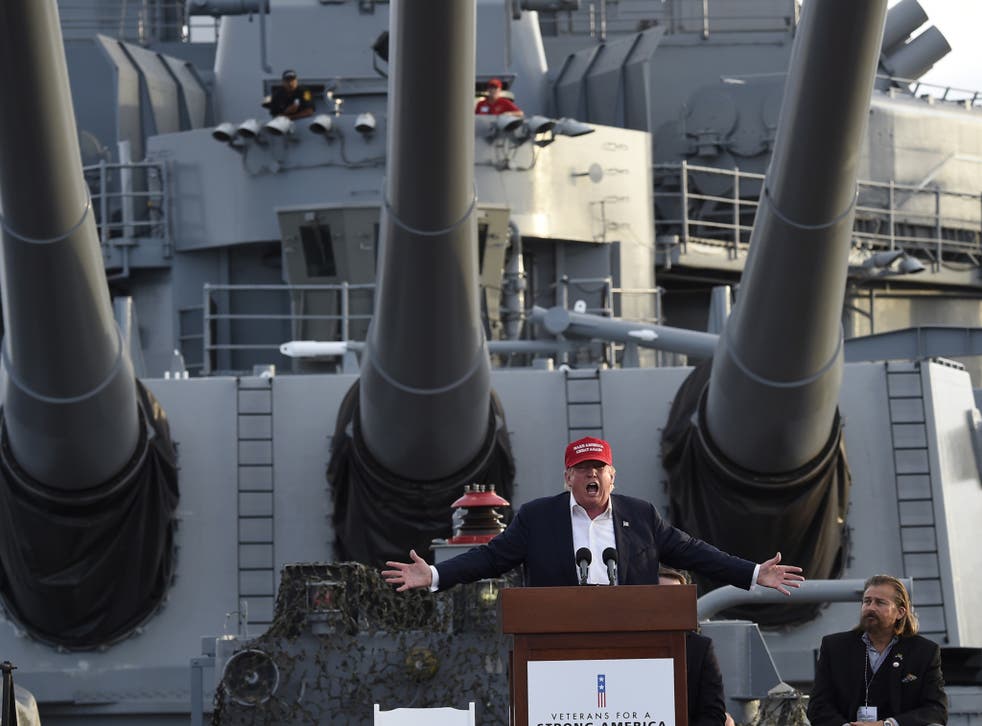 Donald Trump addressed the nation - and the world - when he delivered his first major foreign policy address.
Mr Trump, whose speeches are characterised by their boisterous rhetorical theatrics, reined in his demeanor and, reading from a teleprompter, outlined how he plans to command the respect of the globe. He vowed to put "America first" when dealing with other nations if elected in his Wednesday afternoon speech in Washington, and had some rather critical words to say about the Obama administration and Democratic front-runner Hillary Clinton.
The speech served as a glimpse into what Mr Trump's potential presidency could mean for the rest of the world. What is Mr Trump's worldview, and how does he intend to change the role of the US abroad?
Mr Obama has weakened the economy and, thus, the military
Mr Trump accused President Barack Obama of "overextending" the nation's resources, while also opening the doors to Isis in the Middle East.
"President Obama has weakened our military by weakening our economy," he said. "If President Obama's goal had been to weaken America, he could not have done a better job."
Calling current US foreign policy a "complete and total disaster," Mr Trump said his global doctrine will include "randomness with purpose, ideology with strategy, and chaos with peace."
Trump's first foreign policy speech
Nato allies to pay their 'fair share', or they are on their own
According to Mr Trump's figures, only four of the 28 Nato member nations are paying the required 2 per cent of the GDP. A Nato report released last summer puts that figure around five.
"[Countries that do not pay] look at the United States as weak and forgiving and feel no obligation to honour their agreements with us," Mr Trump said. "The countries we are defending must pay for the cost of this defence – and, if not, the US must be prepared to let these countries defend themselves."
The US will make the world stronger by building itself domestically
Mr Trump asserted that the world is strong if the US is strong.
"Many Americans must wonder why our politicians seem more interested in defending the borders of foreign countries than their own," he said. "We will no longer surrender this country, or its people, to the false song of globalism."
The business mogul added that the US is leaving the "nation-building business" and will instead focus on "creating stability in the world."
"I will not hesitate to deploy military force when there is no alternative," he said. "But if America fights, it must fight to win. I will never send our finest into battle unless necessary - and will only do so if we have a plan for victory."
He alluded to a war strategy similar to the Powell Doctrine, which refers to then General Colin Powell's overwhelming ground attack on Iraq in 1991.
"Our goal is peace and prosperity, not war and destruction."
People who will flee America if Donald Trump wins

Show all 8
Mr Trump still blames Hillary Clinton for Benghazi
Mr Trump criticised Hillary Clinton for her time spent as Secretary of State, attributing the attack on the US consulate in Benghazi, Libya, to her negligence and misdirection.
"After Secretary Clinton's failed intervention in Libya, Islamic terrorists in Benghazi took down our ambassador and three brave Americans," Mr Trump said. "Then, instead of taking charge that night, Hillary Clinton decided to go home and sleep! Incredible."

A GOP panel conducted an investigation and found that neither Secretary Clinton nor anyone else in the Obama Administration was guilty of wrongdoing.
Still, Mr Trump added that now Isis is "making millions of dollars a week" from Libyan oil.
Mr Trump plans to build a relationship China and Russia
The candidate pivoted from talking about boosting US nuclear power to compete with Russia in China to explaining how he will boost their relationship with the US.
"Some say the Russians won't be reasonable. I intend to find out. If we can't make a good deal for America, then we will quickly walk from the table," he said.
Mr Trump concluded that he will be "America's greatest defender and most loyal champion," and in order for the US to promote peace across the world, he would have to "make America great again."
"If we do that, perhaps this century can be the most peaceful and prosperous the world has ever known."
Register for free to continue reading
Registration is a free and easy way to support our truly independent journalism
By registering, you will also enjoy limited access to Premium articles, exclusive newsletters, commenting, and virtual events with our leading journalists
Already have an account? sign in
Join our new commenting forum
Join thought-provoking conversations, follow other Independent readers and see their replies