Donald Trump poses with black college presidents on day his administration makes it harder for minorities to vote
Department of Justice drops legal action on Texas, which demands voters show ID before casting ballot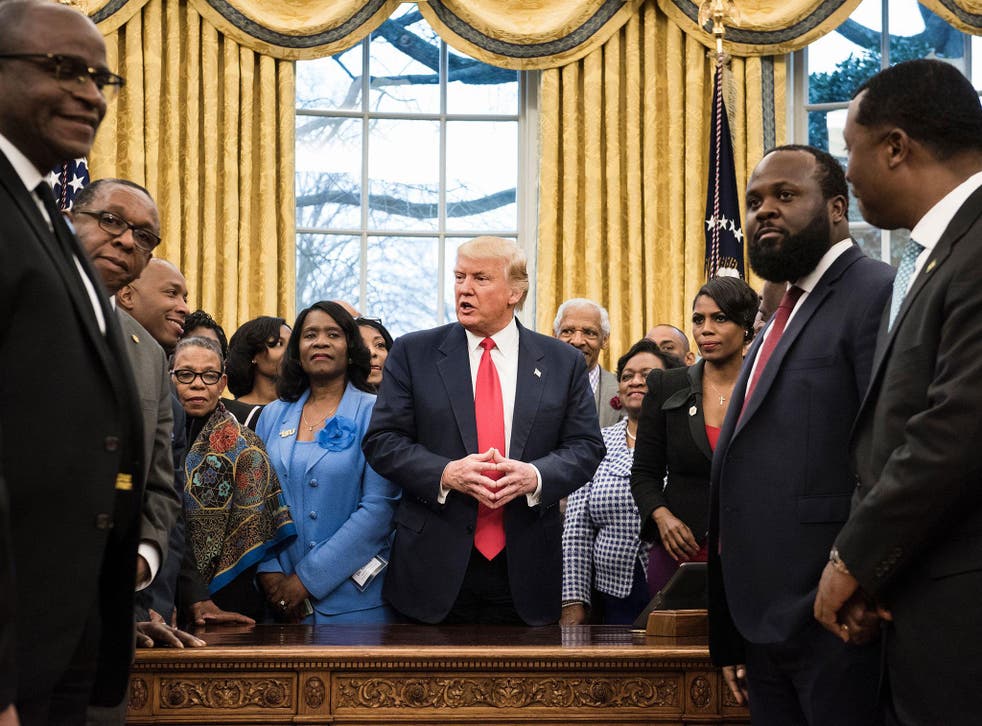 Donald Trump posed for a photo with black college and university presidents on the same day his administration made it potentially harder for ethnic minority groups to vote.
The US President was pictured grinning while surrounded by representatives of historically black universities and colleges – institutions set up before 1964 to primarily serve African-American communities – in the Oval Office.
A White House spokesman subsequently announced he was due to sign a measure on aimed at boosting government support for the colleges, known as HBCUs.
Within hours of the photo opportunity, the Department of Justice dropped an objection to a piece of strict Texas voter law legislation.
The Republican-led state wants voters to show a driver's licence, passport or other government-issued photo ID - which minority and young voters often do not have – before casting a ballot.
Gerald Hebert has represented several people who sued Texas, including the League of United Latin American Citizens and African-American Democrat Texas congressman Marc Veasey.
"I am appalled and disgusted that DOJ would abandon their claims, that they have advocated for years, that Texas' photo ID law was enacted with a racially discriminatory purpose," he said.
Danielle Lang, a lawyer for the Campaign Legal Centre, said "This is a complete 180-degree turn."
Texas lawmakers passed the ruling in 2011 but Barack Obama's justice department launched its legal action against it in 2013.
A federal appeals court last year ruled the law needed to be softened because it indeed discriminated against minority voters who lacked the required IDs.
Opponents claimed Republicans picked IDs more advantageous to the GOP.
President Donald Trump threatens to "destroy" the career of a Texas state senator
The IDs included licences to carry concealed handguns, which are statistically more likely to be carried by white people, and excluded public university IDs - a measure expected to disproportionately affect black people.
Jeff Sessions, who replaced acting Attorney General Sally Yates after she refused to support the immigration ban, told a judge on Monday that it was withdrawing its claim on Texas.
But the Texas Legislature is considering a new bill that will allow those who do not have the appropriate ID to vote anyway by first signing an affidavit.
Richard Hasen, a law professor at the University of California, and an election-law expert, told the New York Times: "This is the first step in what I expect to be a series of steps with DOJ siding with the state of Texas."
The DOJ last week withdrew Mr Obama's guidance on transgender toilets in schools.
Join our new commenting forum
Join thought-provoking conversations, follow other Independent readers and see their replies