Donald Trump criticised for silence over Puerto Rico disaster
Hillary Clinton calls on President to deploy navy after Hurricane Maria wreaks havoc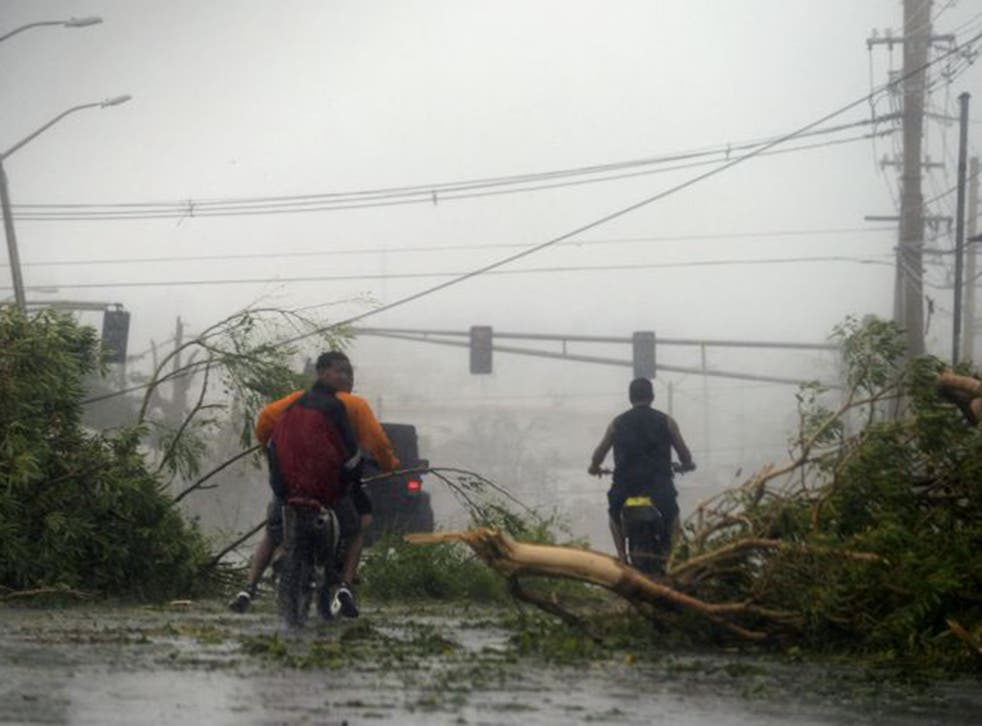 Donald Trump has been criticised for his silence after Hurricane Maria devastated Puerto Rico, whose 3.4 million inhabitants are US citizens.
At least 13 people are dead and the entire country remains without power after the worst storm for decades hit the island nation on Wednesday.
Many of the country's hospitals are dependent on diesel generators, and patients have been flown to the US for treatment.
Officials in the country fear there may be more devastation to come, if the large dam along the Guajatacata River fails. Up to 70,000 people who live within the river's flood plain have been told to leave their homes.
Puerto Rico is an unincorporated US territory, meaning its inhabitants have qualified US citizenship, and it is entitled to federal emergency funds.
President Trump's Twitter feed was characteristically active over the weekend – but he didn't find time to post anything about the island's plight.
A number of users expressed anger Mr Trump seemed more concerned about a series of protests by NFL players over racial injustice in the country.
A number of footballers knelt or raised fists during games played across the weekend. In response, the President suggested those who did not stand for the national anthem should be fired or suspended.
Former Presidential candidate Hillary Clinton said: "President Trump, [Defense Secretary] Mattis, and DOD should send the Navy, including the USNS Comfort, to Puerto Rico now. These are American citizens."
The US has currently deployed 4,000 US Army Reserve members, as well as 1,600 National Guard members, according to the Federal Emergency Management Agency (Fema).
The White House told CNN the President would visit the island territory, but that a date has not yet been confirmed.
The White House said in a statement on Friday: "The President confirmed that the Federal Government has been actively preparing its response to Hurricane Maria even as it continues to support the States of Texas, Louisiana, Florida, Georgia, and all the communities affected by Hurricanes Harvey and Irma."
Join our new commenting forum
Join thought-provoking conversations, follow other Independent readers and see their replies