Donald Trump has broken nearly all his 'Day One' promises since entering White House
Major campaign promises on everything from immigration to 'draining the swamp'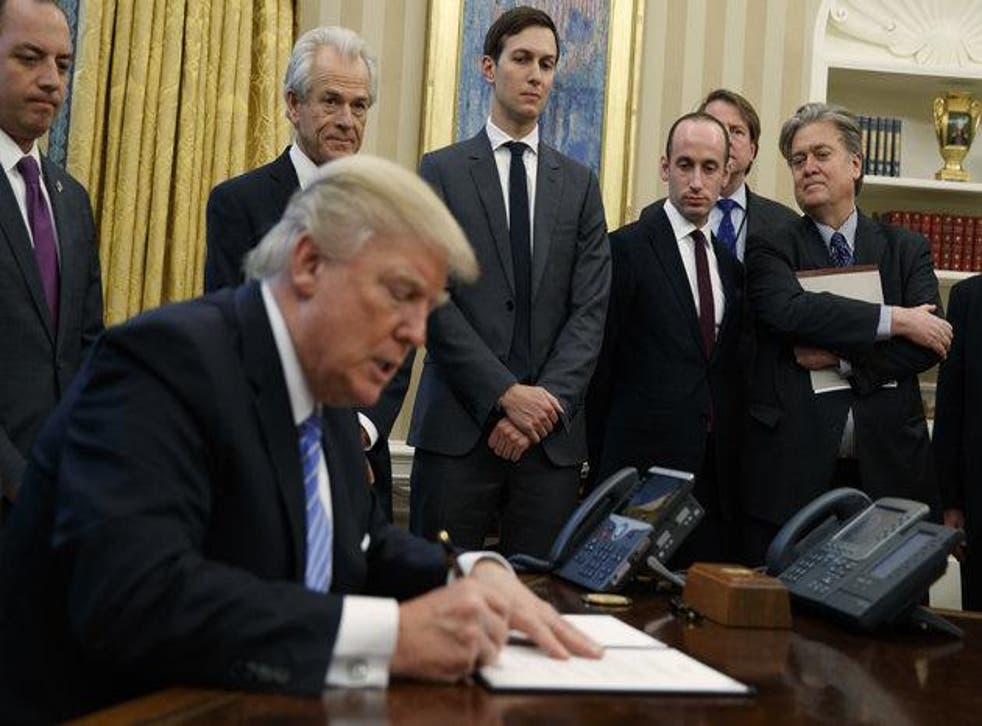 As a candidate, Donald Trump set a sweeping "Day One" agenda.
As of Monday evening, the vast majority of his promises had gone unfulfilled.
At rallies and in speeches over the course of his campaign — as well as in a contract he spelled out with American voters — Trump vowed to move swiftly to overhaul the country's approaches to trade and immigration.
He said repealing and replacing his predecessor's signature health care law would be "one of his first acts as president." He vowed to terminate what he dubbed his predecessor's "two illegal executive amnesties." And he committed to push forward with sweeping ethics reforms and undo scores of environmental and other regulations.
But since he was sworn into office on Friday afternoon, President Trump has moved forward at a decidedly slower pace.
The White House has said it hasn't stuck to its plan because it wants to maximise attention.
"If we put 'em all out on one day, they get lost in the ether, I think," White House spokesman Sean Spicer said Monday. But Trump and his aides have also suggested they're reconsidering speed for political and policy reasons.
Here's what Trump promised to do on his first day in office, compared with what he's actually accomplished so far.
Fulfilled
Promise: Impose a hiring freeze on federal employees, excluding military, public safety, and public health staff.
Fulfilled: Trump signed a memorandum Monday freezing most federal government hiring, with an exception for the military.
Promise: Formally withdraw from the 12-nation Trans-Pacific Partnership.
Fulfilled: Trump signed a memorandum Monday that moves to pull the United States out of the proposed Trans-Pacific Partnership trade pact.
In progress
Promise: Announce his intention to renegotiate or withdraw from the North American Free Trade Agreement with Canada and Mexico.
Progress: In conversations with Canadian and Mexican leaders, aides say Trump has made clear his intention to renegotiate the deal, though no formal steps have been taken.
Promise: Convene his generals and inform them that they have 30 days to submit a new plan for defeating Isis.
Progress: Spicer said on Monday he believes Trump has formally requested Pentagon advice on changing the campaign against the militants. He says the president will continue to have those conversations later in the week.
In pictures: Protests, pomp and Donald Trump

Show all 30
Promise: Ask Congress to send him a bill to repeal and replace Obama's signature health care law.
Progress: Trump did sign an executive order Friday aimed at "minimising the economic burden" of the "Obamacare" law. The order notes that Trump intends to seek the "prompt repeal" of the law.
But in the meantime, it allows the Health and Human Services Department and other federal agencies to delay implementing any piece of the law that might impose a "fiscal burden" on states, health care providers, families or individuals.
Pending
Immigration
—Stop all federal funding to "sanctuary cities" — places where local officials don't arrest or detain immigrants living in the country illegally for federal authorities.
—Begin deporting what Trump estimates to be more than 2 million criminal illegal immigrants living in the country.
—Cancel visas for citizens of foreign countries that won't take those criminal illegal immigrants back.
—Immediately terminate former President Barack Obama's "two illegal executive amnesties." That presumably includes DACA, which protects people who were brought into the country illegally as children. Spicer said on Monday that, "For now ... the focus is going to be on people who have done harm to our country."
Security and defence
—Immediately suspend the Syrian refugee programme.
—Suspend immigration from "terror-prone regions" where he says vetting is too difficult.
—Implement new "extreme" immigration vetting techniques.
Trade
—Direct his treasury secretary to label China a currency manipulator.
"Draining the swamp" and government reform
— Propose a constitutional amendment to impose term limits on all members of Congress.
— Ban White House and congressional officials from becoming lobbyists for five years after they leave the government.
— Ban former White House officials from lobbying on behalf of foreign governments for the rest of their lives.
— Ban foreign lobbyists from raising money for US elections.
— Impose a requirement that for every new federal regulation imposed, two existing regulations be eliminated.
Energy and the environment
—Remove any Obama-era roadblocks to energy projects such as the Keystone XL pipeline.
—Lift restrictions on mining coal and drilling for oil and natural gas.
—Cancel payments to the UN's climate change programmes and use the money to fix America's water and environmental infrastructure.
Health care, gun control and other issues
—Cancel "every unconstitutional executive action, memorandum and order issued by President Obama."
—Begin the process of selecting a new Supreme Court justice.
—Get rid of gun-free zones in schools and on military bases.
AP
Join our new commenting forum
Join thought-provoking conversations, follow other Independent readers and see their replies