Donald Trump swears in Jeff Sessions as US Attorney General
Former Alabama senator handed role despite widespread opposition over civil rights record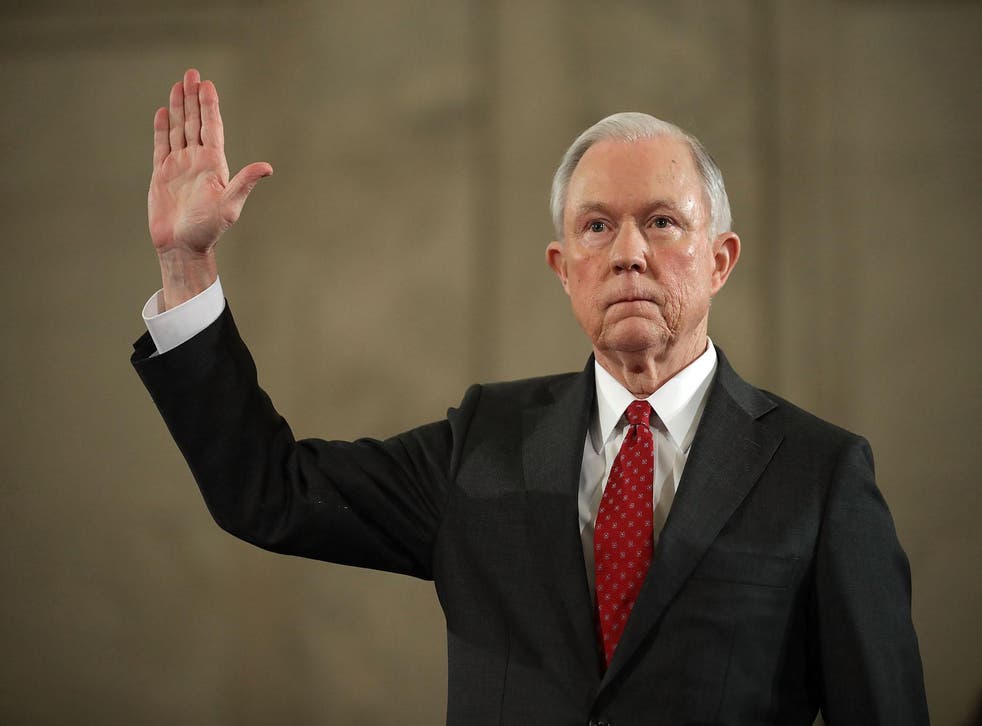 Donald Trump has sworn in Jeff Sessions as US Attorney General - a man once deemed too racist to be a judge.
Mr Trump praised his new appointee as a man of integrity and principle, and as someone who had devoted his life to the cause of justice.
In a short inaugural speech following the Oval Office ceremony, Mr Sessions vowed to end "lawlessness" and tackle the "dangerous, permanent trend" of rising crime rates, a claim regularly repeated by the Trump administration that remains unproven.
The 70-year-old, who was the first sitting US senator to endorse Mr Trump's candidacy, is one of his most controversial cabinet picks due to his record on civil rights and immigration.
Formerly a state attorney general and federal prosecutor, the Alabama senator, who resigned his senate seat shortly after his new position was approved, has been followed by accusations of racism and bigotry since the 1980s.
A senate hearing at the time heard he discriminated against organisations such as the National Association for the Advancement of Coloured People (NAACP) and the American Civil Liberties Union, allegedly calling them "un-American".
He was also accused of suggesting a white civil rights lawyer was a "race traitor" for taking on a voting rights case in Alabama.
Senators heard he had referred to a black official in his US attorney's office as "boy" and told him to be careful what he said to white people, a claim he denies.
However, he did admit to making a "joke" in which he said he had admired the KKK until he found out they smoked marijuana.
He defended himself at the time saying: "I am not the Jeff Sessions my detractors have tried to create. I am not a racist. I am not insensitive to blacks."
Republicans lauded his four decades of public service and his commitment to fairness and the rule of law during the appointment.
Mr Trump used the swearing-in ceremony to sign three new executive orders, including ones targeting transnational drug cartels and those who commit crimes against law enforcement.
"These dangerous times require a determined attorney general," he said at the ceremony.
It came as Mr Trump's Supreme Court nominee Neil Gorsuch called the US President's attack on the US courts who blocked his controversial immigration order "demoralising and disheartening".
Register for free to continue reading
Registration is a free and easy way to support our truly independent journalism
By registering, you will also enjoy limited access to Premium articles, exclusive newsletters, commenting, and virtual events with our leading journalists
Already have an account? sign in
Register for free to continue reading
Registration is a free and easy way to support our truly independent journalism
By registering, you will also enjoy limited access to Premium articles, exclusive newsletters, commenting, and virtual events with our leading journalists
Already have an account? sign in
Join our new commenting forum
Join thought-provoking conversations, follow other Independent readers and see their replies