Donald Trump's family use the White House for business enterprises 'like the Kardashians used reality TV'
'The first lady seems to be inappropriately trying to profit from a high-profile position that is usually centred on public service,' says ethics watchdog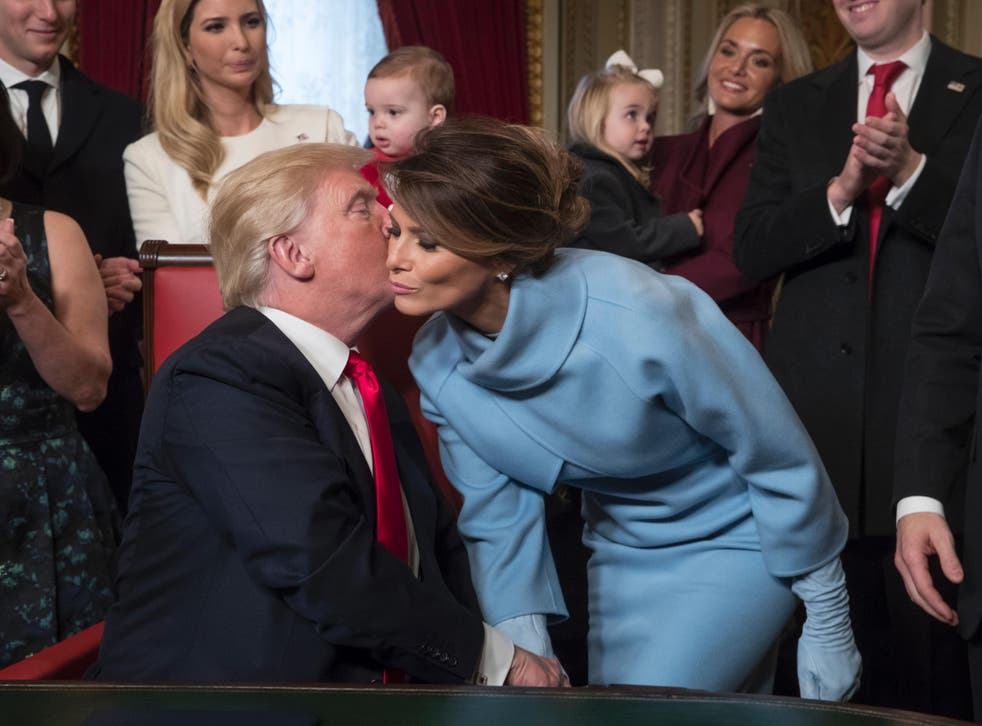 Donald Trump's family are using his presidency "like the Kardashians used reality TV" to expand their business enterprises, a former White House ethics counsellor has said.
The remarks come after legal documents filed on behalf of Melania Trump revealed she expected to develop "multi-million dollar business relationships" as a result of her presence in the White House. Business documents have also shown she has not stepped away from many of the companies that manage her 'Melania'-branded products since her husband took office.
Ethics watchdogs have said they are worried the First Lady seems to be inappropriately trying to profit from a high-profile position that is usually centred on public service.
"The Trumps are using the White House like the Kardashians used reality TV, to build and vastly expand their overall business enterprises," said Norman Eisen, who was President Barack Obama's chief ethics counsellor.
A libel lawsuit, re-filed by Ms Trump on Monday in New York, drew particular attention because little has been heard from the First Lady, who last posted on social media on 21 January, for several weeks. She has not been to Washington since the inauguration, and has largely been keeping a low profile in New York.
Ms Trump has been suing the corporation that publishes the Daily Mail's website over a now-retracted report that claimed she once worked as an escort.
While the new court documents do not specifically mention her role as First Lady, an unusual passage argues that in addition to being false and libellous, the Daily Mail report damaged her ability to profit from her high profile, and affected her business opportunities.
Lawyers are using Donald Trump's anti-Muslim rhetoric against him
The passage states that Ms Trump "had the unique, once-in-a-lifetime opportunity, as an extremely famous and well-known person, as well as a former professional model, brand spokesperson and successful businesswoman, to launch a broad-based commercial brand in multiple product categories, each of which could have garnered multi-million dollar business relationships for a multi-year term during which plaintiff is one of the most photographed women in the world".
Charles Harder, Ms Trump's attorney, did not respond to a question about what was meant by the phrase "once-in-a-lifetime opportunity". He said the first lady "has no intention of using her position for profit and will not do so".
"It is not a possibility," Mr Harder said. "Any statements to the contrary are being misinterpreted."
The products referenced in the lawsuit could have included clothing, accessories, jewellery, cosmetics, hair care and perfume, among others. The first lady is seeking compensatory and punitive damages of at least $150 million (£120 million).
A review of business filings found that Ms Trump has not stepped away from her brand.
As of Tuesday, she was listed in New York filings as the CEO of Melania Marks Accessories Member Corp, the holding company of Melania Marks Accessories LLC, both of which remain active. Those companies managed between $15,000 (£12,000) and $50,000 (£40,000) in royalties from her accessories lines, the Trumps' May 2016 financial disclosure filing shows.
A White House spokeswoman for the first lady did not respond to a request for comment.
In pictures: Women of the world march against Trump

Show all 32
Scott Amey, general counsel of the Washington watchdog Project on Government Oversight, said the First Lady's ongoing enterprises are "another example of the first family blurring the line between public service and private business interests".
Richard Painter, who advised former President George W Bush on ethics, said the lawsuit's language shows Ms Trump is engaging "in an unprecedented, clear breach of rules about using her government position for private gain".
Mr Painter and Mr Eisen are part of a group of attorneys suing the president for an alleged violation of a constitutional clause that prohibits presidents from receiving foreign gifts or payments.
President Trump continues to financially benefit from his global business empire, breaking from past practice. Previous presidents and their families have divested from business interests and placed their holdings in a blind trust, although there is no legal requirement to do so.
Mr Trump handed daily management of the real estate, property management and licencing business to his adult sons and a longtime Trump Organisation employee.
Additional reporting by Associated Press
Join our new commenting forum
Join thought-provoking conversations, follow other Independent readers and see their replies