Donald Trump greeted with protests as he makes his California debut
The clashes could be a taste of what's to come as the Trump campaign turns its attention to the Golden State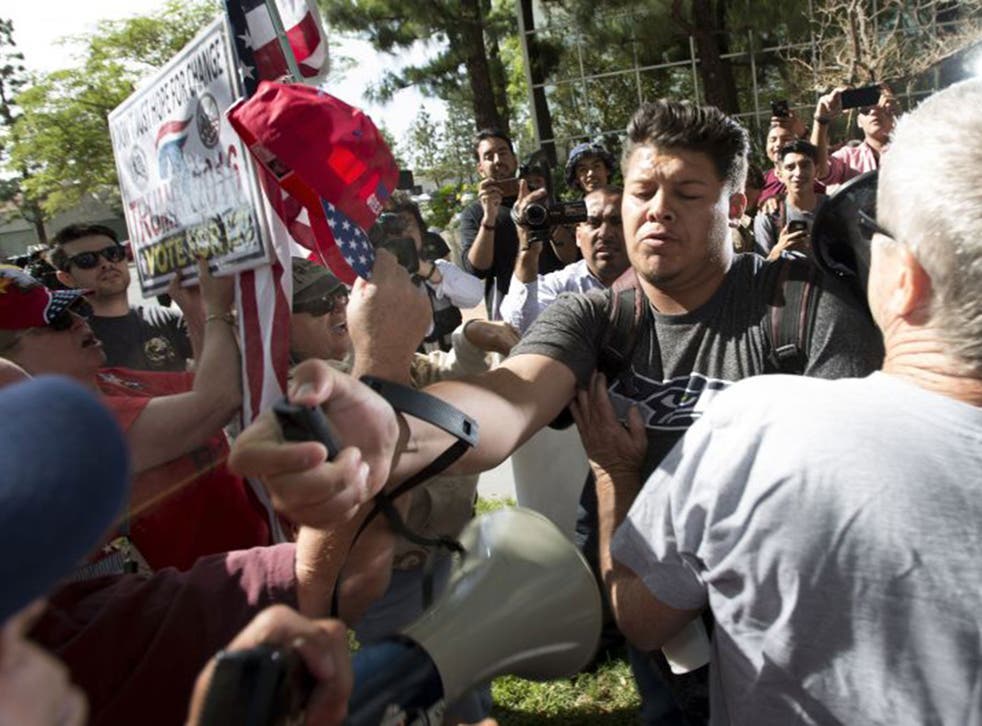 The clashes began before Donald Trump even arrived in California. On Tuesday, pro- and anti-Trump activists faced off at City Hall in Anaheim – the home of Disneyland – while the local council debated whether to formally denounce the Republican presidential front-runner for his "divisive rhetoric". The council decided against the resolution. Outside, their constituents fired insults and pepper spray at one another.
On Thursday night, before The Donald touched down a few miles away in Costa Mesa for his very first California rally, a phalanx of mounted sheriff's deputies tried to maintain the peace between the property mogul's supporters and protesters chanting "Fuck Trump". But later, as the event at the Orange County Fairgrounds concluded, hundreds of young protesters spilled into the streets outside, vandalising police cruisers and tossing rocks at passing traffic.
If this was a taste of what's to come as the Trump campaign turns its attentions to the Golden State, then the candidate himself appeared all but oblivious. Inside the Pacific Amphitheatre, his rhetoric was as divisive as ever. "No state in America has suffered worse from open borders than California," he insisted, promising once more to build a wall the length of the US-Mexican border, and grinning as the crowd yelled, dutifully, "Build the wall!"
Mr Trump began the rally by inviting to the stage campaigners from the Remembrance Project, a group for people who have lost loved ones to crimes committed by undocumented immigrants. Jamiel Shaw, whose teenage son was shot dead in Los Angeles in 2008, said the billionaire's harsh anti-immigration proposals had given him "something to hope for".
Mr Trump also repeated an anecdote he enjoys about US General John Pershing dipping bullets in pig's blood before executing 49 Muslim fighters in the Philippines in the early 1900s, a long-debunked story that the presidential hopeful tells admiringly, as a motivational aid for the fight against the Islamic State. "By the way," he added, "Muslims? Great people."
If it is possible, the candidate seemed more confident than ever, devoting at least half of his hour-long speech to himself, to his poll numbers and to his previous GOP primary victories, including his clean sweep of the five eastern states that voted earlier this week. "I'm so good at this stuff," Mr Trump said, standing at the podium in front of a 50-foot-high stars-and-stripes. "If I don't win, I will consider it a total and complete waste of time, effort and money."
The most populous state in the US usually votes too late in primary season to affect the overall result. But this year's California primary on 7 June promises to be uncharacteristically significant. It is worth 172 delegates to the GOP candidates, by far the most of any state in the race. It may be the anti-Trump faction's final opportunity to deprive him of the 1,237 delegate majority he needs to secure the nomination ahead of the party's convention in July. Or it may be Mr Trump's triumphant middle finger to his Republican opponents as he tramples them one last time.
During his Thursday night campaign appearance, Mr Trump reeled off several dubious California crime statistics. He repeatedly claimed the crowd numbered 31,000, even though the venue's capacity is fewer than 10,000. In the past, he has been accused of similarly inflating the size of his own fortune. But when it comes to his poll numbers, he has no need of fanciful accounting. In California, he is currently more than 15 points ahead of his nearest rival, Ted Cruz.
Should he make it as far as a general election, however, Mr Trump will find deep ranks of opposition here. Democrats comprise 43 per cent of the state's 17.2 million voters, almost as many as Republicans and independents combined. Latinos, a group poorly disposed to The Donald, now make up a larger share of the California population than non-Hispanic whites.
Jocelyn Gutierrez, an 18-year-old high school student, came to the Orange County Fairgrounds to protest with three of her friends, after hearing about Mr Trump's rally on social media. She said his stance on immigration was the main reason she opposed him, though far from the only one. "I'm surprised he's here. I didn't think he was really going to come," she said. "There's so many people in California that hate him."
Some minority voters were keen to show their support for the Republican front-runner, however. Mike Kaplan, a vodka importer from Los Angeles, brandished a home-made sign reading "Gays for Trump".
"It's not seen as cool to be a Trump supporter as a gay man," said Mr Kaplan, who is 35. "There's an implication that he's against every single minority, but I'm here to tell my fellow gay men that he loves us. Mike Kaplan is behind Mr Trump, and Mr Trump is behind Mike Kaplan. A lot of my gay male friends are closeted Trump supporters."
Join our new commenting forum
Join thought-provoking conversations, follow other Independent readers and see their replies